Pop Up Camper Tires
Often forgotten that they even exist pop up camper tires are part of camper's successful journey....

Pop up camper tires might not look too different from the regular tires that you buy for your car, but they are.
They have to carry a much bigger load, therefore they also have to be stronger and sturdier than regular car tires.
A lot of pop up users complain about flat tires and tires that damage fast, but this can be avoided if you buy the right brand with the right construction and pressure.
Pop up camper tires often have to be replaced especially when you buy a second hand one.
Many people also choose to change the tires to bigger ones so the camper can hold on better on almost any type of road. Buying tires for your pop up will be easy: most types of tires that fit a pop up camper can be found in shops such as Walmart, and there are also many places online that offer good quality pop up camper tires for great prices.
There are more types of tires available for pop up campers, differing mostly in size and model. According to the tire you would like to purchase you can choose from various places to shop from.
Before you buy the tires for your pop up camper, make sure that they are the right size and the right type. One of the most important things to consider when you purchase tires is their weight capacity. This number is usually on the sidewalls of the tires. Make sure you check the old tires and the new tires as well before you choose what type you should buy.
The most recommended tires for pop up campers are the Goodyear Marathon Radial tires. Other tires such as Carlisle are also used on pop up campers, but they are less popular and less durable according to users.
At the online store of Camping World for instance you can buy the best tires for pop ups. Here they sell high quality Goodyear tires, and for pop up campers Marathon Radial tires. You have up to 30 days to get the money back for the tires if you are not happy with them. The Marathon Radial pop up camper tires are long lasting and durable, they have a rib tread pattern, scuff guard and enhanced sidewall rubber.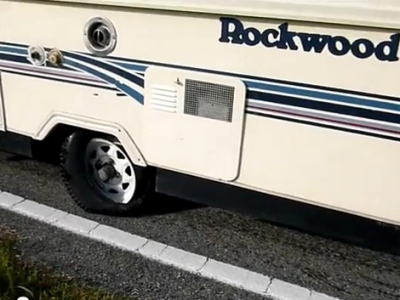 Ouch! Flat tire happens :-(
They are the best choice for owners of pop up campers, because they have the perfect weight capacity for all your stuff. They have been developed to make towing easier and trouble free.
In the interior of these pop up campers tires there are two twin steel belts in order to increase durability of the tire. Tire Rack is another online store that has tires of all kinds, including for pop up campers. They have various models of Goodyear Marathon Radial tires such as 175/80-13 C tires, 185/80-13 C tires, 205/75-14 C tires and more.
If you are not sure what tire to purchase, it is the best to look for them in an RV store where they can tell you which model fits the best for your pop up camper.
Here is a video which tells you how to change a flat tire:
Fixing a flat on a pop-up camper
---
Visitor's Story ...

The popup camper tires should always be in good condition. The tires get just as many miles as your car or truck.
The side of the tire usually states 'capacity 1000 pounds at 45 PSI. This is the cold temperature of your tire before towing. You can use a pressure gauge to check the tire pressure.
Running car tires is different than running camper tires. Never follow the same rules as you would for your car. The tire pressure needs to be exact to handle the weight.
In Ohio and Oklahoma, you drive for long stretches on the interstate and should try to find a safe place to change a flat tire. If you get a flat tire, you want to make sure your car is in park with the emergency brake applied.
You should always chock the other camper tire to prevent shifting. Place the jack by the spring and attach it to the frame. If you need additional height, use blocks of wood to gain as much as you need.
Loosen the lug nuts before rising off the ground and jack up the camper. Finish taking the lug nuts off and place the new tire on the axle. Put the lug nuts back on, lower the tire so it touches the ground, and tighten the lug nuts. Lower the rest of the way and you are ready to get back on the road.
Always keep a spare tire and no the right size for your pop up camper tires. This is important for driving down the road. If you have a 2001 or 2002 camper, you probably need to check the tire to make sure it is still in good condition and filled with air. The right tire size and type of tire should always be the same. Never use a different make of tire unless it is the same size exactly.
---
If you found here something interesting, please share your experience with friends
:-)
How to Build a Camper / Homebuilt Camper / Build Truck Campers / 5th Wheel Campers / Luxury Fifth Wheel Campers
/ Wheel Chock for Campers / Mini Truck Campers / Small Camper Trailers / How to Winterize a Camper