Camping Parks - Campgrounds Rhode Island (RI)
Nicknamed Ocean State, Rhode Island is evidently small, but its long sandy shorelines offer perfect environment for sunbathing and water sports, and location for many great beach campgrounds drawing people from everywhere….

Holiday Acres Camping Resort
591 Snake Hill Road
Glocester, RI 02857
401-934-0780

    It is a family camping ground with almost 70 years tradition.
It has camping sites for RVs that have full hookups, including water, electric and sewer.
They have also nice tent sites and cabins for rent.
Services like a laundry room, bathrooms, and warm showers are available on the premises. A game room is specially made for children to enjoy while grownups will have fun in their particular space, containing a TV, a jukebox, pool table, and darts. A lovely sandy beach in the camping resort is exactly what you need for some relaxation and swimming.
Pets are allowed in the campground, as long as they are on a leash, do not bark in excess, are not aggressive, and you clean after them. Periodically the camp management will organize special events in the camping resort. Overall, it is a great place to be for a camping experience.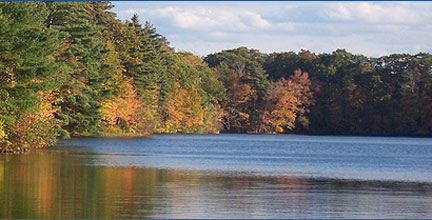 ---
Peeper Pond Campground
159 Liberty Church Road
Exeter, RI 02822
401-294-5540

    The perfect spot if you want a quiet and relaxing camping experience out in nature. The campground is opened starting with the 1st of May until the 30th of September. RV-ers and traditional tent campers are welcomed here. At the campground, they have 6 RV places with water and electric hookups. The space for tents is wider as they are 29 campsites for tents. Every camping site has a fireplace and a picnic table. There is also a dump station on site. The available restrooms are clean and have warm showers. The campground also has a general store where you can find the usual items you may need for camping.
For outdoor sports enthusiast, badminton and volleyball are two of the games that can be played here. About 4 miles to the south from the campground you will find a marketplace, if you need more shopping. If you are not in the mood for cooking, about 2 miles away you can find a restaurant for a nice dinner. You can bring your pet in the campground, as long as it is "well-behaving", you walk it on a leash and clean after it.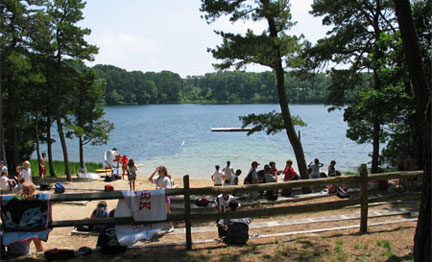 ---
Visitor's story....

Even if you have never been camping, you will want to try Rhode Island camping and sightseeing.
The weather is perfect, the camps are wonderful and the people are nice and polite. You will find that your experience is fun and adventurous. Try a day of hiking or a day on the beach, if you need more; see some of the great attractions.
One place in Rhode Island that has a great many things to see is Bannister's Wharf. You will be amazed at the area. The Waterplace Park and Riverwalk has many different water sports to do for the entire family. Never forget to take the kids to the Roger Williams Park Zoo. The many attractions in the area will give you plenty of things to do while camping.
Beach camp parks-campgrounds Rhode Island (RI) also has many lakes and rivers located in areas with beautiful views. If you like, the wildlife sounds, something a little more outdoorsy, try some of the rural campgrounds for the real adventures of camping. You are never at loss for something to do while camping as you can see.
Beach Parks Rhode Island:

Holiday Acres Camping Resort
591 Snake Hill Road
Glocester, RI 02857
401-934-0780
Peeper Pond Campground
159 Liberty Church Road
Exeter, RI 02822
401-294-5540

 About Us / Privacy Policy / Resources
 Beach Camping Parks - Campgrounds North Carolina (NC) / Beach Camping Parks - Campgrounds North Dakota (ND) / Beach Camping Parks - Campgrounds Oklahoma (OK) / Beach Camping Parks - Campgrounds Oregon (OR) / Beach Camp Parks - Campgrounds Pennsylvania (PA) / Beach Camping Parks - Campgrounds South Carolina (SC) / Beach Camping Parks - Campgrounds South Dakota (SD) / Beach Camping Parks - Campgrounds Tennessee (TN) / Beach Camping Parks - Campgrounds Texas / Find Here Beach Camping Parks - Campgrounds Utah / Beach Camping Parks - Campgrounds Vermont (VT) / Beach Camping Parks - Campgrounds Virginia (VA) / Beach Camping Parks - Campgrounds Washington (WA) / Beach Camping Parks - Campgrounds West Virginia (WV) / Beach Camping Parks - Campgrounds Wisconsin (WI) / Beach Camping Parks - Campgrounds Wyoming (WY)
Go from Beach Camping Parks - Campgrounds Rhode Island to Pop Up Campers Trailer Home
Camping Parks in US,  Campground Parks in Canada

Beach Camping Parks