Beach Camping Parks - Campgrounds South Carolina (SC)
Now that you have ventured to South Carolina, you will find many beach camping parks where the day starts with sunrise over the ocean waters…..

Apache Family Campground
9700 Kings Road
Myrtle Beach, SC 29572
843-449-7323

    It is a campground that has complete services, so you can spend your holiday here without having to leave the park in search for the things you like. The camping sites have electric and dump stations. Laundry services and propane fill stations are also available. Make sure you bring the entire family with you, because you will find here a playground, a swimming pool and a splash park, plus they are pet-friendly too.
If you are not in the mood for camping, check out the living rental units. The units have one, two or three bedroom, according to the size of your family.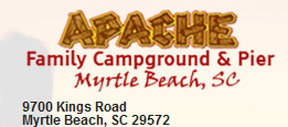 They are fully furnished and equipped to offer you a great vacation. Live events and music are a common thing in the campgrounds. Enjoy the beach or go fishing. And, if you feel hungry, forget about cooking. Visit a local restaurant for some excellent dishes.
---
Barefoot Camping Resort
4825 Hwy 17 South
N. Myrtle Beach, SC 29582
843-272-1790

    It is a great camping resort, with excellent services and friendly personnel. The RV camping sites have electric, water, sewer and internet services. Spacious camping sites for tents also. Clean bathrooms with warm showers and laundry services operated by coins. Playground for children, golf carts for rental and pool access for the entire family. The resort is pet-friendly, so don't forget to bring your furry friend too. The sandy beaches are not so far, so you can enjoy a day at the beach anytime you want.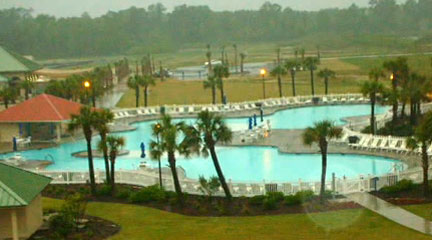 ---



Visitor's story....


Now that you have ventured south, you will find that the beach camp parks-campgrounds South Carolina (SC) offer some great campgrounds and beautiful beaches.

If you need a special thrill away from the campsite, take a ride to Huntington Beach State Park or the Pavilion Amusement Park. You never run out of things to do in South Carolina. I really liked the Alligator Adventures and the kids get a kick out of seeing the creatures running around.

If you like to camp and a lake or river fills your needs, try the other area locations with some great attractions. You might enjoy the Magnolia Plantation and Gardens or the Brookgreen Gardens. All the beautiful colors and an array of scent fill the air. Some of the popular cities like Charleston and Myrtle Beach have some great campgrounds in the area.

If you need somewhere to take to for camping, try the beach camp parks-campgrounds South Carolina (SC) and have the time of your life. You will find places with many different activities to do during the day as well as well as some nighttime activities. You never find time to miss home especially if you travel and camp in style. Always take along some comforts from home while camping such as a television or something, although some campgrounds do have television rooms.

Beach Parks South Carolina:



Apache Family Campground
9700 Kings Road Myrtle Beach,
SC 29572843-449-7323

Barefoot Camping Resort
4825 Hwy 17 South N. Myrtle Beach,
SC 29582 843-272-1790

 About Us / Privacy Policy / Resources