Beach Camping Parks - Campgrounds Washington (WA)
The state of Washington certainly does not lack beach campgrounds thanks to the long coast line and many lakes; see best for weekend getaways and vacations...

Andersen's On the Beach
1400,  138th Street
Long Beach, WA 98631

Nothing beats waking up to the sound of the ocean's waves, which is exactly what you'll hear when you take your RV to Andersen's On the Beach in Long Beach, Washington.
The campground is open all year-round, so it's a great destination for summer vacation, as it is during the winter.
The RV Park offers easy and convenient access to sand and surf so that you can have an amazing time by the sea.
Whether you want to take a long walk on the beach or have an evening bonfire for marshmallow roasting, Andersen's RV Park provides that to guests and so much more. You can enjoy a lazy afternoon on the beach with your favorite book and let the stresses of your life melt away.
The park is located just 3.5 miles north of downtown Long Beach and is quietly and perfectly situated away from the busy hustle and bustle of the city, yet close enough so that you can easily head out for a night in downtown. There's also a bus line for a quick trip into the city if you didn't tow your car.
The park is big rig friendly with full hookups with 20/30/50 Amp service at every site.
Amenities include: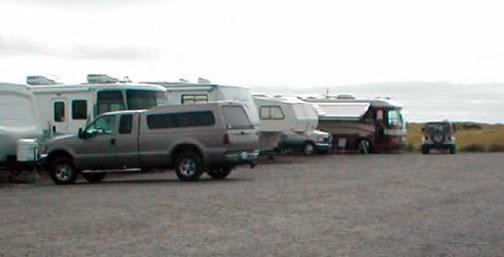 Great and clean restrooms and hot showers
Laundry room
Picnic tables at every site
Fish and clam cleaning facilities
Small store on site
Children's playground
Party room

---
Bayshore RV Park
2941 Kindred Ave
Tokeland, WA 98590
An RV park located right on the beach. Great for watching the sun rise or set beyond the blue horizon of the Pacific Ocean. It is the perfect camping site for RV fans. They have 41 full hookup sites. Wireless internet access is available, and most camping sites have cabled TV too. The accessible restrooms are clean and have hot showers.
Some sites have individual fire pits, or you can make a great campfire at the group fire pit. The park is open all year round; the beach is only a few feet away, so you can enjoy the sandy shores anytime you feel like. Dogs are also allowed in the campsite, but must be restrained in leashes at all time. Thinking about having a large group vacation, a reunion or a fun party?
The park has exclusive clubhouses with fully equipped kitchens. Make sure you call upfront to make a reservation for such a clubhouse, if you want to enjoy its comfort. If you plan just a quiet vacation with your family, it is the perfect spot to loosen up a little in the ocean breeze.

---
Visitor's story......

Staying at the beach camp parks- campgrounds Washington (WA) not only offers great outdoors fun with friends and new friends that you make, but also allows you to visit some areas that have many different attractions for the entire family.
Whether you find a lake or a river to do some fishing, you might even catch enough for your dinner one night while you are camping out.
When the sun is hot during the day, you might want to visit some attractions for a little cooler activity.
Visit the Pacific Science Center, the Seattle Art Museum and the Underground tour, which will be much cooler.
If you want to see the animals at the zoo, visit Woodland Park Zoo and then take a trip to the Seattle Waterfront. If you need more, you can visit all the other attractions around the area.
The beach camp parks- campgrounds Washington (WA) are plentiful in the state and you need to only bring along your campers or tents and have a great time. You might even find a day for relaxation on the beach. Try some of the activities the campground has to offer as well for even more fun.
Beach Parks Washington:

Andersen`s On the Ocean
1400 - 138th Street Long Beach,
WA 98631 360-642-2231

Bayshore RV Park
2941 Kindred Ave. Tokeland,
WA 98590 360-267-2625
 About Us / Privacy Policy / Resources
 Beach Camping Parks - Campgrounds North Carolina (NC) / Beach Camping Parks - Campgrounds North Dakota (ND) / Beach Camping Parks - Campgrounds Oklahoma (OK) / Beach Camping Parks - Campgrounds Oregon (OR) / Beach Camp Parks - Campgrounds Pennsylvania (PA) / Beach Camping Parks - Campgrounds Rhode Island (RI) / Beach Camping Parks - Campgrounds South Carolina (SC) / Beach Camping Parks - Campgrounds South Dakota (SD) / Beach Camping Parks - Campgrounds Tennessee (TN) / Beach Camping Parks - Campgrounds Texas / Find Here Beach Camping Parks - Campgrounds Utah / Beach Camping Parks - Campgrounds Vermont (VT) / Beach Camping Parks - Campgrounds Virginia (VA) / Beach Camping Parks - Campgrounds West Virginia (WV) / Beach Camping Parks - Campgrounds Wisconsin (WI) / Beach Camping Parks - Campgrounds Wyoming (WY)
Camping Parks in US,  Campground Parks in Canada

Go from Beach Campgrounds Washington to Pop Up Campers Trailer Home