Beach Campgrounds Wyoming

Yes, if you are sunbathing enthusiast you can find beach camping parks in Wyoming thanks to abundance of rivers and lakes......

Indian Campground
660 E Hart Street
Buffalo, WY 82834
307-684-9601

    It is a campground with beautiful scenery; opened starting with the 15th April and until the 15th of October.
It offers full hookups for RVs or only connections for water and electric, according to your desire.
You can also find a laundry service, spotless bathroom and hot showers.
The camp sites for tents are on grassy land and near a water stream, so the view is a beautiful one. Rustic cabins are available to rent in the same spot.
To make the comfort even better, they have an outside pool which is heated to the most comfortable temperature of 84 degrees Fahrenheit. Cable TV and wireless internet are also on the utility list of the campground. It is the shortest and most beautiful route towards Yellowstone Park. So if you want to pay it a visit, don't hesitate to stop at the Indian Campground. In the near vicinity you can find restaurants, a mini golf course and an ice cream house.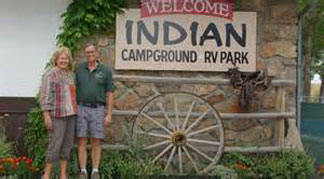 Your hosts Harold and Katrina welcome you!

---
Keyhole State Park
353 McKean Road
 Moorcroft, WY 82721
307-756-3596

    Keyhole State Park is an amazing campground where you can enjoy the beauty of nature and wildlife in an excellent camping environment. It has a large number of camping sites for RVs, with water and electric hookups, and for tents also. There are also four cabins for rent for the ones who want a roof over their heads. Clean drinking water, nice restrooms, and designated picnic areas are on the amenities' list.
If you have children, they will feel in their environment in the available playground or swimming. Other activities, enjoyable for the entire family, are fishing, hiking, and boating. Or the whole gang can have an excellent day on the sandy beach sunbathing. If you love bird watching, then this is the place to be, because the park is homeland for many native and migratory birds.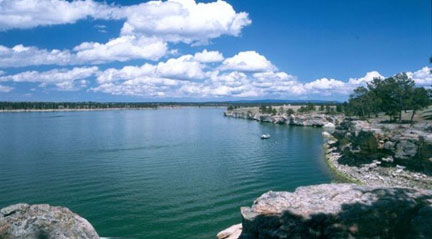 ---
Visitor's story......

The first thing I need to say about Wyoming, is watch the time of year and the weather conditions in the mountains before taking the camper or RV up into the mountains. You can experience blizzard conditions even in May yet.
The beach camp parks- campgrounds Wyoming (WY) are all down below the mountains, but you might find yourself traveling through them to reach the lake or river you want to stay by as well.
If you want some adventures, hike the mountains or visit some of the area attractions.
You might find yourself at Buffalo Bill State Park or taking a Red Canyon River Trip. Now this river rafting trip is an experience al it owns. You will never again experience such an adrenaline rush like that again. Visit the other area state parks or the museums in the area, but always save time for the campground activities.
If you need some information on the beach camp parks- campgrounds Wyoming (WY) just look around and start here for a handful of them in the state. You never go wrong with kids, when you stay by a lake or river. They always find something to amuse themselves with at these campgrounds.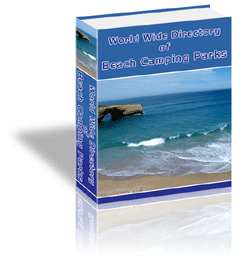 Beach Parks Wyoming:

Indian Campground
660 E Hart Street Buffalo,
WY 82834 307-684-9601

Keyhole State Park
353 McKean Road Moorcroft,
WY 82721 307-756-3596
 About Us / Privacy Policy / Resources
Camping Parks in US,  Campground Parks in Canada

  Beach Camping Parks - Campgrounds North Carolina (NC) / Beach Camping Parks - Campgrounds North Dakota (ND) /  Beach Camping Parks - Campgrounds Oklahoma (OK) / Beach Camping Parks - Campgrounds Oregon (OR) / Beach Camp Parks - Campgrounds Pennsylvania (PA) / Beach Camping Parks - Campgrounds Rhode Island (RI) / Beach Camping Parks - Campgrounds South Carolina (SC) / Beach Camping Parks - Campgrounds South Dakota (SD) / Beach Camping Parks - Campgrounds Tennessee (TN) / Beach Camping Parks - Campgrounds Texas / Find Here Beach Camping Parks - Campgrounds Utah / Beach Camping Parks - Campgrounds Vermont (VT) / Beach Camping Parks - Campgrounds Virginia (VA) / Beach Camping Parks - Campgrounds Washington (WA) / Beach Camping Parks - Campgrounds West Virginia (WV) / Beach Camping Parks - Campgrounds Wisconsin (WI)
Beach Camping Parks
Go from Beach Campgrounds Wyoming to Pop Up Campers Trailer Home