Beach Camping Parks - Campgrounds Alaska
Hard to believe but even in Alaska you can find RV campgrounds with an access to "friendly" water and beach; so here they are:

Heritage RV Park
3550 Homer Spit Road
Homer, AK 99603
800-380-7787

If you've never been to Alaska, it's a trip of a lifetime!
One of state's most notable RV parks is Heritage RV Park that's right on the waterfront in Homer, AK and located right next to the famous "Fishing Hole."
With more than ½ of private beach, you'll have an amazing vacation that the entire family will love.
Amenities and features include:

Beachfront sites that have campfire pits
All sites have picnic tables to enjoy a meal outside
Putting green for those who want to practice their golf skills
Pets and boats with trailers are welcome
Close to a small boat harbor for scenic walks
Convenient Espresso Stop in the main building that serves a variety of things like baked goods, drinks, smoothies and more
Staffed laundry room with free hot showers, modern restrooms and coin-op laundry facilities
Sites that have 20/30/50 amp power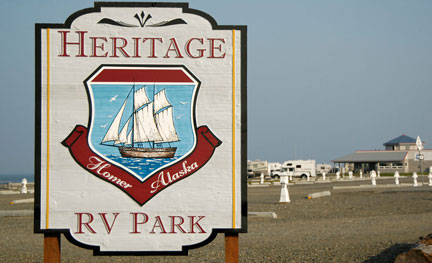 ---
Driftwood Inn & RV Park
135 West Bunnell Avenue
Homer, AK 99603
800-478-8019
The RV Park at the Driftwood Inn is quaint and scenic, centrally located in downtown Homer on the bluff. It's just above Bishop's Bach and provides guests a convenient and intimate setting filled with mountain views and peaceful walks on the beach.
Amenities and features include:

Clean and free showers
Coin-operated washers and dryers
Free wireless Internet
Fire pits and picnic tables
Fish cleaning station and freezer
Close to lots of restaurants and shopping centers

---
Visitor's story....

With all the beautiful countryside, it is no wonder the beach camp parks Alaska (AK) fill so quickly.
There are a handful of beautiful campgrounds offing ponds and lakes to swim in while visiting. If you need some great adventures, this area will fill the need. Take a trip with your camper or RV and stay at some of the wonderful campgrounds around the area.
You may want to sit in the sun or do some sightseeing. If you need some adventure and excitement other than the beautiful scenery, take a jaunt to the Alaskan Zoo for the antics of the animals. If you really want adventure, visit the Independence Mine in Anchorage in the Talkeetna Mountains.
This historical area was where the gold mines where located. Another great sight in Alaska is the Portage Glacier, which people find to be necessary see when visiting.
Whether you plan your camping trip for fun or hunting, you want to look for beach camp parks Alaska (AK) that will offer you some relaxation as well as the other activities and attractions you might have in mind. The campgrounds are located in beautiful countryside setting with wildlife roaming in the area.
A handful of beach camps for great times in Alaska:
Heritage RV Park
3550 Homer Spit Road Homer,
AK 99603 800-380-7787

Driftwood Inn & RV Park
135 West Bunnell Avenue Homer,
AK 99603 800-478-8019
 About Us / Privacy Policy / Resources
Go from Beach Camping Parks - Campgrounds Alaska to Pop Up Campers Trailer Home
Camping Parks in US,  Campground Parks in Canada


Beach Camping Parks Campgrounds Alabama / Beach Camping Parks - Campgrounds Arizona (AZ) / Beach Camping Parks & Campgrounds Arkansas (AR) / Beach Camping Parks - Campgrounds California (CA) / Beach Camping Parks - Campgrounds Colorado (CO) / Beach Camping - Campground Parks Connecticut (CT) / Beach Camping Parks Campground Delaware (DE) / Beach Camping Parks Campgrounds Florida (FL) / Beach Camping Parks Campgrounds Georgia (GA) / Beach Camping Parks- Campgrounds Hawaii (HI) / Beach Camping Parks- Campgrounds Idaho (ID) / Beach Camping Parks - Campgrounds Illinois (IL) / Beach Camping Parks - Campgrounds Indiana (IN) / Beach Camping Parks - Campgrounds Iowa (IA) / Beach Camping Parks - Campgrounds Kansas (KS) / Beach Camping Parks - Campground Kentucky (KY) / Beach Camping Parks - Campgrounds Louisiana (LA) / Beach Camping Parks - Campgrounds Maine (ME) / Beach Camping Parks - Campgrounds Maryland (MD)