Beach Camping Parks - Campground Kentucky (KY)
Kentucky known as Bluegrass State thanks to Mississippi, Ohio and Big Sandy Rivers as well as numerous lakes offers many amazing beaches for lovers of sunbathing and water-sports.....

Southern Komfort Village

Here's a place where the emphasis is on quiet. 
Its 100 acres are secure, adjacent to the lake, have full service facilities, and they even permit some pets (under 25 lbs). 
Call them a couple weeks ahead of time to see if you can bring your pet, and to reserve your spot. 
Boat slips are also available for campers and fishing is permitted from the fishing pier which remains open all night. 
The restaurant is accessible and afloat on the lake, with air-conditioning.  There is a designated swimming area and the lake is so clean you can even eat the large fish.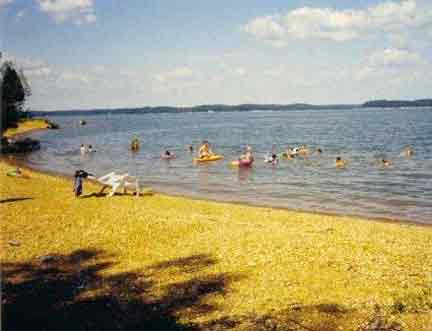 Address:
460 Southern Komfort Road
Benton, Kentucky  42025
(270)354-6422
Fax:(270)354-6452
e-mail: southernkomfort@wk.net
    If you really like the place the annual camping rate is $2057 which covers the whole year including the winter time.  Yes, they stay open all year round.  Short term rates are $36.00 per night (includes water and electric), or $20 for a primitive site, and the seventh night is free.  It includes a free weekly pump out for trailers, or monthly for $350.  Boat slips are $12.00 a night. 
---
Wildcat Creek Campground
28 Wildcat Beach Road
Murray, KY 42071
(270) 436-5628  (No credit or debit cards accepted)

    Good Bass and Crappie fishing and a great looking beach.  56 large, shaded sites with water & electric, picnic tables, and children's play area.  Also available are coin operated washers & dryers, Dump Station, firewood & ice, a boat launching ramp, beach volleyball, and even pets are allowed.  Pit bulls, pit bull mixes, Rottweilers or any aggressive dogs are restricted.
    Pleasant looking sites, that are not all crammed together, and with plenty of trees.  Rates are $35.00 nightly (including water and power) or $45.00 for holidays (with a three day minimum).  Monthly rate is $495.  The seasonal rate is $2000 (with a separate electric bill).
    While they have no restaurant facilities on site there located only 10 minutes outside of the town of Murray, voted friendliest town in America.  You can visit their many restaurants give shops flea markets are even taken a movie in Murray.

---
Green River Lake State Park
179 Park Office Road,
 Campbellsville, KY
 42718
Phone: (270)465-8255
Email: sharion.abney@ky.gov
Park Manager: Sharion Abney

    This is one of the many beautiful state parks in Kentucky.  It has 229 sites, most of which are serviced with water and power, in the campground.  There are also several service buildings equipped with showers, restrooms, laundry facilities and a grocery store.  There is also a dump station available.    In the park there are almost 30 miles of multi-use trails for hiking, horseback riding, or even mountain biking.
    There is a playground down near the long, extensive beach which entirely surrounds the campground on the north and the east sides.  Of course on the beach you will find the ubiquitous volleyball court, and probably some willing partners to play with you.  As an unusual bonus, the whole family can enjoy an 18-hole miniature golf course!
    Among the lower cost state Parks, there are trailer sites from $23—28 Sunday to Thursday; Friday and Saturday they run $27—31; the premium rate for holidays runs $29—33 so actually a pretty good bargain.


Enjoy your camping!

---
Visitor's story....

Now the word is out - what beach camp parks and campgrounds in Kentucky (KY) have for the camper. 
There are nearby many attractions and when you find the attraction you want to see, look for the beach camp that offers sun, swimming and other activities your family will enjoy. The sites can accommodate RV's and pop up campers with all the necessary hookups you will need.
The new attraction to Kentucky is the NASCAR Museum, which offers the entire race fan community some interesting things to see. Many like to visit the Louisville Zoo and see all the animals roaming around their habitats.
For more fun, you might visit the Whitehaven Mansion or the Kentucky Horse Park. You will find many things to do while staying at one of the many campgrounds in the area.
Because you have a choice of so many different beach camp parks- campgrounds Kentucky (KY), you will want to plan for enough time to enjoy the campgrounds and the many wonderful attractions around the area. Find the park and find some adventures as well. This always makes for great memories.
Beach Camps Kentucky
Prizer Point Marina & Resort
1777 Prizer Point Road
Cadiz, KY 42211 (800) 548-2048

Eddy Creek Marina Resort
7612 State Route 93 South
Eddyville, KY 42038
 About Us / Privacy Policy / Resources
Find Here Worldwide Beach Camping Parks Directory
Go from Beach Camping Parks - Campground Kentucky (KY) to Pop Up Campers Trailer Home

Beach Camping Parks Campgrounds Alabama / Beach Camping Parks - Campgrounds Alaska / Beach Camping Parks - Campgrounds Arizona (AZ) / Beach Camping Parks & Campgrounds Arkansas (AR) / Beach Camping Parks - Campgrounds California (CA) / Beach Camping Parks - Campgrounds Colorado (CO) / Beach Camping - Campground Parks Connecticut (CT) / Beach Camping Parks Campground Delaware (DE) / Beach Camping Parks Campgrounds Florida (FL) / Beach Camping Parks Campgrounds Georgia (GA) / Beach Camping Parks- Campgrounds Hawaii (HI) / Beach Camping Parks- Campgrounds Idaho (ID) / Beach Camping Parks - Campgrounds Illinois (IL) / Beach Camping Parks - Campgrounds Indiana (IN) / Beach Camping Parks - Campgrounds Iowa (IA) / Beach Camping Parks - Campgrounds Kansas (KS) / Beach Camping Parks - Campgrounds Louisiana (LA) / Beach Camping Parks - Campgrounds Maine (ME) / Beach Camping Parks - Campgrounds Maryland (MD)