Beach Camping Parks - Campgrounds Arizona (AZ)
Imagine finding a beach campground in an arid Desert State of Arizona under the blue, sunny sky, and yes, there are some…

Pleasant Harbor RV Resort
8708 West Harbor Boulevard
Peoria, AZ 85383
800-475-3272

At Pleasant Harbor RV Resort, you'll rediscover the southwest desert while being able to play in the water.
Located on the beautiful southeastern shores of Lake Pleasant in Peoria, (Arizona), the RV Park offer provides loads of relaxation and enjoyment for the entire family.
Located just right outside of the Phoenix metro area, you'll be away from the busy city, yet close enough to experience its attractions.

Amenities and features include:

Full service marina with boat rentals
Marina Bar and Grill restaurant
Heated pool and spa
A clubhouse with satellite TV
Laundry facilities
Convenience store
Basketball court
Tiled restrooms and showers
Picnic areas
Horseshoe pits
254 full hookup sites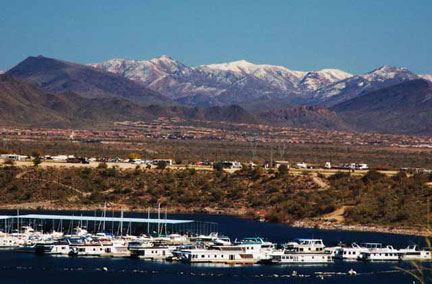 ---
Fool Hollow Lake Recreation Area
1500 N. Fool Hollow Road
Lake Show Low, AZ 85901
928-537-3680

When visiting Fool Hollow Lake Recreation Area, you'll camp in the Apache-Sitgreaves National Forest among 100-foot tall pine trees. The campground is located right at the shores of a quiet lake. It features year-round camping, fishing, boating and picnic areas with scenic views, making it an ideal destination for your next family vacation.

Amenities and features include:

Modern restrooms
92 electric RV sites with 30 amp service
Hot, free showers
Nice spots for picnics 
Lots of fishing
Boat ramp
Wildlife viewing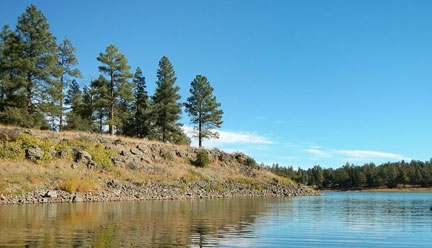 ---
Visitor's story....

Traveling and sightseeing in Arizona can simply amaze you.
Find beach camp parks Arizona (AZ) park your camper or rig and set out on some daily excursions. Because this state has so many attractions, you might want to move around to different campgrounds as well. The days seem to go by quickly, but make the nights last longer and relax by a fire and enjoy some conversation with the neighbors.
During the day leave the campgrounds and visit the Grand Canyon for a breath taking view. If the weathers right, take a helicopter ride over the area for more adventure. When you sit around the fire later that night, you will have some stories to tell. Visit the Flagstaff area and see the Meteor Crater and the Sunset Crater National Monument for some fascinating facts and views.
With all the things to see and do, you will not have time to become bored. Campgrounds around the area usually have openings in advance and some have drive openings. The beach camp parks Arizona (AZ) might fill quickly, therefore, making reservations will help secure a site for your RV or pop up camper.
See some of the nice beach camps in he area::
Pleasant Harbor RV Resort
8708 West Harbor Boulevard Peoria, AZ 85383
800-475-3272

Fool Hollow Lake Recreation Area
1500 N. Fool Hollow Lake Show Low, AZ 85901
928-537-3680
 About Us / Privacy Policy / Resources
Go from Beach Camping Parks - Campgrounds Arizona (AZ) to Pop Up Campers Trailer Home
Camping Parks in US,  Campground Parks in Canada

Beach Camping Parks Campgrounds Alabama / Beach Camping Parks - Campgrounds Alaska / Beach Camping Parks & Campgrounds Arkansas (AR) / Beach Camping Parks - Campgrounds California (CA) / Beach Camping Parks - Campgrounds Colorado (CO) / Beach Camping - Campground Parks Connecticut (CT) / Beach Camping Parks Campground Delaware (DE) / Beach Camping Parks Campgrounds Florida (FL) / Beach Camping Parks Campgrounds Georgia (GA) / Beach Camping Parks- Campgrounds Hawaii (HI) / Beach Camping Parks- Campgrounds Idaho (ID) / Beach Camping Parks - Campgrounds Illinois (IL) / Beach Camping Parks - Campgrounds Indiana (IN) / Beach Camping Parks - Campgrounds Iowa (IA) / Beach Camping Parks - Campgrounds Kansas (KS) / Beach Camping Parks - Campground Kentucky (KY) / Beach Camping Parks - Campgrounds Louisiana (LA) / Beach Camping Parks - Campgrounds Maine (ME) / Beach Camping Parks - Campgrounds Maryland (MD)