Beach Camping Parks - Campgrounds Colorado (CO)
Almost everything was already written about beauty of generous Mother Nature in Colorado, what is less known is a list of great beach campgrounds…

Boyd Lake State Park
Cottonwood Shores
3720 North County Road 11-C
Loveland,  CO 80538
970-669-1739

If you are looking for water-sports havens in Colorado, then Boyd Lake State Park is one of them.
This RV vacation spot features a beautiful lake that lies at the western-most edge of the plains at the foot of Long's Peak and the mountains of the Continental Divide. It promises well equipped campground with stunning views, sunny blue sky and a lot of water…

Amenities and features include:

Boating
Fishing
Swimming
Hiking
Biking
Hunting
Boat rentals
Sandy beach and a pavilion for swimmers
Modern campground with 148 pull-through sites that can fit vehicles of up to 40 feet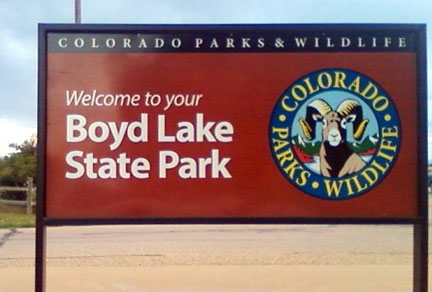 ---
Chatfield State Park
11500 N. Roxborough Park Road
Littleton, Denver, CO 80125
303-791-7275

Nothing but peace and relaxation is what you'll get when visiting Chatfield State Park! The park is nestled next to the foothills southwest of Denver. It is a paradise for water sports including boating, dream-land for hiking…  Scenic views from the hiking trail on the Platte River Valley are unforgettable…

 Amenities and features include:

197 campsites with electrical hookups and many with full hookups for water, sewer and electric
Four different campground sites all walking distance o the lake
Picnic tables and grills
Modern restrooms
Hot showers
Laundry 
Fire ring 
Sanitary waste station
Boat rentals
Floating restaurant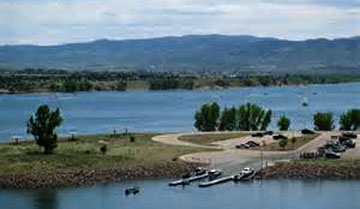 ---
Visitor's story....

One place you will spend hours looking at some amazing scenery is Colorado.
If you want to stay at beach camp parks Colorado (CO) then this is the state for you. I love Colorado for the scenery and adventures. No matter how many times you go back, you always see something different. The waterfalls the mountains and Pikes Peak keep you very busy exploring.
You have never seen anything until you explore Seven Falls. This magnificent sight with wildlife and vegetation will amaze you, delight you and leave you in total awe. You might take an audio tour or try a night walk with artificial lighting that makes the waterfalls dance. If you love waterfalls, you can also visit Box Canon Falls and Bridal Veil Falls. There are many beautiful waterfalls for the nature lover in all of us.
When you find campgrounds around the waterfalls, you can hear the falls flowing in the quiet and peaceful night. Soothing affects that put you right to sleep. A mystical moment everyone needs to experience. These beach camp parks Colorado (CO) never leave you at a loss for something to do as they also have other activities to keep you occupied during the day as well.
If you need a good place to stay, check these out:
Boyd Lake State Park-Cottonwood Shores
3720 North County Road 11-C Loveland,
CO 80538 970-669-1739

Chatfield State Park
11500 N. Roxborough Park Road Littleton, Denver,
CO 80125 303-791-7275
 About Us / Privacy Policy / Resources
Find Here Worldwide Beach Camping Parks Directory

Go from Beach Camping Parks - Campgrounds Colorado to Pop Up Campers Trailer Home

Beach Camping Parks Campgrounds Alabama / Beach Camping Parks - Campgrounds Alaska / Beach Camping Parks - Campgrounds Arizona (AZ) / Beach Camping Parks & Campgrounds Arkansas (AR) / Beach Camping Parks - Campgrounds California (CA) / Beach Camping - Campground Parks Connecticut (CT) / Beach Camping Parks Campground Delaware (DE) / Beach Camping Parks Campgrounds Florida (FL) / Beach Camping Parks Campgrounds Georgia (GA) / Beach Camping Parks- Campgrounds Hawaii (HI) / Beach Camping Parks- Campgrounds Idaho (ID) / Beach Camping Parks - Campgrounds Illinois (IL) / Beach Camping Parks - Campgrounds Indiana (IN) / Beach Camping Parks - Campgrounds Iowa (IA) / Beach Camping Parks - Campgrounds Kansas (KS) / Beach Camping Parks - Campground Kentucky (KY) / Beach Camping Parks - Campgrounds Louisiana (LA) / Beach Camping Parks - Campgrounds Maine (ME) / Beach Camping Parks - Campgrounds Maryland (MD)