Beach Camping Parks - Campgrounds North Carolina (NC)
Despite the name "North", Carolina is still a southern state and with its diversified and long coastline it offers countless beach campgrounds where sun, sand and water can please everybody....
 Bay River Campground & Marina
 682 Weaver Camp Road
 Merritt,  NC 28556
 252-745-4879

    Enjoy camping all year round in this campground.
They are ready to host 32 RVs, of which 12 campsites have full hookups.
The park can accommodate RVs that have a maximum length of 45 ft.
They also have a tent camp site and a group site. Restrooms and hot showers are available on site. The campsites have picnic tables and fire pits, for a great campfire. The park also offers wireless internet and a dump station for the RVs.
It is an excellent campground for families, and they allow you to take your pet too on the camping trip. It has great fishing spots; you can enjoy boating, kayaking, and canoeing. The scenery of the area make it great for hiking, biking or just enjoying the view.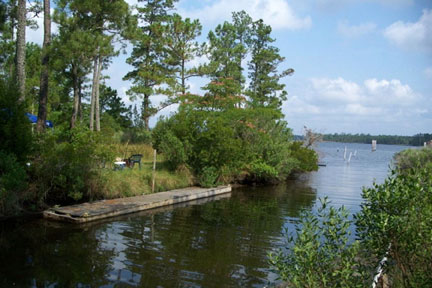 ---
 Bear Den Family Campground
 600 Bear Den Mtn. Road
 Spruce Pine, NC28777
 828-765-2888

    The Bear Den Family Campground is ready to offer complete camping services for any happy camper willing to enjoy a great time out in nature. They have 114 available camping spots for tents, pop-ups and another type of camping vehicles. Each campsite has water, electricity, a fire pit and a beautiful table for picnics. If you're coming over with an RV, you will have full hookup services. The bathrooms are clean and modern, having hot showers, laundry and drier services which are operated by coins.
If you want some extra comfort, then you can choose to rent one of the fully furnished cabins available on site. The lake in the campground is great for fishing, swimming, and canoeing. Enjoy the sun on the sandy beach, specially made for summer enjoyment. The children will not have time to get bored here as they have a playground, a game room or they can opt for outdoor games. It is an experience for the entire family.

This video speaks for itself (in this case for  Bear Den Family Campground)
---
Visitor's story....

The weather is great, the fishing is wonderful and eventful when you look for beach camp parks-campgrounds North Carolina (NC) that allow you to sit down and enjoy a nice quiet day.
Since the beaches and the lake front areas have some great campgrounds, many people prefer this area for some camping and adventures. I went crab fishing the last time I camped in North Carolina and I had a great time.
If you need a break from the lake or river scenery, you might want to visit some of the local attractions. The best place to take the kids and have a great time yourself is the Wet 'N Wild Emerald Pointe Water Park. The kids have a great time and sleep good at night. Another popular area is Paramount's Carowinds Water and Theme Park. With all this fun, you never want to leave.
Find the beach camp parks-campgrounds North Carolina (NC) have other activities to do while enjoying the campgrounds. Some offer a volleyball court, a tennis court and a good old game of horseshoes. If that does not fill your day, try your hand at bird watching or hiking through the beautiful wooded areas.
Beach Parks North Carolina:
Bay River Campground & Marina
682 Weaver Camp Road Merritt,
NC 28556 252-745-4879

Bear Den Family Campground
600 Bear Den Mtn. Road Spruce Pine, NC28777
828-765-2888
 About Us / Privacy Policy / Resources
Camping Parks in US,  Campground Parks in Canada

  Beach Camping Parks - Campgrounds North Dakota (ND) / Beach Camping Parks - Campgrounds Oklahoma (OK) / Beach Camping Parks - Campgrounds Oregon (OR) / Beach Camp Parks - Campgrounds Pennsylvania (PA) / Beach Camping Parks - Campgrounds Rhode Island (RI) / Beach Camping Parks - Campgrounds South Carolina (SC) / Beach Camping Parks - Campgrounds South Dakota (SD) / Beach Camping Parks - Campgrounds Tennessee (TN) / Beach Camping Parks - Campgrounds Texas / Find Here Beach Camping Parks - Campgrounds Utah / Beach Camping Parks - Campgrounds Vermont (VT) / Beach Camping Parks - Campgrounds Virginia (VA) / Beach Camping Parks - Campgrounds Washington (WA) / Beach Camping Parks - Campgrounds West Virginia (WV) / Beach Camping Parks - Campgrounds Wisconsin (WI) / Beach Camping Parks - Campgrounds Wyoming (WY)
Go from Beach Campgrounds New Carolina to Pop Up Campers Trailer Home