5 Best 2016 Lightweight Folding Pop-up Campers
Camping season is just about to "explode", so if you are looking for folding pop-up campers here is the list of our picks: Best Lightweight Folding Campers for 2016.....
Forest River RV Flagstaff Hard Side T21QBHW
The model T21QBHW belongs to the Flagstaff's T-series of A-frame folding campers (known also as "Hard-Side" folding campers in difference to "soft-side" (tent) folding campers). 
   Within this series it belongs to the set of units with high walls (together with models T19QBHW, T19SCHW, T21DMHW and T21TBHW). The T-series includes also models called Classic Hard Side. The main difference is the height of the folded camper (60" for classic series and 67 to 68" for High Wall series). Needless to say, that this small difference makes big difference when it comes to furnishing and living space (in this case mainly interior height in camping configuration). 
The model T21QBHW offers comfort comparable to standard travel trailers with its 60"x80" flip-up bed, 50"x80" front dinette (convertible into bed), well equipped kitchen with refrigerator, double sink, microwave and 3-burner oven. The exterior EZ-reach storage trunk (camper's front) as well as exterior sliding storage (rear) offers plenty of room for all king of stuff. Exterior gas grill allows you to enjoy barbequing….
Summarizing – this camper combines the best of two words: smooth, fibreglass vacuum bonded exterior (characteristic of hard-sided shell) with quick and easy set-up process as well as advantages of tent folding campers (low profile for towing and storage).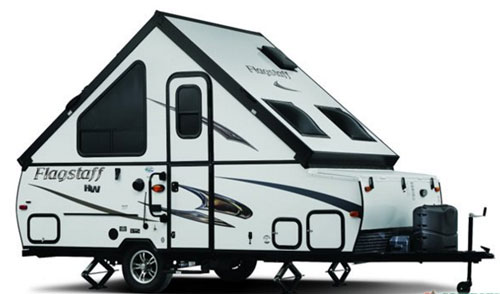 Flagstaff A-frame folding camper - Model T21QBHW
Specifications:
Exterior open length 

Exterior closed length 

Exterior closed height

Interior open height

Exterior width

Gross weight (GVWR)

Dry weight

Cargo capacity

Sleeps

Fresh water tank

20'10"

20'10"

5'7"

-

84"

3336 lbs

2557 lbs

779 lbs

4

26 gals
and its floor-plan
Standard construction features:
Completely enclosed living area
Fiberglass roof and exterior
Tinted skylight
One piece undercoated wooden floor
4 EZ-Crank-Down stabilizer jacks w/ sand pads
Standard features:
Cherry interior "woo-looking" linoleum
Electric water pump
Hor water package (water filter, heater, outside shower)
Port-a-Potty
3-burner glass top-stove
Microwave
Extra large 3-way fridge
Privacy courtains
Spare tire
Electric brakes …. 
SylvanSport GO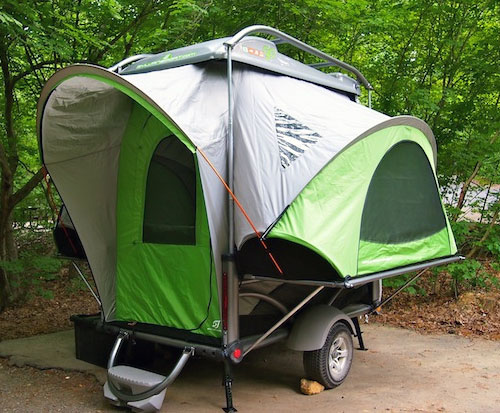 SylvanSport GO - Mobile Adventure Gear Camping Trailer
Courtesy: So Many Places
       This is a camper designed for a younger, hipper outdoors crowd, a pop-up you could park at mountain bike race and get visitors streaming over to see what was inside. In the outdoors media, it was heralded as a feat of design and ingenuity unseen in the camping world. It won an award from the Industrial Designers Society of America.  SylvanSport's pop-up offers a slick and convenient option for outdoors lovers looking to pull a wilderness home behind their truck or car. The GO weighs 840 pounds, allowing for use with small cars that have a trailer hitch. It has high-flotation tires and 13 inches of ground clearance for pulling the trailer into moderate off-road terrain.
It packs into a low-profile bullet of a trailer with a strong aluminum frame that can be adorned with racks for bikes, kayaks or skis. And believe or not , you can carry on its platform an ATV thanks to its cargo capacity of  800 lbs and ramp-free loading design. You can load gear and supplies inside the lockable main compartment before hitting the road.  It is a versatile unit that can be also used as a utility trailer.
     At your destination, the integrated tent, which is made by Kelty, unfolds like an origami flower to create a spacious and weather-proof pod. It has windows, walls, zippered doors, a stair step, bed platforms, and a table.
The set-up time for tent takes about 5 minutes, but you will also need an extra time (around 10 min for setting interior. Putting it down is certainly less time consuming.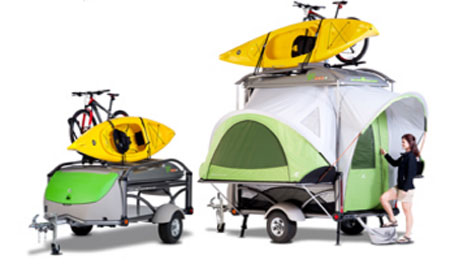 SylvanSport GO Camper Trailer in two configuration: Road and Camping
The roof allows for montage of Thule racks
Specifications:
Interior floor dimensions

Open height

Dry weight

Cargo capacity (deck)

Cargo Capacity (roof)

Ground clearence

Sleeps

48" x 84"

77"

840 lbs

800 lbs

200 lbs

13,5"

2 (standard)

4 (with an extra bed)
Standard Features:
SylvanSport" Mobile Adventure Trailer and Tent System"
2 Bed/Table Panels (Allow for up to six different interior configurations)
4 Self inflating mattresses (sleeps up to four, comfortably, on a King-and-a-half sized bed).
Awning Kit (adds 80" of outdoor living space)
Spare Tire Kit - Mounted securely underneath of the Deck
Control-tilt Deck - Allows for ramp-free loading of motorcycles, lawn mowers, ATVs.....
Starcraft Comet Hardside H1232MD
      The series of Starcraft's Comet Hardside A-frame folding campers includes 8 models with different floorplans. The main differences are external dimensions, GVWR and cargo capacity, set of standard features (four models include shower/bath package), sleeping capacity…). From this point of view, the Comet H1232MD is at the "lower end" of the series.
Comet Hardside H1232MD features everything you need to easily move from tent camping to a hard side unit. Enjoy being up off the ground nice and dry with all the conveniences needed for a great time away from home.
    There is a booth dinette for mealtime or added sleeping space if needed. There is also a comfy full size bed in the rear. Cook light meals and snacks easily with a refrigerator, three burner cook-top, and single kitchen sink. A microwave cabinet is located just inside the door for added convenience also. 
There is a front storage deck with rail so you can take along a few extra things like coolers, a set of golf clubs, and more. You will also enjoy the outside shower, grill, and side storage tray, and so much more!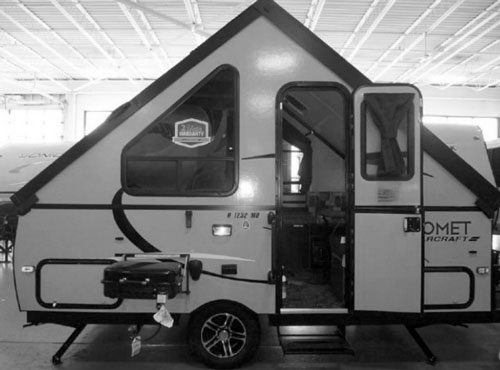 Comet model 1232MD Folding Camper
Specifications: 
Exterior open length 

Exterior closed length 

Exterior closed height

Interior open height

Gross weight (GVWR)

Dry weight

Cargo capacity

Sleeps

Fresh water tank

18'8"

18'8"

60-3/4"

97"

3250 lbs

2000 lbs

1250 lbs

3-4

17 gals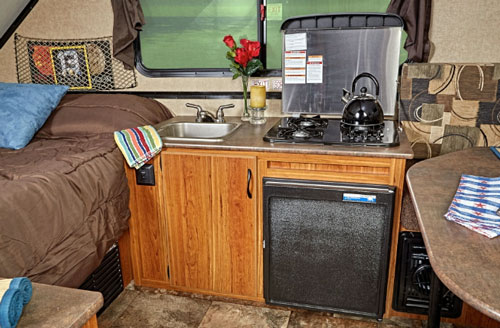 Comet 1232MD Folding Camper - interior view
Standard features:
Three tinted skylights
3-burner stove-top
Microwave
Evergreen mattress
10,000 BTU Cool-Cat heat Pump
AM/FM with MP3 input jack and outside speaker
120V GFCI-protected interior receptacle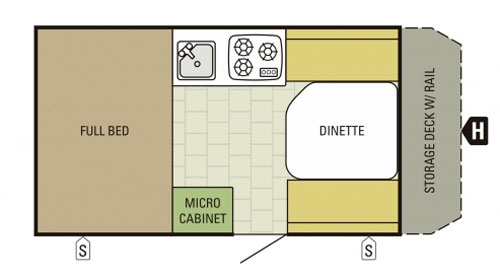 Comet 1232MD Floor-plan
Standard Exterior features:
6 gallons water heater
Two 20 lbs propane bottles with cover
Dark-tinted safety glass windows
Fibreglass laminated roof
Outside grill
Outside shower
Slide storage tray
Customer Convenience Package (Mandatory)
2 cu.fy. 3-way fridge
Electric brakes
Spare tire
4 Stabilizer jacks w/sand pads
Coachmen Clipper 108ST Sport
    Clipper 108ST belongs to Coachmen's Sport series of tent pop-up campers including 5 models with different characteristics, furnishing and floorplans (other models are: 105ST, 106ST, 125ST and 128ST). 
     They all have been designed as lightweight travel trailers with easy set-up and roomy interior.  The patented Glide-N-Lock bed system greatly simplify the set-up time. The Clipper boasts stunning appeal and loads of features centered around convenience and practical comfort that the most experienced camper appreciates.
Two queen-size beds on insulated end bunks provide all you need for good sleep and rest. The 38"x70" dinette together with well equipped kitchen allows not only for making fresh morning coffee but also regular meals and dinner. And if necessary, dinette can be converted into extra sleeping place. 
Cabinets, seats and an external slide-out tray provide a lot of storage place. Optional furnace can help to extend your camping season beyond the summer time. 
Coachmen  Clipper 108ST - camping configuration
Exterior open length 

Exterior closed length 

Exterior closed height

Interior open height

Exterior width

Gross weight (GVWR)

Dry weight

Cargo capacity

Sleeps

Fresh water tank

20'9"

16'4"

4'10"

-

85"

2702 lbs

1869 lbs

824 lbs

5

23 gals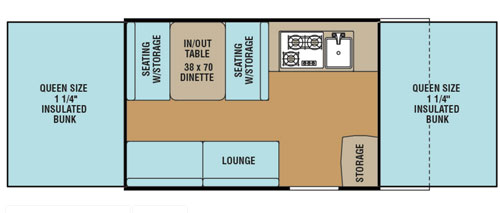 and its floorplan
Interior features:
Walnut cabinets
Residential laminated countertops
Heated mattresses
Acrylic sink
Indoor/Outdoor dinette table
3-burner range
Coachmen  Clipper 108ST - towing configuration
Exterior features:
Tubular steel frame
Electric brakes
Scissors jacks w/ 4 pads
One piece screen door
Glide-N-Lock cable bed system
Power roof vent
Essential Package (option)
3-way 1.9 cu.ft Dometic fridge
20,000 BTU furnace
Spare tire
A&E awning
Options:
Thetford Modular Casette Potti
DSI hot water system w/hot/cold exterior shower
Palomino Basecamp 10DFG
   Palomino's Basecamp pop-up (tent) travel trailer provides "bridge" between tent-camping ambiance and classic travel trailer environment and comfort. The series includes nine models with characterized by different dimensions, weight, furnishing and layouts (two models have slide-out dinette).
As most tent campers Basecamp 10DFG features front and read-ends bunks (correspondingly 60" and 54" wide) for convenient sleeping for 4 persons.
Indoor kitchen includes 3-burner stove, sink and storage cabinets (enthusiast of outdoor cooking can enjoy an extra exterior 3-burner stove). The 40" x 68" dinette comes with seating with storage. Across from the dinette there is a slide gaucho with place for "family" time and more storage space.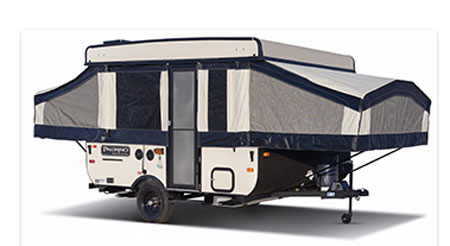 Palomino Basecamp Model 10DFG
Exterior open length 

Exterior closed length 

Exterior closed height

Interior open height

Exterior width

Gross weight (GVWR)

Dry weight

Cargo capacity

Sleeps

Fresh water tank

20'2"

16'10"

4'8"

6'7"

85"

3000 lbs

1953 lbs

1046 lbs

5

19 gals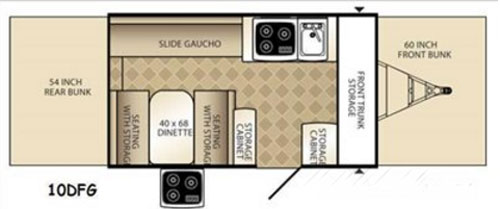 and its floorplan
Features:
Thermo Foil bed-ends w/ Serta Matteresses
Large Scissor stabilized jacks
Bumper mount storage
LED lights
Exterior fibreglass
OPTIONS:
Awning
CO Detector
Create-a-Breeze Fan
Electric Brakes
Electric Lift
Furnace
Spare Tire & Carrier
Serta Mattress
Upgraded Insulated Thermo Foil Bed Ends
2.0 cu. ft. Refrigerator
Hot Water System / Outside Shower
---