2017 Bigfoot 25B21FB
Fiberglass Travel Trailers
Bigfoot 25B21FB travel trailer represents the family of all-fiberglass campers; lite, corrosion and rot-resistant with great choice of amenities, it provides all needed comfort when on vacation.....
       Bigfoot Industries Inc. located in Armstrong (British Columbia) is a Canadian manufacturer of travel trailers and truck campers.  
       Established some 30 years ago, they developed the technology of clamshell molded-fiberglass in construction.  
In other words, the main body of the camper instead of being assembled from several wooden and aluminum components wrapped in a tiny layer of gelcoat fiberglass is entirely made from two pieces of fiberglass.
At the assembling stage the top shell overlaps the lower shell and then both pieces are bonded together using a special sealant reinforcing the structure as well as preventing water penetration.
This "all-fiberglass" technology creates campers that are not only strong and lightweight but also as being corrosion and rot resistant – durable (pretty much lasting forever).  Also, because the fiberglass has much lower thermal conductivity than any metal (like aluminum or steel…), such campers by definition have better thermal insulation.
For the 2017 season, Bigfoot's proposed the travel trailer series 2500B with seven distinctive floor-plans ranging in length from 17.5 feet to 25 feet.  Here in details we will present the mid-range unit 25B21FB.
Bigfoot 25B21FB fiberglass travel trailer
     At the front of the trailers there is a large full-size bed (54" x 74") with spring-filled foam mattress. Together with spacious night stand, wardrobe and overhead cabinets it makes a comfortable bedroom.  The TV shelf brings to the bedroom a chance for entertainment and/or contact with civilization (if needed)! The large, panoramic, opening window with shades and screen allows for special "connection" with the surrounding nature.
      The central part of the trailers is used by the kitchen and the spacious dinette (on the opposite side of the galley). Fully equipped kitchen certainly includes everything you used to have at your home. Large 6 cu.ft  refrigerator , 3-burner cooktop, double stainless sink, oven, microwave and even cutting board (not mentioning cabinets and pull-out pantry) offers favorable conditions to prepare even more sophisticated meals.
At the rear end of the trailer you will find bathroom with tub/shower, porcelain toilet and vanity. Next to the bath, on the left side of the entrance door there is a large pantry and cabinet. Anyhow, with the storage space under dinette seating and overhead cabinets throughout the camper as well as racks on the roof (with rear ladder access) it seems that storage apace should not be a problem even for "stuff-and-toys" lovers…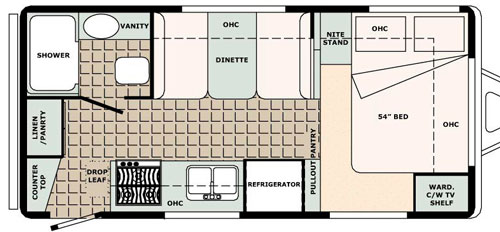 Bigfoot 25B21FB travel trailer - floorplan
     With popular options like for example external BBQ hook-up, 14ft awning, exterior shower, exterior speakers  etc.….  you can customize your trailer according to your needs and expectations.
Solar power (the trailer is pre-wired, but the panels are optional) makes the trailer more energy autonomous, what never hurts (despite the fact that dual 30lbs LPG tanks provide quite good energy-autonomy). 
      The 25B21FB as a truly Canadian travel trailer is designed for colder climate (or if you want – shorter traditional camping season).  R-8 grade thermal insulation, thermal windows, heated and enclosed water tanks as well as standard 30,000 BTU furnace with ducted, air-forced hating make possible to extend vacation beyond short summer season.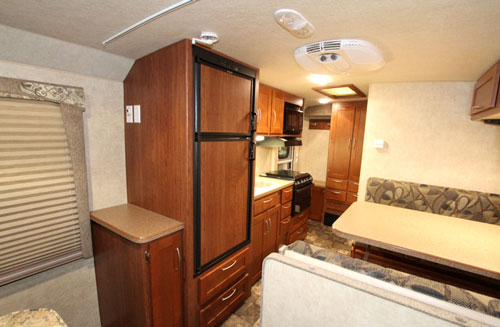 Bigfoot 25B21FB: galley
Specifications:
Exterior length

Exterior width

Exterior height

Interior headroom

Dry weight

GVWR

Cargo capacity

Fresh water tank

Grey water tank

Black water tank

LPG

Awning (optional)

Sleeps

21'6"

8'4"

8'10"

6'4"

4,450 lbs

7,000 lbs

2,550 lbs

43 gallons

27 gallons

22 gallons

2 x 30 lbs

14 ft 

4
Construction
2-pieces molded-fiberglass shell
High-density 1 ½ inch EPS thermal insulation (R-8)
Tandem axles
Shock absorbers
Aluminum wheels
Solar reflective thermal pane windows
Washable vinyl wall paneling
Face framed, double-screwed cabinets
Marine quality fabric headliner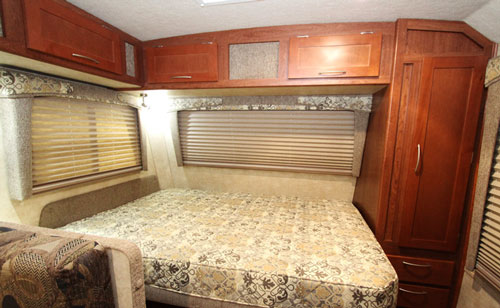 Bigfoot 25B21FB: bedroom
Kitchen
3-burner cooktop w/Bi-Fold cover
Oven
1 cu ft. microwave oven
12V range hood
2-way 6 cu ft. refrigerator
Double stainless sink
Single lever faucet
Cutting board
Two 30 lbs LPG tanks w/ auto change-over
Standard interior features
30,000 BTU ducted, forced-air furnace
Skylight in living area (w/shade and screen)
Spring filled foam mattress (54" x 74")
Day/Night shades
AM/RM/CD stereo (Satellite ready)
Fantastic fan
Porcelain toilet
Shower
Bathroom vanity
6 gallons water heater w/bypass
12V water demand pump
Bigfoot 25B21FB: Dinette
Standard exterior features
Spare tire w/carrier
Drain hose (stored in rear bumper)
Electric brakes
Breakaway switch
Front & rear stabilizer jacks
Rack and ladder
LPG bottles fiberglass cover
Heated enclosed water tanks
Folding 2-step entry
City water hook-up
Electrical
110V AC 30 Amps service
45 Amps DC power converter w/battery charger
Pre-wired (Solar, roof AC)
porch, hitch, road lights
Safety:
Fire extinguisher
Detectors (smoke, carbon monoxide, LPG)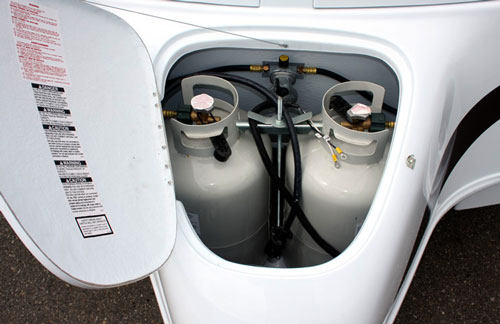 Bigfoot 25B21FB: LPG fiberglass box at the front of the trailer
Options
11,000 BTU roof-mounted AC
Crank-up TV antenna w/booster
Exterior stereo
Fantastic fans (bath, galley & bedroom)
Fiberglass front cargo box (adds 2ft to the length)
2.5kW LPG generator w/Generator Ready Package)
12V LCD TV (w/TV Ready package)
LED interior lighting
14ft self-storing awning
Solar system
RV BBQ hook-up
Shower w/ winterizing valves