Camping Parks Montana
Find best campgrounds and RV Parks in Montana to explore this Land of the Shining Mountains and unspoiled nature....
Montana is located in the Western United States.
The name of the state comes from the Spanish word "montaña" which means "mountains".
It has several nicknames and slogans, such as the "Big Sky Country" and "Treasure State" , "Land of the Shining Mountains" and "The Last Best Place".
Indeed, these various nicknames reflect undisputable truth – Montana is a paradise for tourists wishing to forget the hectic city life and get lost (but not literally) in the beauty of nature.
Montana is known all over the United States for its amazing parks like the Glacier National Park, Little Bighorn Battlefield National Monument and Yellowstone National Park.
If you visit Montana, you will be mesmerized by the beautiful natural landscapes that it has to offer.


Let's start our visit to Montana from the Glacier National Park....

Outback Montana RV Park & Campground
13772 Outback Lane
Bigfork, MT 59911(406)
Phone: (406) 837-6973

This park is located only three miles from Bigfork and only minutes from Flathead Lake.
It has full hook-up RV sites including water, power and sewer. There are 70-ft pull-through sites for RV campers. All sites have picnic tables and a barbecue.  Clean restrooms with hot showers and the dump station for RVs make life on the campground comfortable. Free wireless Internet offers connection with the outside world. There are recreational areas for children, so the park is family friendly. At the camp's office you can buy firewood, ice, rent movies and more…..
Some of the nearby attractions are the Flathead Lake (the largest natural fresh water lake west of the Mississippi River), Eagle Bend Golf Course, Bigfork Village, Glacier National Park and the Wayfarers State Park.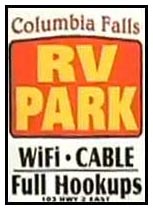 Columbia Falls RV Park
103 Hwy. 2 East
Columbia Falls, Montana 59912
Phone: (406) 892-1122

Columbia Falls RV Park occupying a beautiful green area offers large, flat sites and mesmerizing mountain views.
It is the only RV Park within Columbia Falls' city limits. The park has 58 pull-through sites with full hook-ups including 30 & 50 amps electrical connections. Columbia Falls RV Park has the largest supply of RV accessories in the whole city! So if you need anything for your RV, you can find it here (or in other words – if you do not find it here, then do not bother trying somewhere else).
The park has all the amenities that you would need: spacious laundry room, clean tiled showers and restrooms, walking trails, free WiFi and more…...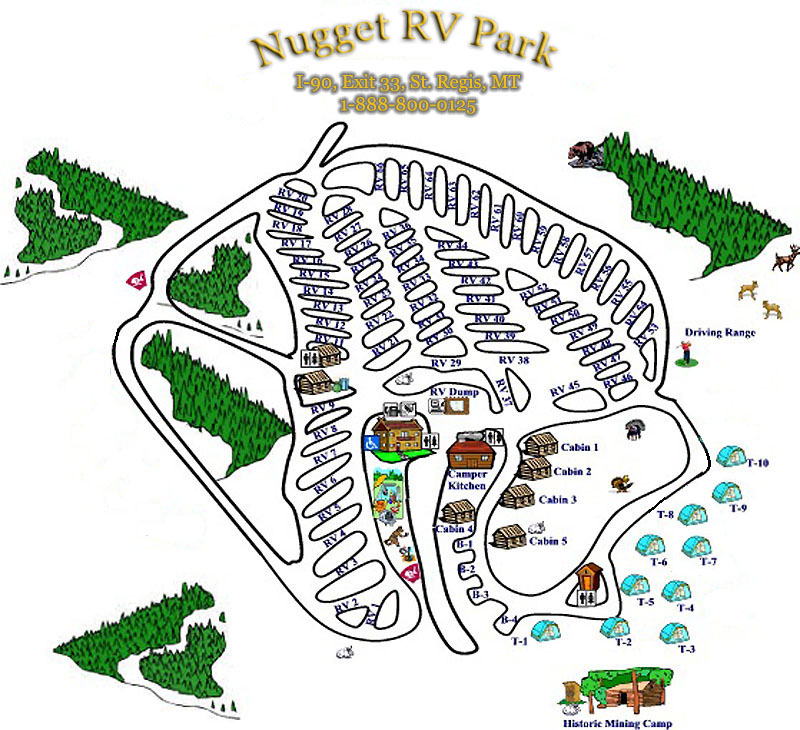 Site map of the Nugget RV Park (St. Regis MT)
Source: www.nuggetrvpark.com

Nugget RV Park
I-90 Exit 33
St. Regis MT
Phone: (888) 800-0125

Nugget RV Park offers not only comfortable RV-vacations but first of all beautiful mountains in the background. Bring your pet along; there are 30 acres of walking trails with a nice meadow.


They are not only great for walking your dog, but also for hiking, biking and for sure admiring amazing nature.
This is the place where you can really spot wildlife: deer, elk but also other wild animals.
The nearby attractions include: Trestle Creek Golf Course, Quinn's Hot Springs Resort, Western Waters White Water Rafting, Montana River Guides, Hiawatha Bike Trail, National Bison Range.
The RV Park offers free wireless Internet for all its guests.

Benton RV Park & Campground
2410 Choteau Street
Fort Benton, Montana 59442
Phone: (406) 622-5015

Benton RV Park and Campground offers 28 sites with full hook-up service, restrooms and showers, laundry facilities, wireless internet and more. They also offer cabins for rent what may be a nice option in bad weather conditions. Groups and families are welcomed.
The area is a paradise for water sports (canoeing, fishing…) but also for hunting! Golfers will find here opportunities to practice their favorite sport, while bikers will find biking trails. 
Some of the nicest places that you can visit from here are the Scenic Missouri River and Historical Lewis & Clark Memorial.


You would like to see grizzly bear in Yellowstone National Park, but certainly not next to your camper :-)

Yellowstone Grizzly RV Park and Cabins
210 S. Electric Street
West Yellowstone, Montana 59758
Phone: (406) 646-4466

If you want to visit the Yellowstone national park, you can stay at this campsite in located in West Yellowstone, Montana. The west entrance to Yellowstone National Park is at the walking distance from the RV Park. Other local attractions are the Grizzly and Wolf Discovery Center, IMAX Theater, Museum and Historic Center.
Each camping site has nice grassy areas and a paved patio with a picnic table. There is a convenience store at the campsite, gift shop, game room, conference room, laundry room and clean restrooms with showers.


---
Visitor's story......

Find a pop up camper or a motorhome trailer and you are ready to head out on the open road to anywhere you like.
Use a directory of campgrounds: tent and RV camping parks Montana (MT) to find some nice places close to area attractions to stay. If you need to escape the city and get back to nature, camping in a motor home or any recreational vehicle surely allows for this type of activity.
Stay at a beach camp or a another campground, find one to dock a mobile home for year round adventures. Some people use the directory of campgrounds: tent and RV camping parks Montana (MT) to find a starting point when looking for the perfect campground. Whether you want to stay in a state park or a private campground, you will have fun and relaxation no matter where you choose to camp out.
Look at some the area campgrounds in Montana:

Jellystone RV Resort
I-90 At Hwy 93
Missoula MT 59802
406-543-9400


Alhambra RV Park
515 Mt Highway 282
Clancy MT 59634
406-933-8020


Arrow Inn & RV Park
3889 US Hwy 93 N
Stevensville MT 59804
406-777-5577


Bitterroot Family Campground
1744 US Highway 93 S
Hamilton MT 59840
406-363-2430


Blue Mountain RV Park
6141 US Highway 93 N
Eureka MT 59917
406-889-3868
 About Us / Privacy Policy / Resources

Find here 250+ Beach Camping Parks


Go from Directory of Campgrounds: Tent and RV Camping Parks Montana (MT) to Pop Up Campers Trailer Home

Directory of Campgrounds: Tent and RV Trailer Camping Parks USA / Tent and RV Camping Parks Missouri (MO) / Tent and RV Camping Parks Montana (MT) / Tent and RV Camping Parks Nebraska (NE) / Tent and RV Camping Parks Nevada (NV) / Tent and RV Camping Parks New Hampshire (NH) / Tent and RV Camping Parks New Jersey (NJ) / Tent and RV Camping Parks New Mexico (NM) / Tent and RV Camping Parks Ohio (OH) / Tent and RV Camping Parks Oklahoma (OK) / Tent and RV Camping Parks Oregon (OR) / Tent and RV Camping Parks Pennsylvania (PA) / Tent and RV Camping Parks Rhode Island (RI) / Tent and RV Camping Parks South Carolina (SC) / Tent and RV Camping Parks South Dakota (SD) / Tent and RV Camping Parks Tennessee (TN) / Tent and RV Camping Parks Texas (TX) / Tent and RV Camping Parks Utah (UT) / Tent and RV Camping Parks Vermont (VT) / Tent and RV Camping Parks Virginia (VA) / Tent and RV Camping Parks Washington (WA) / Tent and RV Camping Parks West Virginia (WV) / Tent and RV Camping Parks Wisconsin (WI) / Tent and RV Camping Parks Wyoming (WY)

Directory of Campgrounds: Tent and RV Trailer Camping Parks USA