Directory of Campgrounds: Tent and RV Camping Parks North Carolina (NC)
Directory of Campgrounds: Tent and RV Camping Parks North Carolina (NC)

North Carolina is located in the southeast of the USA.
The motto of North Carolina is "A Better Place to Be" and honestly it's well deserved.
North Carolina is also known as the Tar Heel State or the Old North State.
Its highest point is Mount Mitchell, in the Blue Ridge Mountains, which is 6,684 feet high.
North Carolina was the first state to declare independence from England in 1775. It has very reach pre- and post-colonial as well as great contribution of the history of an independent America. Not many may remember that North Carolina is the state where the first man took to the air and flew.
Pepsi cola was invented here. Interestingly – North Carolina grows more sweet potatoes than anywhere else in the USA. This is why it is also the "state vegetable".
Make sure you visit North Carolina Museum of History, North Carolina Museum of Art, Museum of Life and Science and North Carolina Maritime Museum. For fun it is worth to visit Land of Oz, the Ghost Town in the Sky and the Wet 'n Wild Emerald Pointe.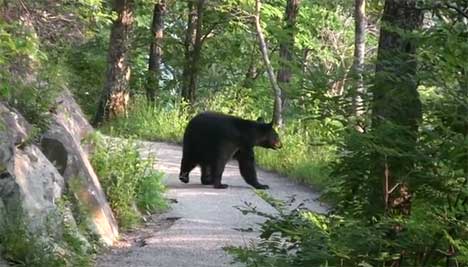 Nature may be quite "wild" in North Carolina parks - here the black bear in the Smoky Mountain National Park.....

Jones Station RV Park
2710 Jones Drive
Mebane, NC 27302
(919) 568-0153

Jones Station RV Park is a privately owned RV & camping site, located on 25 acres of green land. It is open all year round, so whether it is winter or summer, you can enjoy this place. It has full hookups and it is big rig friendly, so you can come with any RV you have, there is enough of space. It has 36 Deluxe Camp Sites on 25 Acres with 20/30/50 Amp full hookups. There are picnic tables and fire pits, firewood, ice and LP Gas.
Covered picnic areas are also available for rainy weather. You can use for free the new clean restrooms. The park is children friendly, there is a playground and horseshoes pit. You can watch TV and check your Internet; it is all included in the price. Basic tent sites are also available.
Some of the local attractions are the Greensboro Historical Museum, the Wet & Wild Emerald Point, the Museum of Life & Science and the Nasher Museum of Art. Southpoint Mall is great for shopping!


Goodwin's RV Campground
1034 Moncure School Rd
Moncure, Chatham County NC
(919) 868-0973

This small yet beautiful family operated park is open all year round. The park is located in the woods guaranteeing shade and semi-private camping areas.  There are 20 sites available with full hookups including water, electricity (30 and 50 amp) and sewer. High speed internet is included in the price, cable TV is available for an extra fee.

Thanks to the Jordan Lake recreation area everybody can find here outdoor activities. There are plenty of water-sports that you can do and fishing as well. Ray's Supermarket, Jordan Dam Mini Mart, Moncure Post Office, Food Lion in Pittsboro and Sanford and Walmart in Siler City, Sanford and Apex are all just a drive away from the park.

See Review of Goodwin's RV Campground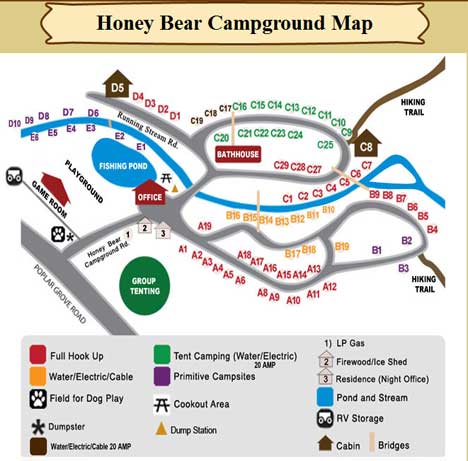 Map of the Honey Bear Campground
Source: www.honeybearcampground.com

Honey Bear Campground
229 Honey Bear Campground Road
Boone, NC 28607
(828) 963-4586

Honey Bear Campground is located on a 26 acre green land among lush green trees. Although it is open all year round, winter time available spaces are limited. All the sites have full service of RV hookups. For your comfort there are large warm showers and restrooms and a laundry room.

You can buy most important things from the camp store; ice and wood is also for sale here.
Fire rings at the sites assure a nice and safe campfire.
The kids will love this park because of the public "Little Theater" Room.
Cable TV and wireless internet is available at some of the sites.

The park has a small pond and hiking trails around, so it is perfect for those who love outdoor activities. It is only 3 miles away from downtown Boone where you can do shopping, fine dining and visit museums.


Smoky Mountain Campground
1840 W. Deep Creek Road
Bryson City, NC 28713
(828) 488-3302

This seasonal campground open between April and October is located in Bryson City. Each site has water & sewer and 20/30amp electrical hookups. There are excellent shower and bathroom facilities. At the camp store you can find the most important camping items. The campground offers free WiFi to all guests and cable TV for extra charge.

There are several grocery stores and restaurants in the city not far away from the camp. You can do fishing and tubing at Deep Creek, or visit the Great Smoky Mountains National Park (it is actually "a must to do". You can also visit the Cherokee Indian Reservation.
Good news for nature lovers - there are lots of hiking opportunities nearby.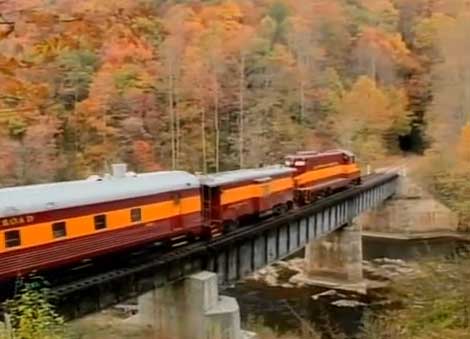 Take the trip on The Great Smoky Mountain Railroad......

The Adventure Village
15 Adventure Ridge Road
Brevard, NC 28712
(828) 862-5411

If you are looking for a mountain resort experience, visit the Adventure Village. The RV camp is located in a forested area in a beautiful small mountain town - a region called the "Land of Waterfalls. There are 30 full RV hook-ups with 50-amp electrical service. Cable TV and internet are included in the price.
The camp is great for kids with its outdoor swimming pool, wading pool and playground. For the whole family there is a stocked fishing pond with carp, catfish and fresh mountain trout right on the campsite. The mountain town has lots of restaurants, galleries and music events. Outdoor activities such as canoeing, fishing, tubing, swimming, hiking, mountain biking are possible in the area.

Nearby you will find Pisgah National Forest, DuPont State Forest, Gorges State Park and Brevard Music Center.


Adventure Village can be your base of operations to enjoy all of the unique and exciting adventures in Brevard, North Carolina, Transylvania County and the surrounding area.
---
Visitor's center .......

Once you find a campground using a directory of campgrounds: tent and RV camping parks North Carolina (NC) make plans to visit the Land of Oz and some of the museums in North Carolina.
When you travel in a motor home or as some say a motorhome trailer you have many options as to where to stay.
A pop up camper usually needs some form of electrical service where as a motor home is self-contained and has its own power supply.
If you stay at a beach camp with plenty of swimming and sunshine, you will have some fun filled days.
Any recreational vehicle works wonderful for camping out and having fun. Use this directory of campgrounds: tent and RV camping parks North Carolina (NC) gives you some ideas when selecting area that may have some activities for the entire family.
Look at some of these campsites:
Almond Boat & RV Park 1165 Boat Park Rd Bryson City NC 28713 828-488-6423
Waldo's Beach Swimming Area & Campground 6742 Waldos Beach Rd Fayetteville NC 28306 910-424-3442
Water's Edge Motor Court & RV Park 35 Scott Cir Maggie Valley NC 28751 828-926-1801
Topsail Sound RV Park 734 Morris Landing Rd Holly Ridge NC 28445 910-329-0500
Stone Mountain State Park 3042 Frank Pkwy Roaring Gap NC 28668 336-957-8185
 About Us / Privacy Policy / Resources
Find Here Worldwide Beach Camping Parks Directory
Go from Directory of Campgrounds: Tent and RV Camping Parks North Carolina (NC to Pop Up Campers Trailer Home

Directory of Campgrounds: Tent and RV Trailer Camping Parks USA / Tent and RV Camping Parks Missouri (MO) / Tent and RV Camping Parks Montana (MT) / Tent and RV Camping Parks Nebraska (NE) / Tent and RV Camping Parks Nevada (NV) / Tent and RV Camping Parks New Hampshire (NH) / Tent and RV Camping Parks New Jersey (NJ) / Tent and RV Camping Parks New Mexico (NM) / Tent and RV Camping Parks Ohio (OH) / Tent and RV Camping Parks Oklahoma (OK) / Tent and RV Camping Parks Oregon (OR) / Tent and RV Camping Parks Pennsylvania (PA) / Tent and RV Camping Parks Rhode Island (RI) / Tent and RV Camping Parks South Carolina (SC) / Tent and RV Camping Parks South Dakota (SD) / Tent and RV Camping Parks Tennessee (TN) / Tent and RV Camping Parks Texas (TX) / Tent and RV Camping Parks Utah (UT) / Tent and RV Camping Parks Vermont (VT) / Tent and RV Camping Parks Virginia (VA) / Tent and RV Camping Parks Washington (WA) / Tent and RV Camping Parks West Virginia (WV) / Tent and RV Camping Parks Wisconsin (WI) / Tent and RV Camping Parks Wyoming (WY)