Directory of Campgrounds: Tent and RV Camping Parks North Dakota (ND)
Tent and RV Camping Parks North Dakota (ND)
North Dakota is located in the Upper Midwestern region of the United States.
On the north, the state borders Canada. It is not a very densely populated state, with abundant nature and wilderness.
If you are interested in the history of the area and its native inhabitants, visit the Spirit Lake Reservation or the Standing Rock Indian Reservation.
There are plenty of museums to visit; some of the art museums worth visiting are the Plains Art Museum and the North Dakota Museum of Art.
It's also an interesting experience visiting the Fargo Air Museum, the North Dakota Heritage Center and the Dakota Dinosaur Museum. For a family fun time go to the Prairie Rose Carousel amusement park or to the Thunder Road Family Fun Park.


Introduction to North Dakota's State Parks system.....

4 Bears RV Park
202 Frontage Road
New Town, ND
(800) 294-5454

The 4 Bears RV Park is located right next to the namesake casino. It is a seasonal park.
While the casino offers well-known kinds of entertainment, the "big unexpected" experience for the RV Park guests is the amazing view from the park with the Lake Sakakawea in the distance.
RV Park offers 115 full service hookups. There are shower houses and restrooms throughout the park. Picnic shelters are available for an additional fee. Rustic camping is also possible free of charge. The park offers 24 hour security. 
There are a lot of events at the casino, and plenty of gaming, dining and other entertainment opportunities. If you are planning to come with a group, you can rent a hall for a party of banquet.


Coyote Charlie's RV Park
1612 11th Ave SE
Watford City, ND 58854
(701) 842-2868

Coyote Charlie's RV Park is a family operated park. It is located at the edge of Watford City. RV Sites offer full hookups with 30/50 Amps, water and sewer. Clean restrooms and showers as well as laundry room are included in the price. The park offers free WiFi to the guests.
Coyote RV Park is perfect for larger groups, since it has large lounge with comfortable couches.
The RV Park is close to the city; you are only a few minutes of driving away from fine dining, antiques, shopping and sightseeing.


Hillcrest Acres Campground and RV Park
5700 East Main Avenue,
Bismarck, ND 58501
Phone (701) 255-4334

This is a seasonal campground that opens in April.
Most sites have full hookups service, but there are also some coming only with electricity. Wireless internet is available on the premises for all guests. Similarly for all guests is laundry room and the shower facilities.

There is a small convenience store where you can find some groceries and other important items. Pets are welcome, but they have to be kept on leash. This is a children friendly park with a playground.
If you come with your family, be sure to visit Lewis and Clark River Boat, Raging Rivers Water Park, and Dakota Zoo. There are Local Golf Courses nearby. The Lewis and Clark Interpretive Center is also in close proximity..


Country RV Park
4398 62nd Ave NE PO Box 132
Minnewaukan, ND 58351-0132
(701) 351-7297
Country RV Park is located in a natural area where you will be able to enjoy outdoor activities. It is a family operated RV park and for several generations it has been owned by Wanda & Chris Teigen.
Here you can enjoy quiet countryside free of stress and hectic city life. There are full hookups with water, sewer, and 20, 30 & 50 Amp electrical service. Children can stay for free at the park.
The RV Park is close to Minnewaukan and Devils Lake – both offering great opportunities for shopping and sightseeing. But the surrounding area is also great for hunting and fishing. As a matter of fact wildlife watching is one of the local attractions. During the winter you can do ice fishing and snowboarding.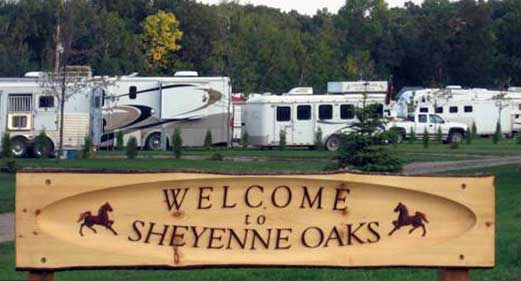 Sheyenne Oaks Horse Camp and RV Park
6050 County Road 23
Leonard, ND 58052
701 361-8566

This family run RV Park is located 40 miles from Fargo on a large grassy land. It borders the Sheyenne National Grasslands. The camp has 20 sites with full accommodations: electrical hookup (50, 30 & 20 amp), sewer and water.


Guests can use the comfortable shower houses.
You can do some hiking, biking, horse riding and wildlife- watching, all right next to the campground.
The park offers ice, firewood, LP gas refill. It is also a horse camp, so if you love riding horses you will like it here.
Just 10 minutes away is the Golfing at Leonard Country Club, and a bit further the Silver Prairie Saloon located in McLeod, the Kindred Public Library and the Kindred Swimming Pool.
---
Visitor's center.....

North Dakota is the home to the International Peace Garden that you will not see anywhere else in the world.
Use a directory of campgrounds: tent and RV camping parks North Dakota (ND) to find campgrounds near some of the most beautiful sites in the state.
Travel in a motor home or with your pop up camper and have some fun adventures of your own.
Whether you choose a beach camp, state park campgrounds or a privately owned campground, you can find some idea locations.
The idea recreational vehicle, whether it is a motorhome trailer or a mobile home of some type, you can find some fun and excitement at some of these campgrounds.
Look at the directory of campgrounds: tent and RV camping parks North Dakota (ND) for ideas on where to stay while traveling around the area.
Some fun campgrounds in North Dakota are:
A Pairie Breeze RV Park 2810 158th St NE Menoken ND 58558 701-250-1779
Grand Forks Campground & RV Park 4796 42nd St S Grand Forks ND 58201 701-772-6108
Hillsboro Campground & RV Park 203 6th St SW Hillsboro ND 58045 701-636-5205
Jamestown Campground 3605 80th Ave SE Jamestown ND 58401 701-252-6262
Prairie Acres RV Park 13853 Highway 2 Williston ND 58801 701-572-4860
 About Us / Privacy Policy / Resources
Find here 250+ Beach Camping Parks
Go from Directory of Campgrounds: Tent and RV Camping Parks North Dakota (ND) to Pop Up Campers Trailer Home
Directory of Campgrounds: Tent and RV Trailer Camping Parks USA / Tent and RV Camping Parks Missouri (MO) / Tent and RV Camping Parks Montana (MT) / Tent and RV Camping Parks Nebraska (NE) / Tent and RV Camping Parks Nevada (NV) / Tent and RV Camping Parks New Hampshire (NH) / Tent and RV Camping Parks New Jersey (NJ) / Tent and RV Camping Parks New Mexico (NM) / Tent and RV Camping Parks Ohio (OH) / Tent and RV Camping Parks Oklahoma (OK) / Tent and RV Camping Parks Oregon (OR) / Tent and RV Camping Parks Pennsylvania (PA) / Tent and RV Camping Parks Rhode Island (RI) / Tent and RV Camping Parks South Carolina (SC) / Tent and RV Camping Parks South Dakota (SD) / Tent and RV Camping Parks Tennessee (TN) / Tent and RV Camping Parks Texas (TX) / Tent and RV Camping Parks Utah (UT) / Tent and RV Camping Parks Vermont (VT) / Tent and RV Camping Parks Virginia (VA) / Tent and RV Camping Parks Washington (WA) / Tent and RV Camping Parks West Virginia (WV) / Tent and RV Camping Parks Wisconsin (WI) / Tent and RV Camping Parks Wyoming (WY)