Directory of Campgrounds: Tent and RV Camping Parks Wisconsin (WI)
Find best Wisconsin's RV Parks and campgrounds – getaways for exploration of state's nature and amusement parks
Wisconsin is located in the north-central USA commonly known as Midwest and Great Lakes region. Its largest city is Milwaukee.
The state has many beautiful natural reserves, for example the Apostle Islands National Lakeshore along Lake Superior, Ice Age National Scenic Trail, North Country National Scenic Trail or Saint Croix National Scenic Riverway.
Those looking for more "noisy" environment with a dose of adrenaline will find here plenty of amusement parks, such as the Bay Beach Amusement Park, Wisconsin State Fair Park, Mount Olympus Water and Theme Park and Kalahari Resort Indoor Waterpark.
Some of the state's its biggest shopping centers are Mayfair Mall, Hilldale Shopping Center or East Town Mall.

Starting point: ..... explore Wisconsin's National Park System, including the Ice Age National Scenic Trail, the St. Croix National Scenic Riverway, the Apostle Islands National Lakeshore, and the North Country National Scenic Trail. .....

Country View RV Park
W12491 Lake Drive
Lublin, WI 54447
(715) 669-7079

Country View RV Park is a small family owned park. It is a seasonal campground opening between May and September. There are 10 RV sites with water and electrical hookups, campfire rings and picnic tables. You can also use the sewage dump at the site. Prices include water, dump station & electricity. The firewood is available for campfires and barbecues for a small fee.

If you feel like exploring some of the nicest national parks of Wisconsin, you can do so from here. The Ice Age Trail is only 1 mile away, Diamond Lake, Chequamegon Waters, Yellow & Black Rivers are close by and the Chequamegon National Forest is also only a few minutes away from the Country View RV Park.

O'Neil Creek Campground
14912 105th Avenue
Chippewa Falls, WI 54729
(715)723-6581

O'Neil Creek Campground is located in the heart of the West-Central Wisconsin. This is a seasonal campground!
You can choose sites with full hookups including water, sewer and 20/30/50 Amps electric services. Showers are free (included in the price of camping), but the laundromat requires coins to be operated. The dump station can also be used free of charge.
On site there is a basketball and volleyball court, horseshoe courts, game room/pavilion hall, two playgrounds and an 18-hole mini golf course.
The campground is only four miles away from Chippewa Falls and Lake Wissota, great for fishing, water sports and swimming. You can rent inner tubes, paddle boats canoes and row boats from the campground.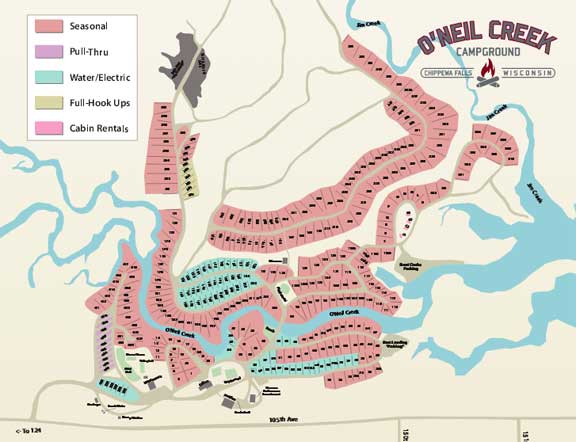 O'Neil Creek Campground - map (obviously there is a lot of water there :-)....

Source: www.oneilcreek.com

Tomahawk Campground & RV Park
N11046 County Rd A
Tomahawk, Wisconsin 54487
(715) 525-9600

Tomahawk Campground & RV Park offers sites for RVs and tents. This family oriented campground is located on 90 acres of grass with trees, streams, ponds and some wildlife as well.  Sites have full hookups with water, sewer and electric services.
Guests can use for free the off-site indoor pool, hot tub, and sauna while for kids there is a large playground!  On site there is a camp store and a snack bar.
The RV Park is located in close proximity to shopping and dining area.
Exploring nature and/or amusements parks in the area you can consider SARA Park Beach, Tomahawk Historical Museum, Knox Creek Heritage Trail, Kwahamot Water Ski Shows, Inshalla Country Club, Zinger's Paintball…
If you are interested, nearby lakes offer countless opportunities for fishing and swimming. And since the Campground is located not far from the town, you can enjoy movie theaters and museums without having to drive too far.

Welcome to Stoney Creek RV Resort by Joy Levake

Stoney Creek RV Resort
50483 Oak Grove Rd
Osseo, WI 54758
(888) 349-6399

Stoney Creek RV Resort is a seasonal camping place open from April to October. This campground is big-rig friendly, with large 55' x 80' pull-thru sites and full hookups including Direct TV. The campsites also have 10 x 20 concrete patios for your convenience. You can use the 18-hole mini-golf, adult pool with basketball and the kiddie pool with toys. Volleyball and basketball courts are available for guests. Since there is a large community center, the Stoney Creek RV Resort is ideal for groups. Catering is available on request.
During the high season Resort's staff organizes events, and you can always try one of their covered wagon rides or request their workshop services. You won't get hungry if you stay at Stoney Creek RV Resort and you won't need to worry about buying food and cooking. There is a short order kitchen with all kinds of goodies on site, like burgers, pizzas, desserts, breakfast, snacks and more.

Kewaunee Village RV Campground
333 Terraqua Drive
Kewaunee, WI 54216
(920) 388-4851

Kewaunee Village RV Campground is a place where you can truly rest and relax.
They have a strong policy against being noisy!
Their sites are pull-thru with city water & sewer and 20/30/50 amps electric service.
The main building houses restrooms, office, game room, laundry, convenience store, and Wireless DSL Hotspot and hookup.
For kids and adults alike there is a heated pool and a game room. There is also the playground and the volleyball court for kids.
LP gas is available at the Kewaunee Village RV Campground, both for cylinders and motor homes. You can throw away your trash at the sanitary dump station. Pets are only allowed on a leash!

In the area you can visit the Historical Jail Museum, Kewaunee County Historical Society, Marquette Historic District and Parallel 44 Vineyard & Winery.

---
Visitor's story.....

Visit Wisconsin and stay in the areas of wooded areas such as the Kettle Moraine State Forest, which can be seen all around the area when you stay at the Westward Ho Campgrounds and Long Beach camp.
Look at the directory of campgrounds: tent and RV camping parks Wisconsin (WI) for a pop up camper grounds as well as a motorhome trailer park and a mobile home trailer campgrounds.
Take your recreational vehicle through the scenic drives of the area and see historical roadside displays.
When traveling through Wisconsin you will want to schedule enough time to see all the attractions in the areas of the campgrounds.
There summers are warm with some cool nights, which makes camping just perfect in the spring, summer or fall. Look at a directory of campgrounds: tent and RV camping parks Wisconsin (WI) and find a campground that fits your traveling needs.
Look here for a campground:
Country House Motel & RV Park The
717 South River Hwy 63
Spooner WI 54801
715-635-8721


Westward Ho Camp Resort
RR 1
Glenbeulah WI 53023
920-526-3407


Wanna-Bee Campground & RV Park
E10096 Trout Rd
Wisconsin Dells WI 53965
608-253-3122


Turtle Lake RV Park
750 US Highway 8 63
Turtle Lake WI 54889
715-986-4140
 About Us / Privacy Policy / Resources
Find Here Worldwide Beach Camping Parks Directory

Go from Directory of Campgrounds: Tent and RV Camping Parks Wisconsin (WI) to Pop Up Campers Trailer Home
Directory of Campgrounds: Tent and RV Trailer Camping Parks USA
/ Tent and RV Camping Parks Missouri (MO) / Tent and RV Camping Parks Montana (MT) / Tent and RV Camping Parks Nebraska (NE) / Tent and RV Camping Parks Nevada (NV) / Tent and RV Camping Parks New Hampshire (NH) / Tent and RV Camping Parks New Jersey (NJ) / Tent and RV Camping Parks New Mexico (NM) / Tent and RV Camping Parks Ohio (OH) / Tent and RV Camping Parks Oklahoma (OK) / Tent and RV Camping Parks Oregon (OR) / Tent and RV Camping Parks Pennsylvania (PA) / Tent and RV Camping Parks Rhode Island (RI) / Tent and RV Camping Parks South Carolina (SC) / Tent and RV Camping Parks South Dakota (SD) / Tent and RV Camping Parks Tennessee (TN) / Tent and RV Camping Parks Texas (TX) / Tent and RV Camping Parks Utah (UT) / Tent and RV Camping Parks Vermont (VT) / Tent and RV Camping Parks Virginia (VA) / Tent and RV Camping Parks Washington (WA) / Tent and RV Camping Parks West Virginia (WV) / Tent and RV Camping Parks Wisconsin (WI) / Tent and RV Camping Parks Wyoming (WY)

Directory of Campgrounds: Tent and RV Trailer Camping Parks USA