Casita Fiberglass Patriot
Small Travel Trailers
Casita's Patriot is a 13ft long all-fiberglass small travel trailer; durable, easy to tow and store in a garage, with features offering comfort and coziness, it's an ideal weekender camper….
    Since 1983, Casita Enterprises Inc. located in Rice, TX dedicated its resources to the design and manufacturing of fiberglass travel trailers.
     Currently they offer five models of travel trailers from the smallest one – 13ft long Patriot Deluxe, correspondingly 16ft (Standard) and 17ft long (Deluxe) versions of Spirt, Freedom and Liberty and the largest member of the family – Independence (both versions Standard and Deluxe are 17ft long).
All mentioned models belong to the class of Lightweight Travel Trailers.
Standard versions of Casita's travel trailers have extra sleeping space, while versions Deluxe offer wet-bath with toilet, sink and shower.
     The Patriot is the only one Casita's trailer that is offered just in version Deluxe, but that is what makes it may be the most interesting on the list. Thanks to small dimensions and weight, it is easy to tow and may be as important – easy to store in the garage, but at the same time is equipped with all essential features including wet-bath.  
Although nothing prevents it from use on longer vacation trips, it is rather designed for shorter, weekend adventures. But even this classification may not reflect reality – being easy to tow, lite, with narrow aerodynamic body (so fuel efficient), it can successfully be used for longer trips provided you do not expect luxurious vacations.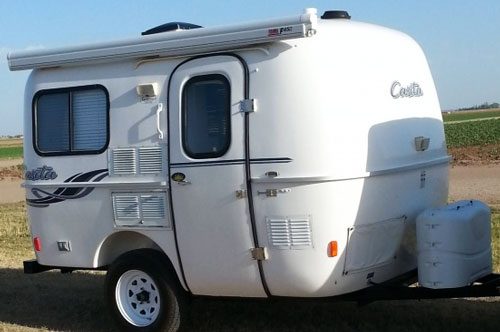 Casita Patriot travel trailer
      The kitchen is equipped with 2-burner range and sink (both w/optional covers), microwave-ready package, 3-way 1.9 cu ft refrigerator, power range hood w/light and cabinetry provides modest conditions for preparation of food.  The rear-end dinette serves as a main living and eating area. For night it converts to full-size (46" x 78") bed. The front-end wet-bath includes the toilet, lavatory, shower but also small, opening and screened obscure glass window as well as roof vent.  Next to the bat and entrance door there is a wardrobe/closet providing some storage space (on top of small overhead storage throughout the camper). Summarizing – the Patriot offers good bangs for bucks manufacturer asks for.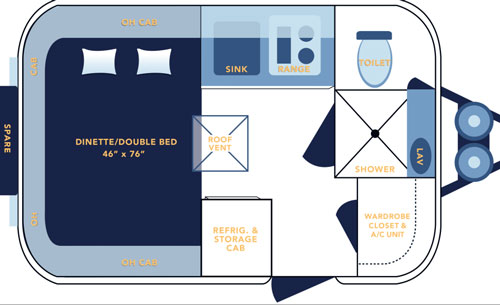 Casita's Patriot camper: floor-plan
      But what sets Casita's campers apart from others is their construction. All these trailers have fiberglass shells on steel frame.  During the manufacturing process the top and bottom part of the fiberglass shell are bonded pretty much the same way as the sailboats are made (BTW – the company uses the marine-grade fiberglass). In other words, instead of assembling four walls, roof and floor as in the case of typical campers, the Casita's shell is built from just two pieces of molded fiberglass. 
The outcome is obvious – Casita's travel trailers have much better durability as the probability of leaks (main reason of deterioration) is much lower than in traditional campers. That can be seen (and confirmed) when checking prices for second-hand Casita's campers.
       A little bit more controversial may be interior finishing. Storage compartments and side overhead storage is lined with plush carpet. On the positive side – it prevents condensation and provide some extra thermal insulation helping to keep camper cool in summer and warm in colder seasons. It also reduces the outside noise. On the negative side – it is more difficult to clean….
Specifications:
Exterior length

Exterior width

Exterior height

Interior height

Dry weight

GVWR

Fresh water tank

Grey water tank

Black water tank

LPG

Sleeping capacity

Tire size

13'

6'8"

7'8"

5'10"

1,880 lbs

3,500 lbs

16 gals

13 gals

15 gals

2 x 20 lbs bottles

2

15"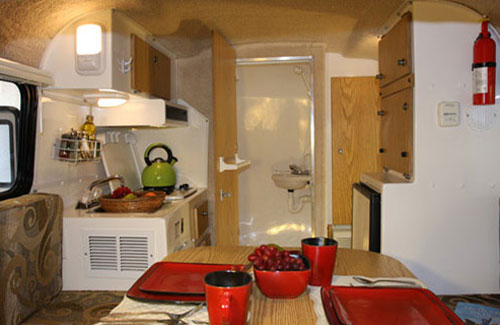 Patriot camper - interior
Construction:
2-pieces marine-grade fiberglass shell
3" channel-steel frame
Torsion Rubber-Ride suspension
15" tires
Kitchen
2-burner cooktop
3-way 1.9 cu ft refrigerator
Microwave Ready Package
Power range hood w/light
Silverware drawer
Water-pressure regulator
Patriot: kitchen and dinette converted to bed
Wet-Bath
Toilet
Lavatory
Shower
6 gallons gas/electric water heater w/bypass
Power roof vent
Standard Interior features
Custom, marine-grade fiberglass furniture
Side-mounted (front) AC unit
12V lights
12V and 110V outlets
Opening, screened windows w/mini blinds
Fantastic power roof vent
Wardrobe closet
Converter/battery charger
Deluxe insulation
Carpet lined storage and overhead compartments
4" cushions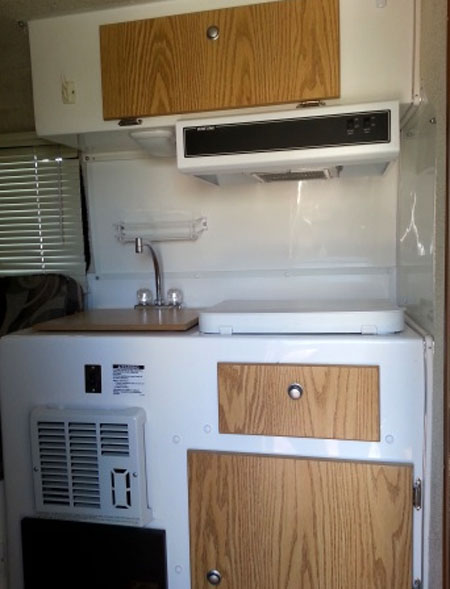 Patriot: kitchen
Standard Exterior features
Two-20lbs LPG bottles w/cover
Spare tire w/cover
Electric brakes
Safety chains
Stabilizer jacks
Door light
LED Running/Tail/Stop lights
City water connection
25ft 30 Amps power cable
110V outlet
12V battery pack
Sewer hose (stored in rear bumper)
Safety (standard features):
Smoke/LPG detectors
Safety Egress windows
GFCI- protection
Breakaway switch
Fire extinguisher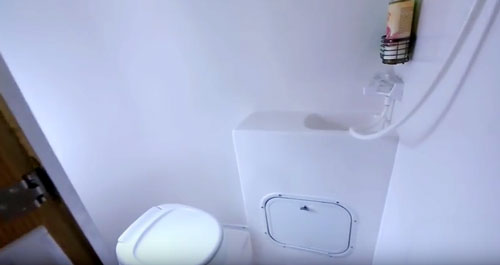 Patriot: wet bath w/ toilet, lavatory and shower
Options
LED interior lights
Kitchen range cover
Kitchen sink cover
16,000 BTU furnace
19" HD-TV w/DVD player
TV antenna w/amplifier
TV shelf
Cable ready 
Awning
Vinyl flooring
Exterior Shower/wash station
---