Class A Motor Home RV
 1.      General information
A class A motorhome is a type of RV. There are class B and class C motorhomes as well. A class B motorhome resembles a van with less space but often with  a kitchen and a bathroom, and class C motorhomes are middle sized RVs supported by a cabin chassis.
Class A motorhomes are the largest, the most spacious and the most elegant ones, both inside and outside. They have specific characteristics that make them different from other types of motorhomes. A class A motorhome is basically like a bus with living facilities and often very luxurious interiors. Since they resemble a bus they also offer lots of living accommodations thanks to their large size.
2.      Characteristics


Amenities
There are many manufacturers of Class A motorhomes, but one thing they have in common is the many living spaces and various facilities that such RVs offer. All class A motorhomes come with bathrooms, several rooms and a kitchen area as well. They have luxurious, comfortable furniture that makes even the longest roads a delight. Class A motorhomes also tend to be used for longer travels rather than just weekend getaways and camping.
One of the best reasons for investing into such a motorhome is the fact that you do not need any other vehicle to transport it. For many campers you need a truck, but a class A motorhome is already the vehicle and the home as well, all in one package.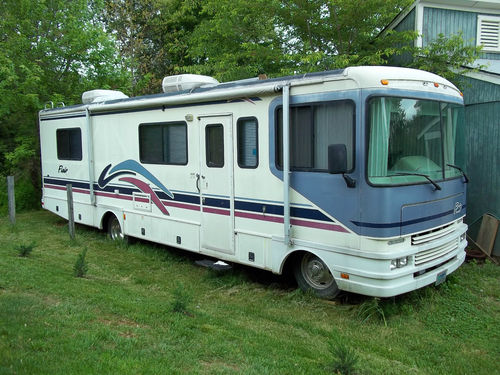 Driver's area


Not only that these vehicles are comfortable for the passengers, but they are also great for the driver. Most of the times the driving area is easily accessible from the living area. Furthermore, the seat of the driver is higher up, providing a beautiful and comfortable view to the road. Even driving is a pleasure in such a vehicle.


Space


Class A motorhomes are very spacious. Since they come in the shape of a bus, there is enough interior space that can be used very effectively. The only downfall of such an RV is its price, but there are many options to choose from and there are enough good deals out there to make it worth to buy such a vehicle. While they come with 1 or 2 bedrooms, there are plenty of sleeping spaces in the living area, such as unfolding beds, bunk beds and so on. These motorhomes are suitable for larger families, often having space for as many as 10 people.


Construction
These motorhomes are not only perfect for a longer journey because of the comfort they offer, but also because they have a durable, strong construction. They can carry heavy loads and they have lots of storage space. They can be more than 40 feet in length.
3.      Manufacturers


There are many companies that manufacture these luxurious motorhomes. There are leading RV brands that are experts in class A motorhomes. Here are some of the most popular ones.


a.      Fleetwood
2013 Providence model
Main features:
Hardwood Cabinet Doors/Drawers
Manual Double Roller Shades
Solid Wood Face Frame Cabinets
Whole Coach Water Filtration System
Sony DVD Home Theater Sound System with Hidden Surround Sound Speakers
Polished Porcelain Tile with Deco Inserts
Hardwood Bath Door/Trims
Molded Shower Enclosure with Skylight
Porcelain Toilet  with Water Saver
Specifications:
Overall Length            43' 6"
Overall Height (with A/C)      12' 10"
Overall Width (maximum)      102"
Interior Height (maximum)     84"
Interior Width (maximum)      96"
Fresh Water Holding Tank (gal)         100
b.      Coachmen


Mirada Model
This model is a gas motorhome, designed to be appealing for the eye, but also very functional. Here are its main features and some optional features that you can choose before you decide to make a purchase.


Main features:


Hardwood cabinet doors with raised panel
32" TV in living room and a bedroom
Radius slider windows with safety glass
Reclining/swivel pilot seats
32˝ LCD TV coach with DVD player
Corian kitchen countertop
Double bowl kitchen sink with Corian sink covers
Porcelain toilet with foot flush
Dual 7˝ TV/DVD player/AM/FM radio (optional)
DVD player in bedroom (optional)
Specifications
Fuel Capacity  80 gal.
Exterior Length 36' 6"
Exterior Height  12' 0" 
Exterior Width 102" 
Fresh Water 66 gal. 
Cross Country Diesel model


Just as luxurious as the Miranda model, this is one of the most affordable cross country Class A motorhomes available on the market today. Its air ride suspension and air brakes make any traveler feel good and at home.


Main Features


Chassis Air Suspension and Air Brakes
Faux Leather Sofa with Air Mattress
Faux Leather Love Seat-Comfort Lounge
Deluxe Pivoting Euro Chair W/Ottoman
Dash Radio- AM/FM CD
Deluxe Innerspring Mattress w/ 312 Coil w/ pillowtop
Single Pedal Porcelain Toilet w/ Sprayer
One-Piece ABS Surround & Shower Pan Textured Glass Shower Door
Outside Entertainment Center w/ 32" TV (optional)
Specifications:
Fuel Capacity  100 gal. 
Exterior Length 41' 4" 
Exterior Height  12' 4"
Exterior Width 102"
Fresh Water 89 gal.
c.       Thor Motor Coach 
 
Hurricane model


This class A motorhome by Motor Coach comes with a variety of floor plans and many options to choose from.


Main Features:


Ford F53 Super Duty Class A Motorhome Chassis
Vacu-Bond™ Laminated Walls w/ High-Density Block Foam Insulation
Slick Fiberglass Exterior
Side Mounted Power Patio Awning
Maintenance Free Roto-Cast Storage Compartments
Outside Shower
Specifications:
Exterior Height                11' 11"
Exterior Width                 99"
Interior Height                 82"
Fuel                                  80 ga
LPG                                 88 lbs
Fresh Water                     50 gal
Tuscany XTE model


Main features:
Built-in Fireplaces
Easy Slide Storage Tray
Halogen Lighting Throughout           
Pioneer Touch Screen AM / FM / MP3 / CD / DVD Dash Radio (iPod & Sirius Satellite Expandable)
20" x 20" Porcelain Tile
Solar & Privacy Roller Shades in Living Area and Bedroom
King Size Beds
Residential Refrigerators
Exterior Entertainment System (optinal)
Specifications:
Exterior Length           35'
Exterior Height           12' 8"
Exterior Width            101"
Interior Height                        85"
Fuel                          100 gal
Fresh Water               91 gal
Furnace                   Twin 20,000 BTU
4.      Buying a class A motorhome
Prepare to pay a lot for such as RV, but there are also options if you have a lower budget. Places such as Craigslist, Yakaz or eBay are the best for those who are looking for a bargain. Dealers of the brands mentioned above can be easily located with the help of the information found on the website of the manufacturer. The price of a class A motorhome can be anywhere between $50,000, and ... sky is the limit if you want a luxury motorhome.

Visitor's Story

The ultimate in luxury, a Class A RV camper. The most luxurious of all Rvs is the Class A motor home. They can be as much as 45 feet in length and have interiors that rival some top of the line traditional homes. A new Class A mobile home RV starts out at about $56,000.
This is the base price, but as you add amenities such as a full bath, galley, luxury fabrics and fully equipped entertainment centers, the price rises. I have seen Class A RVs with price tags as much as three times the initial starting price. Of course, you can get a motor coach loan, but shop around for the best possible loan rates. Some financing institutions will give you 15 years to pay off the loan.
You can do a web search for a Class A motorcoach manufacturer. Often these companies will totally customize your Class A motor home. You basically get to design your motor coach to suit the preferences and needs of your family. One way to save money on your recreational vehicle is to buy a used Class A RV motor home. You can get almost new campers at big savings. Check campers and hunting and fishing magazines and websites for a used Class A motor home for sale by owners. It is easier to negotiate a price with an individual owner than with a big corporation.
You can also save some money by buying a new or used Class A diesel motor home. Although diesel fuel is more expensive than gasoline, diesel gives much better mileage. So a Class A diesel motor home is more economical and probably the best bet for very long road trips. More and more people are taking to the roads in recreational vehicles. This increase includes seniors as well as families. I know of two senior couples that are currently living out of their Rvs for an undetermined period of time.
Jack and Nan have a three year old Class A motor home RV and have been on the road since they took delivery. Joe and his wife have a camper van and they just started out 3 weeks ago. You will hear from them and other full and part time Rv-ers on this site.Before you take your first RV road trip, talk to people who have some experience or go online for hints about a successful RV vacation. For instance how do you choose a campground? What extras must I bring?
There are dozens more questions that you need to have answered before you leave home. At campgrounds you will see every kind of RV vehicle from pop-ups to motor coaches. A motor home Class A camper will give you all the comforts of a high end hotel and the privacy of your own home. If you have never taken an RV trip, I would suggest you rent a Class A motor home RV for a week or two and head for a campground.
 About Us / Privacy Policy / Resources
Find used or new class A motor home RV here!
Go from Class A Motor Home RV to Pop Up Campers Trailer Home

Motor Home RV Manufacturer