Colorado Campgrounds
This beautiful state has all that nature can offer: mountains and flat-lands, rivers and lakes......

Colorado encompasses the Southern Rocky Mountains, the northeastern portion of the Colorado Plateau and the western edge of the Great Plains.
It is called Colorful Colorado for a reason: it has beautiful forests, canyons, plateaus and even desert lands and mesas.
The highest point of the state reaches 14,440 feet (Lake County) offering amazing landscapes.
This area has been inhabited by Native Americans for thousands of years, therefore it is a home of many artifacts that were found throughout the years. 

Blue Spruce RV park
Phone: (970) 884-2641
1875 County Road 500,
Vallecito Lake

This park has a lot to offer and it is a comfortable and fun place to stop with your RV. Here you can enjoy the beauty of nature close to the Rocky Mountains of Colorado, and also do some fishing, sailing, canoeing, kayaking, wind surfing and jet skiing on the nearby lake. There are several hiking trails that you can take and even see some of the wildlife around if you are lucky. There are biking trails as well, so if you have a bike, bring it along.  There are plenty of 2 wheel forest roads for your ATV and motorbike. 
Horseback riding is also possible in the silence of the surroundings. During the winter you can do some X-country skiing and snow shoeing. The campground has full hookups at each site, 3 WiFi towers and direct TV Satellite connection so you can enjoy all your favorite shows. There is live music throughout the summer and event facilities. There are playgrounds as well, so this park is great for families.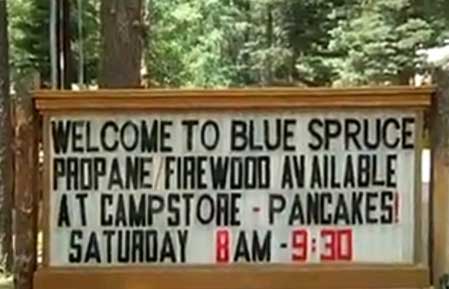 You are welcomed at Blue Spruce RV Park.....

Cedar Creek RV Park
Rick & Susan Warner
126 Rose Lane
Montrose, CO 81401
Phone: (970)-249-3884

This park is located on the western slope of the Colorado Rocky Mountains. It is close to the largest flat top mountain Grand Mesa and to the beautiful spires of the San Juan Mountains. Besides the scenic surroundings there is free Wi-Fi high speed internet access at the camping sites and also cable TV with more than 56 channels. There is also a full-length mini golf course that you can enjoy with your family. There are outstanding restrooms & showers, laundromat, pavilion, dump station, a playground and 28 full hook-up sites.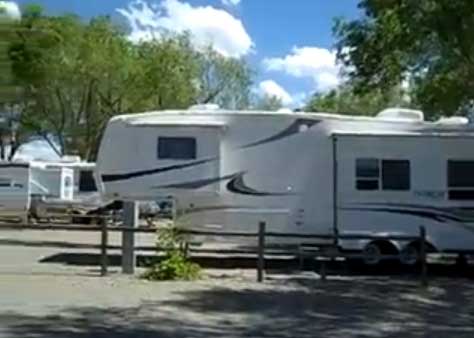 Cedar Creek RV Park.....

Garden of the Gods RV Resort
Phone: (866) 994-0543
3704 West Colorado Avenue
Colorado Springs, CO 80904

Like the name of the park suggests, this is a wonderful place that is worth to visit. It is located very close to Pikes Peak, a mountain that offers a spectacular view. You can enjoy all this beauty in a comfortable place at the Garden of the Gods RV resort. The RV campsites are grouped into 4 categories: Standard, Deluxe, Premium and Executive. According to your needs and wishes you can choose from these and have a great comfortable vacation. There is a pool in the park, playgrounds, picnic areas and more. You can visit the historic old Colorado city, the histrionic Manitou springs, the cave of the winds and other historic sites that are located around the park.


Loveland RV Resort
Phone: (970) 667-1204
4421 E U.S. Highway 34
Loveland, CO 80537

If you want a place right on the foothills of the Rocky Mountains, the Loveland RV Resort is a good choice. It has 170 standard and premium RV and tent sites available year long.
There are various activities that you can do here with your friends and family, including some planned activities and hikes, horseshoes, volleyball, miniature golf, swimming, playground, and more. If you get tired after a day of hiking, you can relax in the swimming pool at the campground. There is also a clean bathhouse for the guests, laundry facilities, wireless, high-speed Internet and propane on-site. If you have stuff that you don't want to carry around with you in your RV, there is also public storage room that you can use at Loveland RV Resort.


And now the registered National Natural Landmark next to Colorado Springs - in front of you amazing "Garden of Gods".....

Cheyenne mountain state park
Phone: (719) 576-2016
410 JL Ranch Heights
Colorado Springs CO 80926

The Cheyenne mountain state park is one of the crown jewels" in Colorado located south of Colorado Springs. This is a wild and well preserved area with lots of wildlife viewing opportunities. The park has 20 miles of hiking and biking trails, and comfortable campgrounds and picnic areas. The camping area has flush toilet facilities, coin-operated showers, a coin-operated laundry room, an activity room and a camp store where you can find the most important things that you need and even some souvenirs. If you want to find out more about the surroundings, you can take advantage of the Nature Center that is located within the park.


 About Us / Privacy Policy / Resources
Go to US Campgrounds Directory