Cougar X-Lite 29RES
2017 Fifth Wheels
2017 Keystone-Cougar XLite 29RES fifth wheel is a lightweight, medium-size camper for 4, with rear living area, well within the towing range of full-size pickup trucks....
     Keystone's Cougar X-Lite 29RES is a mid-range fifth wheel camper designed for family of up to four (so basically typical family with two children). 

We selected it for this 2017 presentation due to functional layout, generous residential-like features, stylishness, affordable price, weight within towing range of popular full-size pickup trucks as well as known quality of Cougar's craftsmanship. It does not mean that the X-Lite 29RES is an ideal camper, (actually there are also things we do not like about it) but frankly, there is no such camper, especially in this price range.
      The 29RES camper has rear-living area, central kitchen and front master bedroom/bath floorplan.  It is very nice solution, because the most important part of the "home-away-from-home" - the living room, where you will spend most of your time – may have windows all around the three walls. It allows sunlight to generously fill the interior and provides almost direct, personal contact with the surrounding nature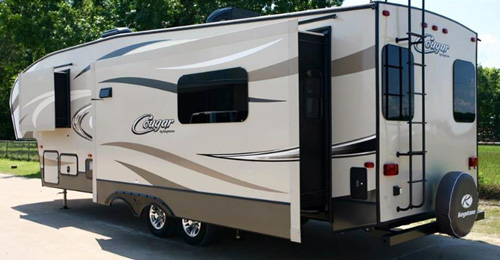 Cougar XL 29RES fifth wheel medium-size camper (driver side)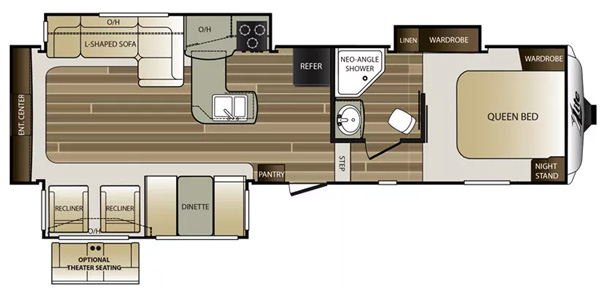 Cougar XL 29RES floor-plan
Master Bedroom
     Queen-size bed with "orthopedic" mattress offers all you need for comfortable sleeping. The only nightstand is on the right side of the bed (with handy USB/12V/110V outlets above if you need to charge your phone, iPad or plug the computer). On the left side of the bed there is a narrow wardrobe, but your main storage needs are offered by a slide-out wardrobe with room for hanging cloths. Both wardrobes come with mirror doors making the bedroom looking roomier than it really is.(well, it is not always about "how it is", I many cases it is at least equally important "how it feels").
Bedroom (on the left partially visible slide-out wardrobe)
       The TV prep offers possibility to install an optional TV if you are really "dying" to spoil your private quarters by some "soap-opera" (well, your choice). The reading lights invite for reading books just before falling asleep ….. 
The bedroom has private access to the bathroom which houses linen cabinet. Sliding door makes it effortless and does not take precious space.
The carpeted floor offers softness and warmness you will appreciate when getting-up barefoot.
Bathroom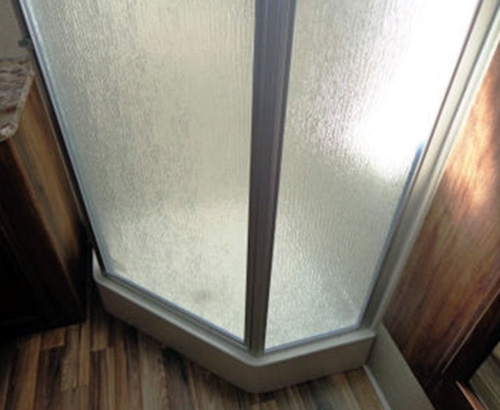 Shower cabin
Vanity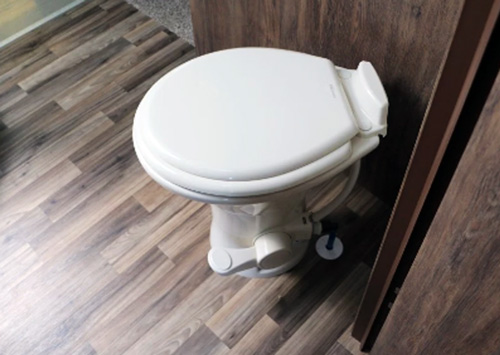 Pedal-flushed porcelain toilet
      The center point is the glass-enclosed shower. Large, with skylight above, it provides enough of room for even "extreme" cases. The vanity offers large sink, solid-surface (Corian-like) countertop and cabinet for toiletry. Large medicine cabinet with mirror hanging above will certainly satisfy most demanding owners.

The porcelain toiled with pedal-flush is in the opposite corner between both entry doors (2nd door is leading to the narrow passage between the Master Bedroom and the central part of the camper). Most important – despite being generously equipped, the bathroom has still enough of room to move freely!
Kitchen.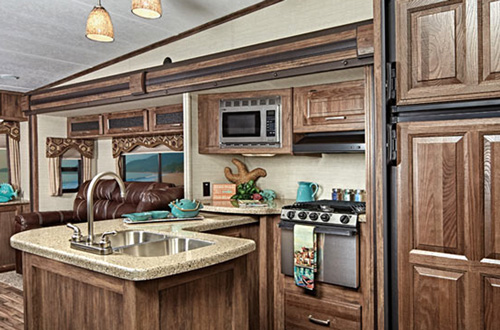 Kitchen (here the fridge on the right is finished with hardwood door panels)
Dual-bowl stainless-steel sink
      The kitchen is located in one of two main slide-outs. It is "organized" in U-shape with L-shaped, "peninsula"-form cabinetry. The stainless-steel 3-burner stove with oven, microwave with turn-table and next to it fridge with freezer make to core of the kitchen appliances. The Corian-type counter-tops with flush-mounted stainless-steel sink have the residential-like look. I guess it will be appreciated not only by those cooking but also by everybody in the living room. It's because the kitchen and the living room share the common space. In other words the elegance and stylishness spreads over the camper and so warmness and charm. 

The hand-glazed hardwood cabinetry offers robust doors, drawers (steel-ball bearings guides) and enough of space for panes, pots… The large, under the sink storage cabinet can be used for everything else including the garbage bin!
Similarly, the optional free-standing dining table with four chairs well matches the residential ambiance. It does not mean that standard dinette (table and two benches) make a strong contrast. It also nicely integrates into the living room ambiance. Advantage of the classic dinette – if needed it can be also converted into sleeping space.
It may be worth to mention that the refrigerator/freezer is powered by either electricity or gas and the switching is automatic depending on the available source of energy. This takes away one headache to worry about.
Somehow out of the U-shape kitchen stands the generous pantry. It is located on the opposite to the kitchen side of the camper, next to the entrance door.
The nice accent – On the kitchen wall there is a recessed "hanging rack" where you can hang you jacket when coming from the outside, keep apron  ready to use etc. There are also hangers for keys and very useful little pin-board.
Cons: The U-shaped galley makes the "working" space a bit tight. Obviously you cannot open at the same time let's say the oven and bottom cabinet's door/drawer. Certainly you will not make miles when cooking, but you may loose some time trying to get access to cabinets, oven, fridge.... And if you get frustrated "on the way" your mood may find reflection in "meals" :-(
Living Room w/Entertainment Area

Recliners, Entertainment Center  and Fireplace (note that the TV screen is turned towards the recliners)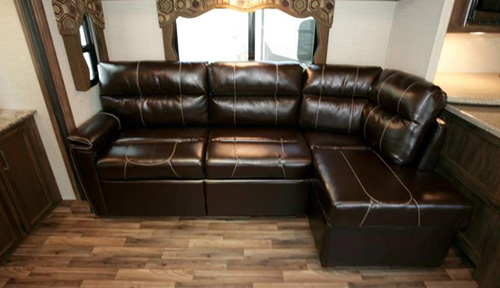 L-shaped sleeper sofa
  It's located at the back of the camper including two opposite sides slide-outs. Both of them are shared with the central kitchen (one houses kitchen, the other one the dining table/dinette).

The living room fulfills needs for relaxing, playing games, reading, watching TV, listening to the music, working (computer)…. Essential part of the "relaxing" environment is made by two recliners and sleeper-sofa (facing each other). 
Recliners can slightly turn to face a rear-wall Entertainment Center (if required, they can be replaced by optional Theater Seating for two). The sofa provides large storage box and can be unfolded to offer the comfortable sleeping space for two (presumably children or grandchildren, but nothing wrong with friends).
The panoramic tinted windows around the living room make the area open, freely reaching to "surroundings" (hopefully the Mother Nature). Being tinted they also offer privacy, however if more is needed, blinds will do the job.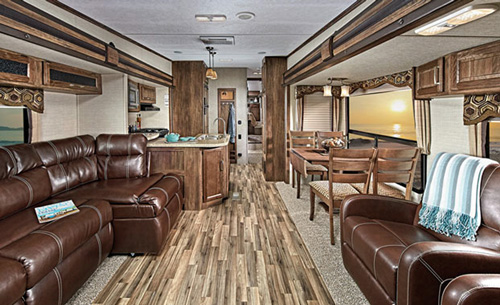 View on the living and kitchen/dining area from the back of the camper
  The rear wall includes the 32" LEC TV and an extra along-the-wall cabinet with solid-surface shelf. Thanks to outlets (USB/12V/110V) you can feed here your devices (and gadgets if you cannot live without). The TV screen is mounted on a rotating bracket so its position can be adjusted according to the needs facing recliners, sofa, kitchen or all these locations at the same time.
General Info 

      The Cougar 29RES in its basic (low cost) version may not have all you need. Usually it comes factory equipped with several packages like Convenience, Value and Camping in Style bringing the price to the range between $40k - $50k. So frankly, in most cases the only package to consider when buying the 29RES Fifth Wheel is the Polar Package. As the name suggests, it offers all-season camping opportunity, thanks to enclosed and heated underbelly.

The list of individual options is short and its most interesting components are: Free-Standing Dinner Table w/chairs, Fireplace and eventually the Theater Seating (for most of us, the standard recliners will be more than enough).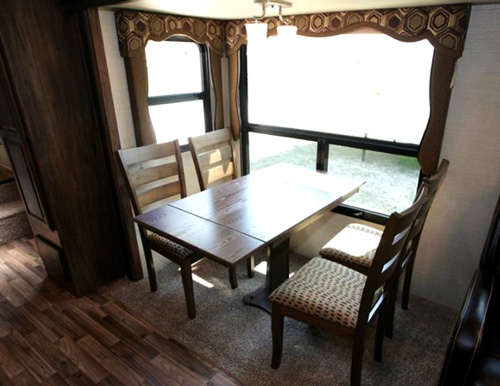 Free standing table with chairs (option)
General Storage

      The Cougar 29RES has more storage than most of us will need. The under-bed storage (bedroom), sofa's storage, overhead cabinets throughout the camper provide space for most of everyday stuff.

However the largest storing space offers the front Pass-Through storage. Thanks to 3rd front-door it is easy to load and unload any (usually "bulky") stuff like camping chairs, table, bbq, and whatever you may need…. Thanks to slam-laches with magnetic locks, all external storage doors can be operated with just one hand.
Talking about the doors – the entrance door is protected from slam-opening/closing and eventually smashing against camper's sidewall by "Friction-Hinge" design.  
But here is a little dose of criticism addressed to camper's designers. The two large grey/black water pipes in the middle of the pass-through storage and "hanging wire" are an example of poor engineering! They are clear obstruction to freely use the storage and are exposed to "danger" (mechanical damage) especially when we store here bulky, not always easy to handle items. 
Please note that all essential elements of the camper's "life-system" (LPG bottles, batteries, docking station) are hidden in dedicated, lockable and exterior-accessible storage areas.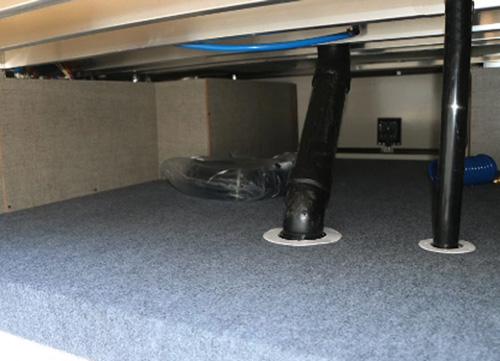 Pass-through storage  - grey/black water pipes and hanging fresh-water pipe do not look like they are in the right place
Outdoor Features

     The power awning with LED lights is certainly the main feature offering outdoor living space. 

The exterior shower (hook-up in Docking Station w/hot/cold water) is also very useful (you save a lot of time and effort on cleaning the camper).
Finally it is worth to note that the roof (accessible via rear ladder) is fully walkable and can be also used to carry with you some stuff (although it seems that the camper does not come with factory-installed rack).
What about the rest of outdoor activities? It's is up to your imagination, needs, abilities and obviously the available storage space.
Clever Feature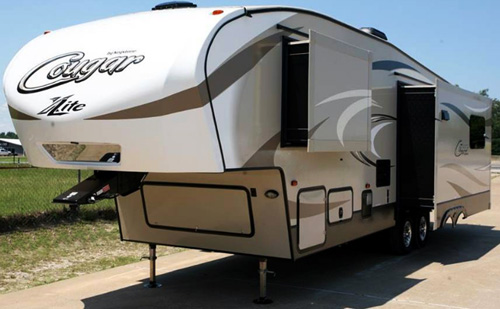 Look at the mirror at the front cup - this is the Hitch Vision system
     Those that tried to align the pickup-truck with camper's hitch (especially in the darkness) know how difficult may be the process. Cougar came up with very clever feature called: Hitch Vision. Shortly – it is a mirror with a LED light installed at a specific angle in camper's front cup/ Thanks to it you can see in your truck's rear mirror the whole hook-up (and alignment) process. Thanks to the light it will also provide priceless help in the darkness of the night.

And the last (although not least)
      The Keystone-Cougar 29RES 5th wheel is designed as a modern ultra-lightweight camper. All aluminum or fiberglass construction on top of being lite and stylish also promises durability.
Specifications
---
Exterior length

Exterior width

Exterior height

Interior height

Dry weight

GVWR

Hitch weight

Cargo capacity

Fresh water tank

Grey water tank

Black water tank

LPG tank

Sleeps

32'11"

8'0"

11'11"

?

8,020 lbs

10,000 lbs

1,340 lbs

2,980 lbs

43 gals

60 gals

30 gals

60 lbs

4
---
Construction:
Design: Lightweight
Structure: Double-welded, aluminum-framed sidewalls, floor, front, rear and slide-out rooms
Body: Laminated aluminum side-walls / Fiberglass front-cup
Max-Turn front-Cup design (up to +/- 88 degrees turn range on a short-bed pickup)
Roof: one piece seamless TPO - 3/8 decking
Roof trusses: 5" fabricated stumped steel rafters on 16: centers
Slide-outs: 3 w/T-Mold bulb seals (2 slide-outs flush-mounted)
Insulation: R-15 Astro-foil in slide-out floors, R-9 sidewalls & floor, R-14 ceiling
Layout: Rear living area
Underbelly: Enclosed, fully heated w/ enclosed Dump Valves (Polar Package)
Suspension: MOR/Ryde CRE 3000
Windows: Tinted Safety Glass, frameless
Wheels:  ST 225/75 R15D tires w/aluminum rims
Axles: dual w/ E-Z lube hubs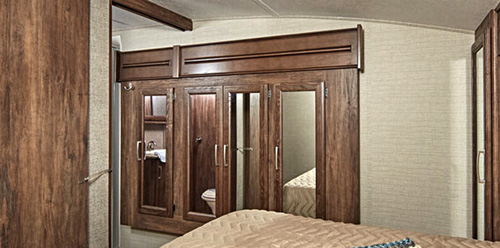 Slide-out wardrobe (the leftmost section is the linen "cabinet" located behind the sliding doors in the bath)
Master Bedroom:
Queen-size bed w/storage
Quality, orthopedic flush-top mattress
Bed-side wardrobe w/mirror door
Large slide-out wardrobe for cloths hanging with mirror doors
Dual wardrobe (slide-out)
Bedside Nightstand
Reading lights
Carpet flooring
Private entrance to bathroom (sliding door)
USB Port
12V charger
110V outlet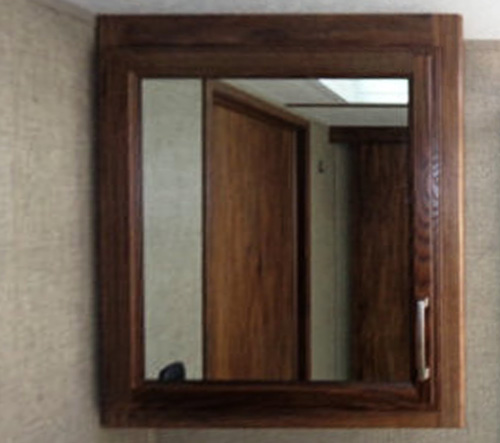 Large medicine cabinet in the bath
Bathroom
Glass-enclosed shower w/ skylight
Porcelain toilet w/ pedal flush
Vanity w/sink
Large Medicine cabinet w/mirror
Linen closet
Kitchen - storage cabinet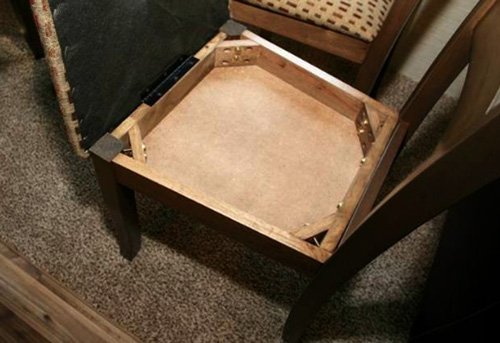 Little storage space in the chair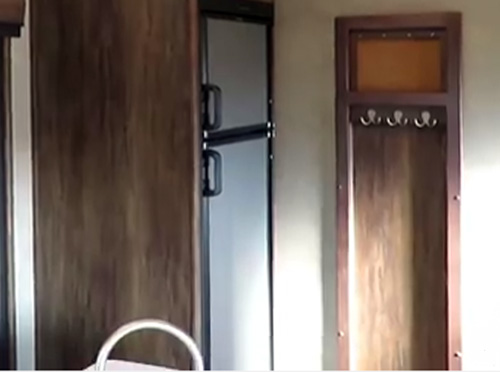 "Little" thing but so handy: Hanging Rack w/ pin-board (on the left fridge)
Kitchen & Dining
U-shape layout w/ "peninsula"-cabinetry
3-burner stove w/ vent
Two-way 8 cu.ft stainless-steel Dometic refrigerator w/freezer (automatic gas/electric)
Stainless-steel Microwave w/turn-table
Corian-type countertops (L-shaped)
Dual-bowl under-mounted/recessed stainless-steel sink w/ cover 
High-rise faucet
Cabinets (drawers w/steel-ball bearings guides)
Large storage cabinet
Power outlet for extra appliances
Hanging rack (for jackets, apron(s), keys….) w/ pin-board
Large pantry
Dinette (folding to extra sleeping area) or
Free standing diner table (w/extension) and 4 chairs w/storage as an option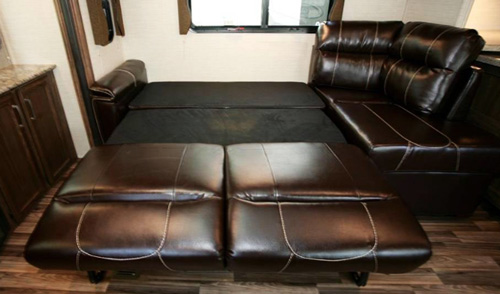 Living room: opened sofa serves as a comfortable sleeping place
Living Room
L-shaped Tri-Fold Sleeper Sofa (for 2) /w storage
Two movable Recliners (or optional Theater Seating)
Overhead cabinets throughout
Opening windows in slide-out 
Power outlets
Under-TV cabinets w/ top shelf
Entertainment
32" LCD HDTV w/ rotating bracket
CD/DVD/AM/FM Stereo w/Bluetooth
MP3 hookup
USB port
Indoor speakers w/ Surround Sound
All-weather outdoor speakers
Winegard Omni-directional antenna
Satellite/Cable hook-up
Interior:
Plated shades throughout
Hardwood hand-glazed cabinetry
Floor (vinyl and carpet)
Climate control:
30k BTU ducted furnace
15k BTU A/C unit w/triple-insulated, foil-wrapped ducts
Fireplace (optional)
Ceiling vents
Skylights (bedroom, bath and living room)
Electric fireplace (optional)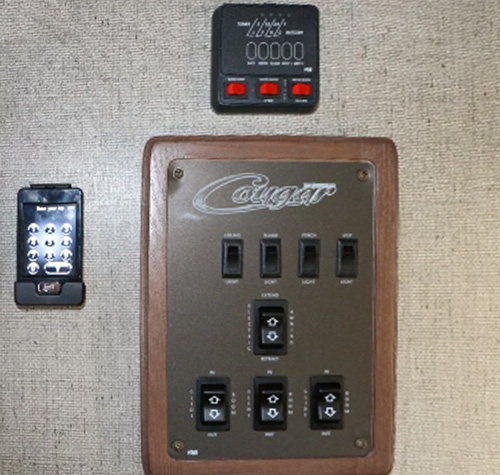 Central control panel: remote control on the left, alarm indicator (top). thermostat (bellow, not visible) 
Electrical:
LED interior/exterior lighting 
Central Control Panel w/ Alarm Indicators, Thermostat and Remote wireless Controller (lights, slide-outs, awning, leveling system)
Extra One-button control panel for Leveling System (in Pass-through storage)
Battery disconnect switch
Dual Batteries (optional)
50 A shore service
Wire prep for 2nd A/C unit (option0
12V charging station
USB Ports
110V outlets
Solar prep
Backup camera prep
12 Volt compatible for dry camping
Water & Plumbing
Gas/Electric Water Heater (Quick recovery 16,2 gals/hr)
Docking Station (Black tank flash, City water hook-up, Exterior shower hook-up)
Water tanks (fresh, grey & black)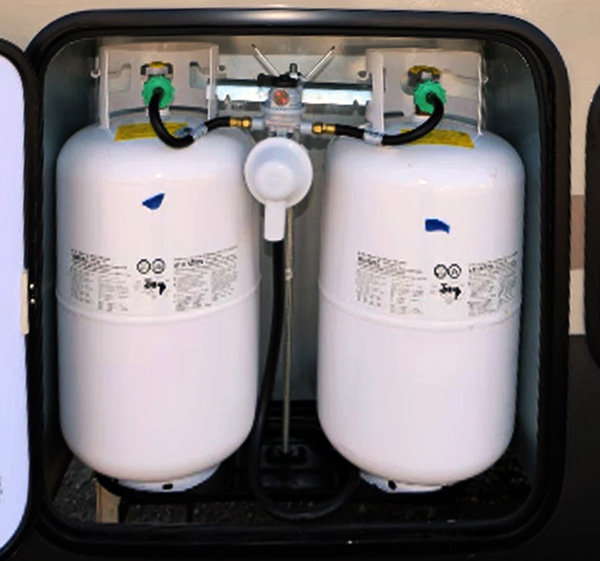 LPG tanks
Exterior:
Electric awning w/LED lights
ELS (Electronic Leveling System)
Outdoor shower
Pass-through storage w/extra-large front access
Battery box storage
LPG box storage w/bottles
Fully walkable main/slide roof
Roof ladder
Anti-slip aluminum entry steps (3)
Front cap with LED docking lights
Patented front cap hitch vision w/light (allows for easy hooking-up-process)
Slam-latch baggage doors
Friction hinge entry door
Aluminum entry steps
Folding grab handle
Main entrance step light
Docking Station
Safety:
CO (monoxide carbon), LP and smoke detectors
Fire extinguisher
Manual backup on all main slide outs
Spare tire and carrier
Options

Fireplace
Theater seating
Free-standing Dining Table w/4 chairs
13.5k BTU A/C (not-ducted for bedroom)
50 Amp service, pre-wired and prepped for 2nd air conditioner
Enclosed, fully heated underbelly w/ enclosed Dump Valves (Polar Package)
Canadian Compliance!
For more info on fifth wheel campers see: --> Fifth Wheels for 2017
Summarizing: the 2017 Cougar Extra-Lite 29RS 5th wheel is one of the best choices for typical family (2+2) already owning the full-size pickup truck..... 
Note:  Check with the manufacturer and / or authorized RV Dealer for the up-to-date list of features, options as well as latest specifications. These written above may not be accurate and certainly are subject to change by the factory. We are not responsible for any inaccuracy, the above text is provided only for the general information.
This review was written based on publicly available information for the benefits of the community of RV-ers. We do not receive any gratification or financial benefits from RV manufacturers, dealers, and any other promoters of RVs. 
We are NOT involved in sale and/or retail of RVs!
---