RV Camper Rental
Atlanta Georgia GA
Wondering where you can rent an RV camper in Atlanta Georgia? Read on to find out.
Great Escape RV

Great Escape RV not only provides the perfect getaway, but the camper rentals that offer excellent freedom of movement. Travel at your leisure aboard the Phoenix Cruiser, Thor Hurricane, Tonneau Covers and Coachmen Leprechan, among others. Choose your unit with just a mouse click online.

3907 Lawrenceville Highway Tucker, Ga 30084
Rentals: (770) 939-6155
http://greatescape-rv.com

---

Lightnin RV

Lightnin RV is a locally owned and operated company, serving Georgia and the Southeast. Choose from a selection of RV camper rentals, including a large Class A motorhome, class C motorhomes and travel trailers. The Class A motorhome has a living room with flat screen TV and DVD, complete kitchen, bedroom and bathroom, making it truly your home away from home.

2555 University Parkway Lawrenceville, GA 30043
Tel: 770-963-9889
http://lightninrv.com

---
North Atlanta RV Rental

North Atlanta RV Rental has over 10 years experience, providing clients with high quality camper rentals. The company has the newest 2014 model campers, RVs and motorhomes, with older units upgraded to have electric awnings, slide outs and back-up monitors.

4647 S Main St, Acworth, GA 30101
(770)966-1551
http://northatlantarvrentals.com

---
Cruise America

Cruise America provides a selection of RV camper rentals, ranging in standard, large and compact units. All three options vary in size, rental price and features. Standard RV has a maximum of capacity of 5, and is equipped with LP gas/electric refrigerator, gas cooktop burners, microwave oven, shower and roof air conditioner. The earlier you book, the lower the rental fee.

1330 South Cobb Drive Marietta, GA 30060    
770-428-6567
http://www.cruiseamerica.com/rv-rental-locations/rv-rentals-atlanta--north/

---

Atlanta RV Rental

Atlanta RV Rental is your source of high quality Class A and Class C motorhomes, folding camper trailers, travel trailers, and luxury diesel motor coaches. If you're looking for RV camper rentals, book one of the class C RVs that sleep 5, 6 or 7. For your convenience, select and reserve an RV online.

818 Tucker Court Winder, GA 30680    
855-462-8578
http://www.atlanta-rv-rental.com/

---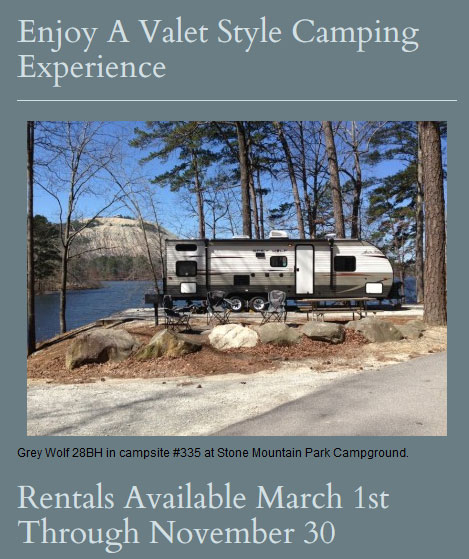 Valet RV Rental

Valet RV Rental aims to provide a valet style camping service, which is why they deliver and set up fully furnished travel trailers. Choose one from their RV camper rentals, and Valet RV Rental will tow the vehicle on your behalf, and prepare it for your arrival in a destination of your choice. Each unit offers the privacy, functionality and the space you need for an enjoyable camping.

P.O. Box 446 Loganville, GA 30052
770 354-0926
http://www.valetrvrental.com

---

Reyes RV Rentals

Reyes RV Rentals specializes in renting out luxury Class A Diesel Motorhomes not only for family vacations, but also for other special events and activities, such as on-location filming and corporate travel. Their RV camper rentals are fully equipped with a kitchen, bath amenities, hotel-style bedding, washer/dryer, and outdoor TV. Unlike other rental companies, Reyes RV Rentals also offer a five-star provisioning service, where they stock the RV on your behalf.

65 E. Industrial Court Villa Rica, Georgia 30801
TEL:  (855) 739-3700
http://www.reyesrvrentals.com/

---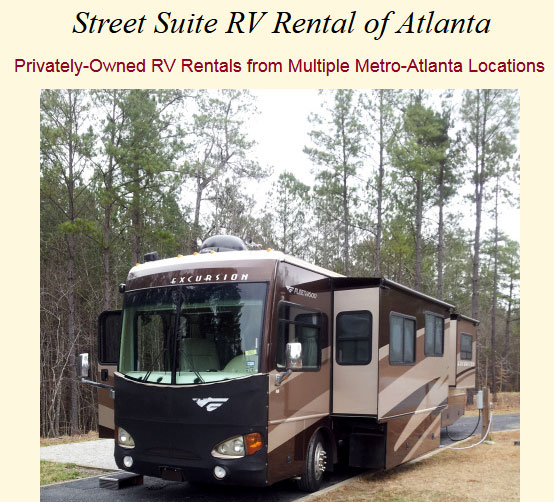 Street Suite RV Rental

Street Suite RV Rental provides you with some of the best RV camper rentals that are suitable for family outing, corporate travel, or a tailgate party at the NASCAR race. The Street Suite fleet varies in size, accommodation and amenities. Their featured RV is a 2006 Fleetwood Excursion Luxury RV Diesel Pusher that is spacious and sleeps 6.

Multiple Metro-Atlanta Locations
678-720-1267 or 770-378-1149 (cell)
http://www.streetsuitervrental.com

---
Visitor's story.....

Some people claim there isn't much for visitors to Atlanta to see and do, however in your discount camper RV rental Atlanta you will see that isn't true.
Using your rented mobile home as a base, you can shop the Underground, a below street level shopping mall, which is being revitalized as an arts and entertainment venue.
The King Center has many exhibits aimed at inspiring young people to keep the dream alive.
From here you can tour the C.N.N. center and then visit the birthplace of Coca Cola before returning to your motor coach to relax and have dinner before heading out to a baseball game at Turner Field.
My wife and I visited Atlanta in a rental camper van. This eliminated the need to rent an auto since I could park the RV anywhere a car would fit.
Be sure to ask the rental dealer for your Good Sam Club discount camper RV rental Atlanta. Along with the RV discount the club offers campground site rentals and has a roadside assistance program. If you aren't yet a member, you need to join. The club has other benefits.
Join the Good Sam Club Today! and get your discount!
If you plan to use the mobile home for a week or more, most agencies will give you a discount. More than a six week rental let's you negotiate a bigger discount, up to as much as 50% off.
Do you prefer winter vacations? An off-season rental can get you a really large discount camper RV rental Atlanta. To increase business during the slow season, dealers often give big discounts on mobile homes.
You will meet people who live in their motor coach and folks who rent mobile homes and campers and have gotten a discount RV rental in Alaska (California, Florida) or Atlanta.
 About Us / Privacy Policy / Resources
Go from Discount Camper RV Rental Atlanta Georgia GA to Pop Up Campers Trailer Home

RV Camper Rental