Eagle Cap 1165 Specs
ALP Truck Campers
Eagle Cap 1165 triple-slide truck camper specifications, construction details and list of standard and optional features.

The previous page provides detailed description of the Eagle Cap 1165 Triple-slide truck camper - an example of the residential-like RV. What for long seemed to be only a dream, since few years became the reality thanks to innovative designs by Adventurer LP. BTW- recently also Northwood joined the "club" of manufacturers of triple-slide truck campers with its model Arctic Fox 1163.
If you did not have a chance to read the first page then please go to: -->Eagle Cap 1165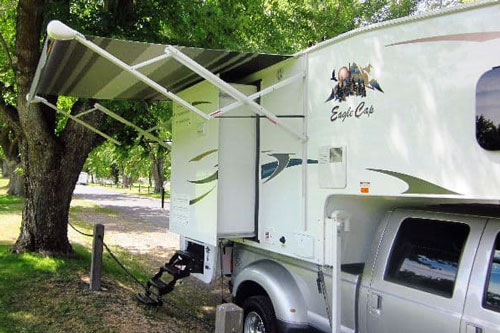 Eagle Cap 1165 Truck Camper: Here with patio-side awning

Before we go to specs, few important words regarding the pickup truck. 
Pickup Truck
       By nature, all truck campers are great candidates for off-road adventures where in most cases the only limit is the truck itself. Well, in the case of Eagle Cap triple-slide model 1165, "things" are a little bit more complex. The main culprit is the weight. EC-1165 campers come from the factory with dry weight in the range from 4,400 lbs to about 5,000 lbs (depending on choices for dinette and lounge as well as optional, although considered as a "must" TV and awning. The "wet" version (with all liquids, 2 full LPG tanks and 2 batteries) typically adds about 750 lbs. And there is also "stuff" including kitchen accessories, dry food, fridge content, bottled drinks, linen, clothing, personal items, basic tools, and all kinds of camping gear. Well, you may also decide to go for optional A/C unit, Generator, Solar Panels etc…
The bottom line – the weight of the "ready-to-go" Eagle Cap 1165 camper may easily reach 6,000-7,000 lbs, by large exceeding available payload in popular trucks belonging to 350-series. While these popular 1-ton trucks with some caution (right tires, suspension reinforcement, etc…) and minimum "stuff" may be marginally fit to carry Eagle Cap 1165, it will not be advised to venture off beaten paths. Driving on an uneven terrain induces dynamic stress and overload that by far may exceed any technical limits of the truck.
The Adventurer LP clearly states, that Eagle Cap 1165 is designed for long bed "dually" trucks (in other words trucks with dual (twin) rear axles. Such trucks will be fitted with Heavy Duty brakes, shocks and springs. Suggested models represent the 450-series.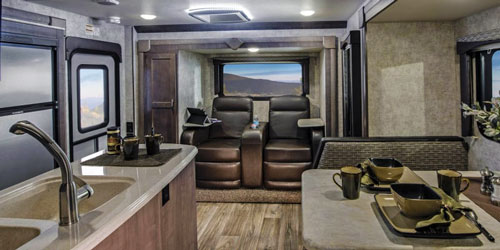 Interior
Note that the "available" payload of your truck cannot be simply calculated only as the result of the following subtractions:
GVWR (truck) – Actual Weight of the camper (in ready to go state) – Weight of People (driver and passengers) – Weight of truck fuel. This is because you must also take into account GAWR (rear axles rating) as well as Tire Ratings. The lowest number is the real limit.
See details at:  --> Towing ratings
Also, note that the truck camper MUST be secured to the truck. For this purpose, the Eagle Cap 1165 has stainless-steel tie-down brackets bolted into the aluminum structure.
Specifications
---
Overall length (1)

Box length

Exterior width (slides in)

Exterior width (slides out)

Exterior height (2)

Headroom

Dry weight (3)

Wet weight (4)

Cargo (5)

Center of Gravity (COG) (6)

Fresh water tank

Grey water tank

Black water tank

LPG

Sleeps (7)

20'10"

11'6"

102"

138"

102"

76"

4,400-4,900 lbs

See note

-

60"

66 gals

41 gals

41 gals

2 x 30 lbs

4 (6)
---
1. Nose to rear ladder
2. Floor to top of the ceiling (112" with roof-mounted A/C unit)
3. Depends on standard features (sofa vs recliners, dinette model) and usual options like TV, awning…)
4. Wet weight includes: 60 gallons fresh water (500 lbs), 6 gallon full hot water heater (50 lbs), 2x 30-pound full LPG tanks (60 lbs), 2 batteries (130lbs), "stuff" including (kitchen, linen, personal), extra camping gear etc…
5. Depends on truck ratings (GVWR, GAWR, Tires etc)
6. Clearly marked with red arrow on the camper. Camper's COG should fall into the "Load Range" of your truck (for your safety see owner's manual). It is individually measured for each camper leaving factory doors.
7. 6 persons in configuration with sofa (instead of two recliners)
Construction
Frame: Welded, aircraft-quality 2x2 & 2x4 aluminum structure (box and cabover)
Cap: One-piece fiberglass w/two-tone gel-coat finish
Insulation: 4-season - Closed-Cell block foam (R13 walls, R19 ceiling, R22 floor)
Windows: Frameless, tinted, thermal pane insulated (gas-filled)
Exterior: Laminux 4000 gel-coat fiberglass (automotive finish)
Exterior Seals: All-season 6-step process
Roof: 3" crown & trussed roof structure covered by one-piece seamless Thermo Polyolefin (TPO)
Floor: Laminated, aluminum-framed
Tie-Down brackets: Stainless-steel bolted into the camper's frame
Slide-out mechanism: Schwintek (12V power)
Basement: heated, insulated w/Diamond-Plate risers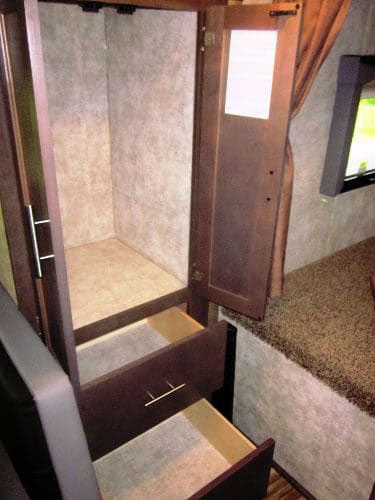 Spacious wardrobe next to the cabover bedroom
Interior General:
Hand-upholstered valances and miniblinds for windows
No-wax, tile-looking, industrial-grade vinyl floor
26" wide "Friction Hinge" entrance door w/screen
Cabover entry step
Granite- looking thermoformed countertops
All wood full extension drawers with soft/self-closing ball-bearing metal guides and magnetic catches
Hardwood cabinet doors and face frames
Fabrics: Selection of Domino fabric (Brown tone) or Denim fabric (Grey tone)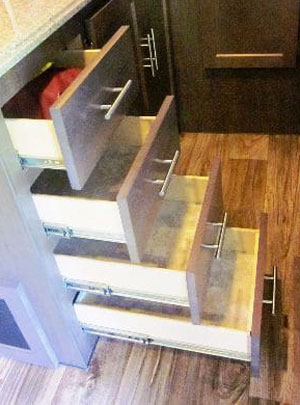 Kitchen cabinet with drawers
Cabover Bedroom
Queen-size (60" x 80") fabric covered, double-density foam mattress
Side wardrobe w/mirrored double-sliding doors
Night table
Corner wardrobe w/shelves and drawers
Shelf
2 pivoting reading lights
Heki Skylight and 2-side windows
TV-pre-wired
Privacy curtain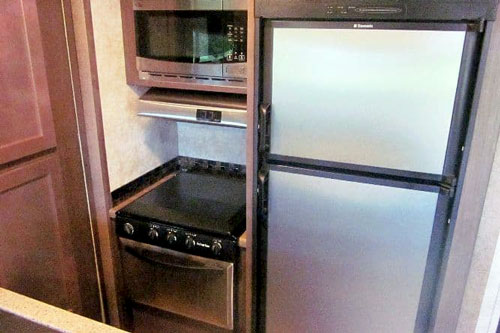 This part of the kitchen is housed in the passenger's side slide-out.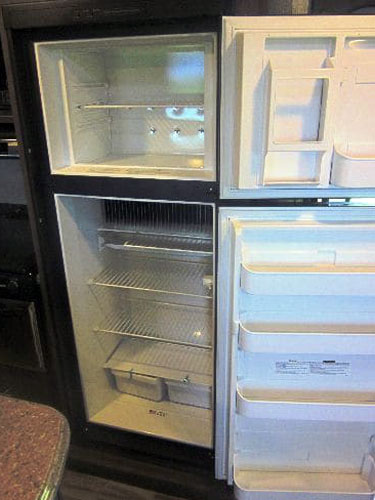 8 cu.ft Fridge and Freezer
Cooktope with cast iron grate
Galley
Dometic Cooktop w/cast iron grate
Furrion range hood/vent with LED lighting and venting
8 cu.ft, Stainless steel, double door refrigerator and fridge
Stainless steel oven and auto igniter
Stainless steel Microwave
Flush-mounted, stainless steel double bowl sink w/cover (cutting board)
Brushed Nickel Pull-out faucet w/spray
Modular Dinette or Dream Dinette (convertible into bed)
Peninsula-type cabinet w/ countertop
Full-height Pantry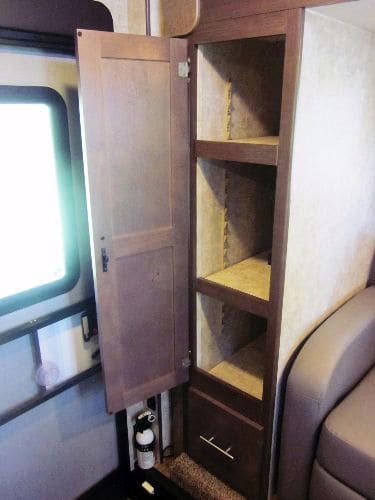 Next to the entrance storage w/shelves and drawer
Dining/Living area
Modular dinette furniture or "Dream Dinette" (w/no-leg table) – both convertible to duel bed
Lounge w/sofa-bed (with drawer storage) or optionally Theater Seating recliners w/folding tables
Large side window (dinette)
Overhead cabinets
Full-height storage w/shelves and drawer
Fantastic fan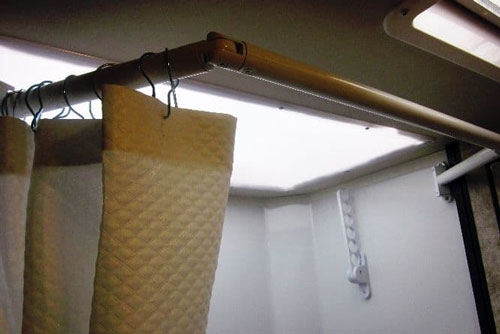 Large skylight above the shower's cabin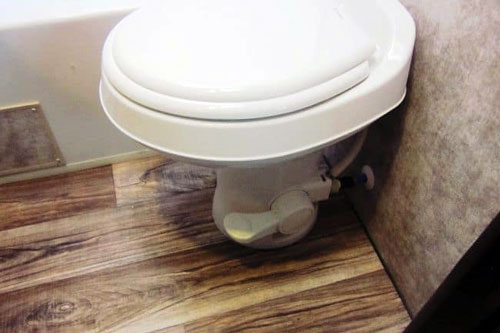 Water-flushed toilet
Dry Bath
One-piece fiberglass shower cabin w/curtain and large skylight above
Raised, foot-flushed toilet
Stainless steel lavatory sink w/ brushed nickel faucet
Exhaust vent with fan
Large medicine cabinet with mirrored door
Pull-out storage
Hinged, residential style bath door
Entertainment
Jensen AM/FM/CD/DVD/Bluetooth Stereo w/HDMI/USB/- App controllable
Low Profile Domed Dual TV/Radio antenna
32' LCD TV (12V)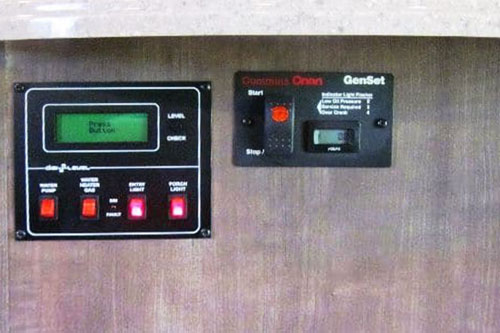 Water Monitor & Control, Porch Light control panel is located on the front side of the kitchen cabinet
Electrical:
Happijac 's Wireless Remote Electric Jacks with Vertical Motor
30 A shore service w/detachable cable
45-amp electronic power converter with "Smart" battery charger
Systems Control Center (Tanks, Water Heater,…)
Light switches (Int/ext)
Dual 12V/USB Charging Ports (Bedroom & Dinette)
LED lighting throughout w/dimming and mood tracking (interior and exterior)
Exterior Speakers
110V outlets (exterior GFI protected)
Deep cycle 12V Battery (2nd optional) w/ disconnect switch (housed in corrosion proof dual battery compartment)
Pre-wired for air conditioner, solar panel and cable
Exterior Cable TV hookup
Climate Control
Fantastic Fan – 3 Speed
Ducted 30k BTU forced air furnace with auto-ignition and digital wall thermostat
Low profile, roof-mounted 12.5k BTU A/C (optional)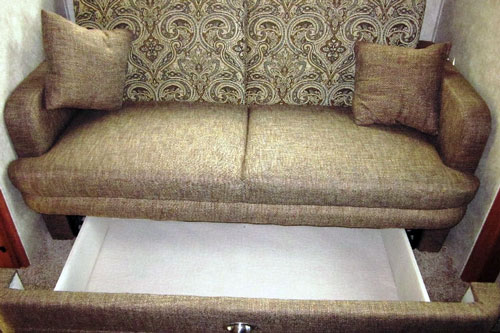 Standard feature: Sofa with storage drawer
Water/Plumbing
Centrally located 4-Season plumbing & dump valve access
Shurflo water pump with electric on/off switch and optional in-line filter
66-gallon freshwater tank w/lockable freshwater fill and city water hookups
41 gallons black and grey water tanks (black tank with flushing system)
6-gallon DSI gas water heater w/ bypass
Freshwater drain, winterization valve
Note: all water tanks (including the water-heater one) as well as valves and drains are located in insulated, heated basement with exterior access.
Exterior sewer hose and carrier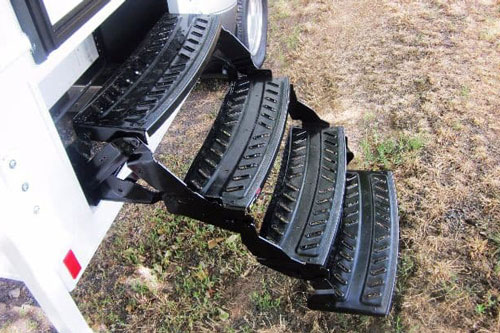 Entrance is located on the side of the truck camper
Exterior
4-steps entrance
Folding "grab-handle"
Basement Storages (one optionally pre-wired for Conan 2500 Generator)
Slam Latch, common keyed, insulated Exterior Compartment Doors
Ladder
Two 30 lbs LPG tanks w/automatic changeover regulator
Storage compartments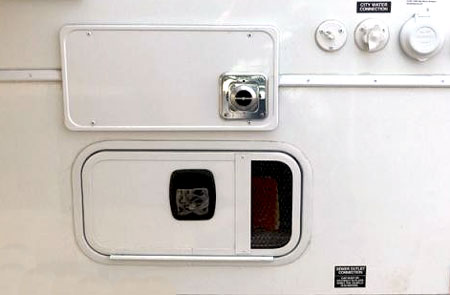 Exterior hookups
Safety
Alarms and detectors (LPG, carbon monoxide, smoke)
Fire extinguisher
Flame treated fabrics
Emergency escapes
110V GFCI protected outlets
Keyless entry system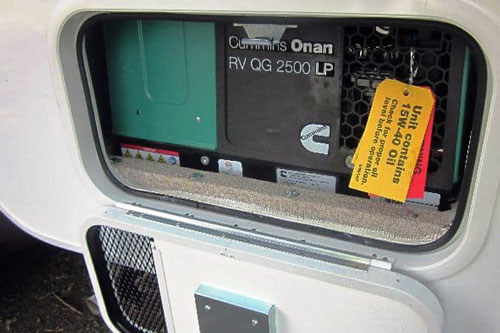 This exterior compartment is "designed" to fit 2.5kW Onan Generator
Available Options:
Eagle Cap maximum Insulation package (built-in – Mandatory)
32″ LCD 12V TV Living area
28″ LCD 12V TV Bedroom
Low Profile Air Conditioner w/Digital Dual Wall T-Stat
12V Electric Patio Awning w/LED Lights
2.5 kW Cummins/Onan LPG Generator
Generator Ready (Required w/Gen Option)
Swing Out Jack Brackets (Req for Dually trucks)
Roof Rack System (Maggie w/Cross Bars)
Solar Panel - 100 Watt w/Regulator (up to 3 panels)
Theater Seating Recliners - w/swing away tables
Water Filter w/separate faucet
Wireless Backup Camera (HD Color)
Summarizing: The Eagle Cap 1165 triple-slide truck camper is a "residential-style" (by "truck-campers standards") RV able to meet the expectations of many even matured RV-ers. Spacious, elegant but also well-designed and engineered, it is the real king among truck campers. As stated, by the company's founder, Mr. Erdman Epp:  "(we) were never satisfied until Good is Better, and Better is Best".
      While I'm personally convinced that from the engineer's point of view: "Better is the enemy of Good Enough", I have to give some credit to Mr. E. Epp – without the vision and wish to explore new paths we will probably still live in an era of slide-less camper trucks.
Go back to: --> Review of Truck Campers
or
Go back to --> Eagle Cap 1165 (First part)
Note: Pictures are courtesy of Adventurer LP
Note:  Check with the manufacturer and / or authorized RV Dealer for the up-to-date list of features, options as well as latest specifications. These written above may not be accurate and certainly are subject to change by the factory. We are not responsible for any inaccuracy, the above text is provided only for the general information.
This review was written based on publicly available information for the benefits of the community of RV-ers. We do not receive any gratification or financial benefits from RV manufacturers, dealers, and any other promoters of RVs. 
We are NOT involved in sale and/or retail of RVs!