Ford Camper Van
Ford is well known around the world for their cars, but also for their camper vans...

History and characteristics
Ford is well known around the world for their cars, but also for their camper vans.
Ford supplies the ideal platform for a camper van, which is why many manufacturers of campers choose the ford platform.
These vans offer safety and comfort while you are on the road.

Main Features
The interior, just like the exterior has an ergonomic design for a pleasant drive. All cars come with an anti-corrosion protection, front-swiveling Captain's Chairs with dual armrests and diesel engines. The self-charging ignition key and the tinted, electrically-operated windows make this van unique. A ford van can come with various body styles and capacity.

Extra options
From the available options you can opt for the blue tooth voice control, which enables you to control various functions inside the van in a very easy way.  Manufacturer also provides optional air conditioning.

Models

1. FORD TRANSIT ST SPORT


This model comes with full leather cockpit area, parking sensors, DAB radio with blue tooth, air conditioning and an awning. It has a pop up roof that gives space to a comfortable bed. It has a dining area with a fridge, TV, water tank and water heater. It can be hooked up to the external source of electricity and water.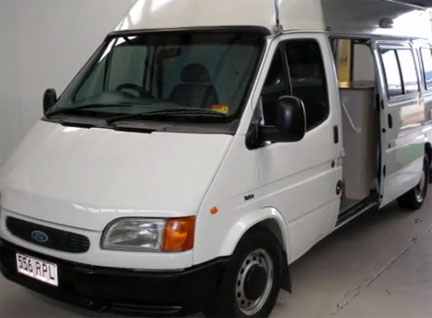 Ford Transit Motorhome

1.    FORD TRANSIT SUNSEEKER
This camper is equipped with a diesel engine. It has a comfortable and stylish interior coming with a cassette toilet, shower, sink, cooker, fridge and heating system.

Where to buy Ford campers

Motorhomes Autotrader
This is a UK company selling all kinds of Ford van models. You can easily find what you are looking for here thanks to their easy search system that can quickly narrow down your search. You can look for the ideal ford camper van according to make and model, berth, mileage, year, color, condition, engine size and much more. All the cars sold here are from the UK.

Ebay
You should look at the eBay page from UK for Ford campers. You can find a lot of used ford camper vans for sale there for great prices. Most of them are in good condition, and some of them can be bought on a great bargain if you participate in one of the online auctions. There are many Ford camper vans put up for auction each day.

RV Trader
RV Trader is one of the largest online companies that sell both new and used motor homes. They have a lot of Ford camper van models for sale, such as Ford E350 Box Van, Ford E450, Ford Econoline, Ford Falcon Ford Fourwinds and more. Most of the vans here are sold by private sellers that you can contact through the website if you are interested in their offer.

---
Visitor's story.....

Camping enthusiasts are normally very particular about the features they need in their camper. Ford has come out with a number of camper van models to cater to these varied requirements.
Campers with different needs can choose a specific model according to their specific preference. The Hymer Van 522 Ford 2.0 Diesel 1997 cc is a wonderful Ford Camper Van that is ideal for camping trips. This low line, luxury motor home comes with 3 berths and a double bed that is transverse fixed at the rear.
There is a lot of storage space underneath the bed. The motorhome comes with a separate shower and toilet which makes it convenient when traveling with more passengers.
The Hymer comes with a 2 liter turbo Diesel Engine that delivers a smooth performance. There is a manual 5 speed gearbox for maintaining the optimum speed on different roads in varied driving conditions. The Hymer, similar to most campers vans, comes with gas as well as electric heating systems.
Although the camper van is spacious inside, it is compact enough at 19 ft 7" and 6 ft 10" to cross by ferry whenever the need arises. The windows are double glazed for maximum protection. The camper has many kitchen amenities like cooker, fridge and freezer to take care of all food requirements during the trip. The vehicle has a mains electricity hook-up for charging purposes.
This model is one of the most sought after Ford Camper Van models in Germany and other parts of Europe as well. The quality of the vehicle and its reliability in different driving conditions, backed by Ford's commitment to good service and support make it a wonderful choice for a camper van.
If you are looking for a good camper van model, consider the Ford Hymer. For more information, please visit Preloved.co.uk/fuseaction-adverts.showadvert/index-1033664937/0837dbd2.html


Brent Longman, AZ
 About Us / Privacy Policy / Resources
Go from Ford Camper Van to Pop Up Campers Trailer Home

New Camper Van