Small Travel Trailers:
Gidget Brumby Teardrop
Gidget campers brought new life into an old teardrop style offering increased living space thanks to the slide-out module, off-road construction and comfort unmatched by typical teardrop trailers.....
      Most modern teardrop travel trailers are designed for specific customers – young nature lovers and/or retired couples sharing common characteristics: an adventurous spirt but no enthusiasm for backpacking and tent. 
     Providing sleeping place for two, these lightweight and economic campers (not only due to fuel efficiency and towing by a typical family car, but also due to the low initial cost) have one serious disadvantage.
 Usually, they do not offer any living space, and on the campground feel tiny and crampy…..
They are just like a hard-wall tent on wheels, always ready to provide a place for sleeping! 
Well, it seems that this limitation was eliminated once an Australian company introduced an innovative Gidget Teardrop Camper. Thanks to the slide-out module (the solution often used in larger travel trailers) the old idea of retro teardrop trailers got new life.  In road configuration, the Gidget can still be towed by small family cars, but once on the campground, it opens a living module offering increased comfort and new possibilities.
The slide-out adds into the traditionally small trailer a seated lounge with table and an entertainment center. It is also worth to mention that Gidget's "sleeping area" offers queen-size sleeping space.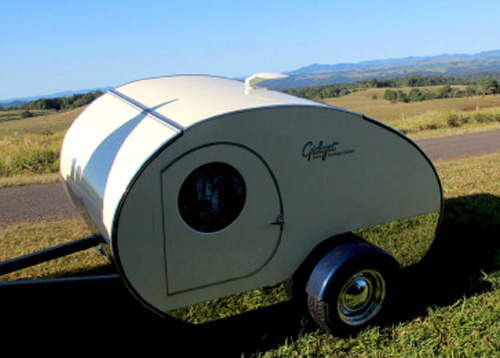 Gidget Brumby Off-Road Teardrop travel trailer in towing configuration
      The rear galley is also generously equipped. The main counter housing a sink with a glass-top cover offers a lot of "working space". Appliances including 2-burner cooktop and cooler (or optional fridge) are under the countertop in slide-out modules. The sink's faucet is connected to the pressurized water system fed by large (21 gallons) water tank. Range of drawers and shelves completes the "picture" providing an ample storage space for food, spices, utensils and cookware.
Gidget Brumby in camping configuration (Slide-out module opened)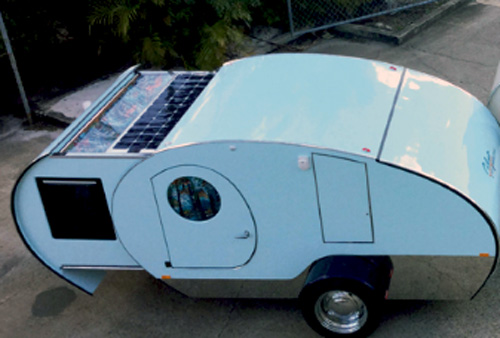 Solar panels installed on the roof of the slide-out module are an integral (standard) part of Gidget Teardrop travel trailers.
     Currently Gidget offers four models of its teardrop travel trailers: Bondi (smallest one with body of 8' x 5.3' x 5.4'), Noosa (larger one with body of 9.8' x 5.3' x 5.5' as well as two off-road models Brumby Off-Road and Brumby Wild Off-Road built on the footprint of Noosa and both (but especially Wild) designed for adventures into wilderness. The reinforced chassis, aluminum underfloor, rock guards and protection, independent coil suspension, gas shock absorbers -  they are designed to be more self-sufficient (solar power and large water tanks ) what is -crucial  when you find yourself in the proverbial "middle of nowhere" (not too difficult task in Australia).
And the best part of classic teardrop travel trailers is still kept intact: you can set them up in no time with no canvas to deal with and no weather elements to worry about!
Specifications for Brumby (Off-Road and Wild Off-Road)
Overall length

Body length

Overall height

Ground clearance

Internal height (slide-out)

Body width

Overall width

Dry weight

GVWR

Cargo

Water tank w/level gauge

Waste water tank w/drain tap

Sleeps

15'5"

9'8.5"

6'2"

14" / Wild 16.3"

37.4"

5'3"

6'10"

1800 / Wild 1830 lbs

2645

845 /Wild 815 lbs

42 gals

10.5 gals

2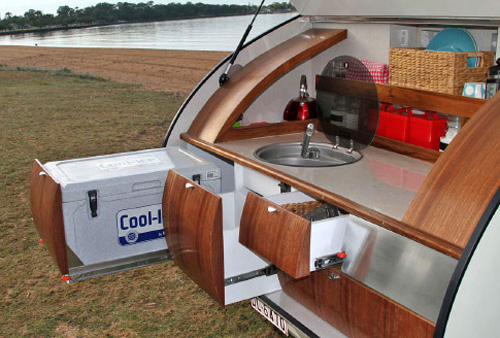 Above and below: Impressive rear-located Galley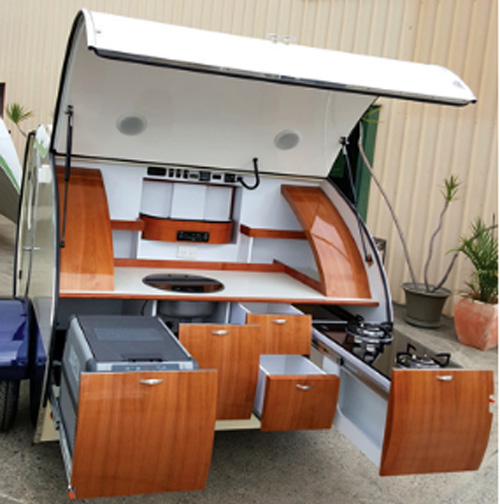 Internal features:
"Hide-away" table (for coffee, breakfast in the bed etc…)
Queen-size bed ( 80" x 55") converting to a seating lounge
14 cubic feet Wardrobe/Cupboard storage 
Curtains on all windows, skylight and door
Toilet + shower compartment including hot water system and portable toilet (Option in Off-Road model)/ Standard in Wild Off-Road model
Rotating Entertainment Center (12V 24" HD TV w/USB port, Stereo w/quad speakers). The TV screen  can be watched from the inside of from the outside of the camper
Electronic Control Panel (lights, water pump, water,  voltage, solar power meters)
LED lights, 
Electrical power outlets
USB outlets
External features:
Slide-out module (nearly doubling the internal space)
6 cubic feet underfloor storage
160W Solar Panels (mounted on the roof of the slide-out module)
100Ah deep cycle battery (Off-road model) /2 x 100Ah in Wild Off-Road model
Fully insulated fiberglass/composite body (Composite reinforced aluminum body for Wild off-Road model)
Gas shock absorbers (Dual shock absorbers for Wild Off-Road model)
Kitchen
2-burner LPG cooktop
Sink w/toughened glass cover
Two  (9 lbs each) LPG bottles (optional)
Pressurized water system
Cooler that can be replaced by an optional 1.5 cu.ft fridge (standard fridge/freezer in Wild model 
Cabinet/Drawers storage
---