Tent and RV Camping Parks Hawaii (HI)
Want to discover the Paradise? Explore Hawaiian Islands out of campgrounds hidden in this oasis of peace, serenity and unspoiled nature, see the best places for campers.....

The fact that Hawaii Islands are considered as a Paradise on Earth will not surprise anybody.
Located in the middle of the great ocean, far from the industrialized world, its polluted environment and stressful life it seems to be an oasis of peace, tranquility and unspoiled nature.
While some visitors will still opt for busy Waikiki beach (just because it is famous), it does not change the fact that the best part all Hawaiian Islands is in places where the nature was left to live its own life.
Steep cliffs,crystal-clear streams, deep canyons, volcanic mountains and Mother Nature "greener" than anywhere else are the real jewels not to miss.
If this is what you are looking for then forget 5-stars hotels and see the list of best campgrounds on the islands.
---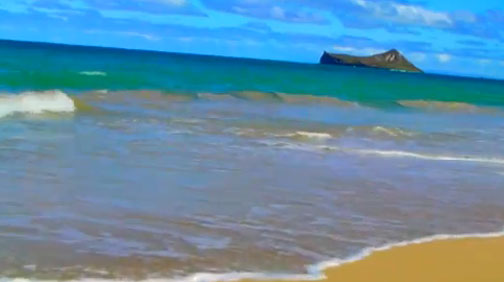 Waimanalo beach - one of the best on the islands

Waimanalo Beach Cottages (Waimanalo)

Walking along the enchanting sanctuary of five-mile beach to enjoy the dramatic and stunning mountain views is one of the most peaceful and relaxing experiences.
Waimanalo Beach Cottages offers private, secluded cottages allowing you to share in a perfect balance of tropical elegance and comfort as you observe the ocean-blue waves from your lanai. There are endless possibilities for you to explore as you enjoy the tropical gardens, many trails, an adventure on the Oahu's Sandy's body beach or a world class snorkeling experience if you choose to venture further to Hanuma Bay.

Visitors to Waimanalo Beach Cottages can expect:

Upon arrival to be greeted with a welcome basket filled with locally grown fruits
Private parking facilities in a gated property
Complementary bungie and surf boards, kayak and even private surf lessons

Address: 41-10 Wailea St, Waimanalo, HI 96795, United States
Phone:(808) 259-5590

---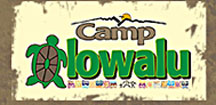 Camp Olowalu (Lahaina)
Located on the ocean just about 6 miles south of Lahaina along Highway 30 Camp Olowalu is specifically designed  to meet the needs of just about every person, whether it's the solo tent camper or a large camping group on a retreat. If you're a type of camper who prefers your camping experience to be a bit less rugged, the camping grounds offers facilities such as wireless internet, fully equipped kitchen, picnic tables, Barbecue grill as well as several other conveniences.

Camp Olowalu offers 6 A-frame plantation style cabins each consisting of a storage loft, screened windows, outlets, fans, and cots allowing you to leave all your gear at home and rent when you arrive.

Address: 800 Olowalu Village Rd, Lahaina, HI 96761, United States
Phone:(808) 661-4303


---
Lova Lava Land EcoResort (Ocean View)

Often considered as a once-in-a-lifetime adventure Lova Lava Land EcoResort is designed as an entertaining learning experience concerning life on an old lava field. Filled with the beauty of shady ohia trees, private rental & outdoor communal areas offer great opportunities for socializing & relaxing against an ocean view. This eco resort allows guests to comfortably relax in the middle of a lava flow in a fully equipped VW bus and offers shared compound facilities such as a herb garden, lava rock shower, kitchen and even wireless internet.

Whether you are looking for the vacation in paradise, an educational eco-friendly experience, or a just a place to explore the island from, be prepared to expect something pleasantly more than camping in comfort other than a tent.

Address: Ocean View, HI 96737
Phone: (808) 352-9097

---
Malaekahana State Recreation Area (Laie)

A great spot for swimming and surfing - the Malaekahana State Recreation Area consists of a total of 40 campsites offering tent camping. The area provides 5 round camping yurts consisting of beds that can accommodate as much as 6 people, 3 eco cabins equipped with refrigerators and stoves that can house up to 6 people, as well as 10 small grass shacks each fitted with a bench where you can lay your own mattress. If you prefer not to bring your own food, you may purchase groceries by traveling about a mile to Kahuku or two miles to Laie. Visitors who do not own a car may access the campground by bus.

Address: 56-020 Kamehameha Hwy, Laie, HI 96762, United States
Phone:(808) 587-0300

---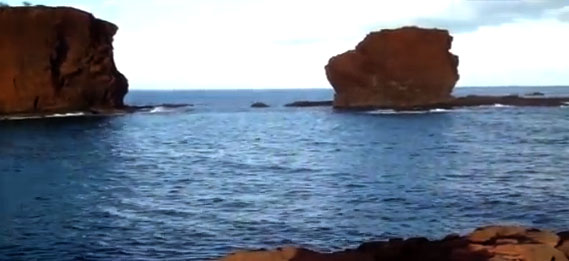 Sweetheart rock

Hulopo'e Bay Campgrounds (Lanai City)

This well secured beach is considered as the safest place on the island to swim. With its stunning white sand beach and submerged coral formations Hulopo'e Bay Campgrounds is often referred as the central recreational area on the Lanai Island. To the left of the beach sits Pu'u Pehe Rock, locally referred to as Sweetheart Rock.

Once referred to as the "pineapple kingdom," Lanai no longer exports pineapples. Acknowledged as the sixth-largest of the Hawaiian Islands, Lanai provides unlimited opportunities for outdoor person. Just a little over 9 miles from Lanai to Maui, the island is easily accessible by way of Island Air in Oahu or Expeditions Ferry.

Address:
Hulopo'e Beach, South Shore P. O. Box 310
Lanai City, HI 96763 USA
Phone:(808) 565-3978

---
See it with your own eyes....

Haleakala National Park Campgrounds / Wilderness Cabins (Haleakala National Park)

Located on the island of Maui, the Haleakala National Park offers to visitors three wilderness cabins: Holua, Kapalaoa, and the Paliku. Only accessible by trail and from the summit area by way of a 3.7 miles hike to Holua, 5.5 miles hike to Kapalaoa, and 9.3 mile hike to Paliku the cabins are available year-round by permit only and only by advance reservation.

The distinguishing cinder cones that mark the summit of Haleakala has been as a result of recent eruptions. Very few plants, birds, and insects have successfully adapted to the harsh conditions at the summit and on the upper regions of the volcano. One such plant which grows nowhere else in the world and belongs to the endangered species is known as the ahinahina (commonly referred to as the silversword).

Address: Kula, HI, United States
Phone:(808) 572-4400

---

Pililaau Army Recreation Center (Waianae)

Capturing the spirit of ancient Hawaii, the Pililaau Army Recreation Center conveniently located on the Pokai Bay is considered as one of the best beach amenities on the island. Surrounded by homes and countryside farms the Pililaau Army Recreation Centre lies about 35 miles from Waikiki and 18 miles from the beguiling Leeward Coast from Schofield Barracks. The calm and placid waves and white sand beaches offer a delightful experience and a haven for scuba divers, swimmers and snorkelers.

The Recreation Center consists of a total of 42 beach cabins, one illustrious visitor cabin, club facility and cove pavilion as well as an equipment rental center. Each cabin is fitted with both: air-conditioning and ceiling fans, telephone and even cable television. Cooking utensils, dishes, linen, barbecue grill, tableware and private sun-deck is also provided among the kitchen facilities.

Address: 85-10 Army St, Waianae, HI 96792, United States
Phone:(808) 696-4158

---
Visitor's story......

If you find yourself in Hawaii and need the directory of campgrounds: tent and RV camping parks Hawaii (HI), look at some of these.
There are not many campgrounds for a motor home or a pop up camper, but there are a few nice ones.
If you want to, you can rent a motorhome trailer or as some may say a mobile home to travel to the campground.
You will find a beach camp that sits right on a sandy beach for great swimming and snorkeling. If you need to find a recreational vehicle rental company, the campgrounds can direct you to the right one.
This area is so beautiful; you will enjoy your time on the islands. With all the sunshine and nice warm breezes, you will enjoy a visit to the area and meet some new friends as well.
Here are some popular campgrounds in Hawaii for some wonderful adventures and camping. If you need more campgrounds, you may have a hard time finding anything that has a listing.

Camp Mokuleia
68-729 Farrington Hwy
Waialua HI 96791
808-637-6241


Kahili Mountain Park
PO Box 298
Koloa HI 96756
808-742-9921


Kokokahi Camp Hostel
45-035 Kaneohe Bay Dr
Kaneohe HI 96744
808-247-2124
 About Us / Privacy Policy / Resources
Go from Directory of Campgrounds: Tent and RV Camping Parks Hawaii (HI) to Pop Up Campers Trailer Home