Sundance XLT 267RL Camper
Top 2017 Fifth Wheels
Sundance X-Lite 267RL fifth wheel is a mid-size, easily towable lightweight camper for 4 with surprising master-suite section and comfortable living and kitchen area....
      Sundance XLT 267RL camper is an ultra-lite, mid-size fifth wheel made by a well-recognized RV manufacturer - Heartland. 

The company's portfolio includes several series of Travel Trailers, Fifth Wheels and Toy Haulers ranging from luxurious models like famous Bighorn to lower-end (but certainly not "inferior") mid-size campers.  
Due to the fact that in this presentation of 5th wheels we are targeting lite models that are within the towing range of popular pickup truck, we selected the SD-XLT 267RL.
And there are more reasons than just length, weight and cost (making it affordable) to justify this choice.  It is also camper's not very typical, yet very interesting (at least for some RV-ers) floor-plan. 

Heartland's Sundance XLT 267LR Fifth Wheel camper
and its floor-plan
     Although the XLT 267RL is advertised as an RV that can sleep up to 5-6 persons, its layout strongly suggests that it will be a comfortable RV for a family of 2+2 (parents and children) and an ideal one for just 2perons (young couples and those already retired from the permanent work). 
The SD-XLT 267LR offers front Master Suite encompassing the bedroom, walk-in bathroom (shower and vanity) and private room toilet. The whole master suite is separated from the Living/Kitchen area by the solid sliding doors. However the "separation" between the bedroom and the bath is only done by the hanging curtain and it does not really offer the full privacy as we may need.  So, if the master bedroom suite configuration is really great for "masters" (whoever they are), it is very questionable for larger families with grown-up children or families with friends. 
XLT 267LR 5th wheel camper - Living Space
      By selecting the Sundance XLT 267RL camper as one of the top fifth wheels for 2017 we confirm our goal to make presentation of fifth wheels affordable for larger group of customers.

General Info

       With its just 28'3" length the 267RL fifth wheel can be placed somewhere at the border of small-size and mid-size fifth wheels.  Thanks to lightweight construction (aluminum/fiberglass) and obviously "less of interior stuff" forced by smaller size (dry weight about 7,300 lbs), the 267RL is also towable by low-end full-size trucks like popular Toyota Tundra or Nissan Titan.  It's also worth to mention that with its price well in low $ 30k's, for many of us this 5th wheel camper may open a whole new experience of traveling and exploring …. And that is the noble goal!
Although Heartland (and dealers) claims the SD XLT 267LR does not compromise the luxury, let's make it clear – it is not luxurious camper. OK, no worry, it is well finished. Gel-coated stylish exterior with tinted frameless windows, fancy LED lighting, walnut-glazed hardwood cabinetry, nice-looking black-faced or stainless-steel appliances and optional (always elegant and residential-looking) free standing dinner table (to make it short…). But forget about leather sofa – this time it's the vinyl one, and you will see more plastic in bath etc…  Do not take me wrong – it's still nice environment with bedroom suite as the focal point, but definitely "less-residential" and much smaller than bigger, truly luxurious fifth-wheels.
Master Suite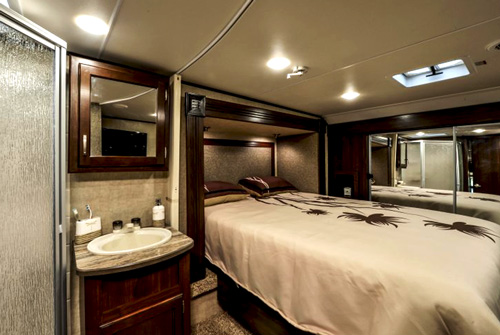 SD XLT 267RL - Master Suite
Master Suite: Under-bed storage
      The walk-around queen-size bed is placed in a flush-floor slide-out. This layout opens large space in the front-cap for the wardrobe. Note that in the classic bed's configuration it is difficult to fully use the front cap curved space, however for wardrobe (closet) it all is accessible and so we can make the most of it. 
The 3-drawers dresser facing the bed adds precious little space undoubtedly very much appreciated by our "better-halves". It's handy for cosmetics, little jewelry (if carried with you for vacation), and all kind of easy accessible personal items (there is always plenty of them). The under-bed storage may easily store everything you do not need on the daily basis. 
The beauty of the master bedroom suite is the next to it walk-in bathroom with an elegant (although not stylish) shower cabin, vanity with sink and mirrored-door medicine cabinet. 
      Given the fact that the master suite takes almost half of camper's surface (about 110 out or 227 ft. square) we can definitely say that the "private corner" is spacious. The wardrobe's mirrored sliding doors efficiently enhance the feeling of an open space. The suite also includes a private toilet room with vent, housing a porcelain foot-flushed toilet. The whole area is separated from the kitchen and living area by the solid sliding door (next to the interior steps) so your privacy is well protected.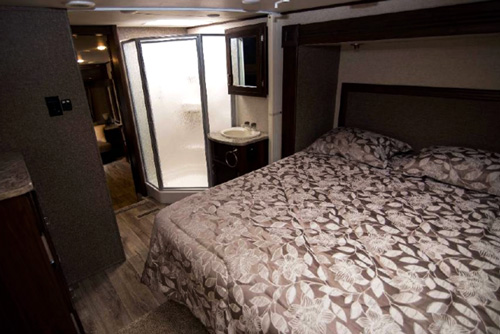 Master Suite: view towards the bath
      The bed's slide-out floor is carpeted, while the remaining bath's floor is covered by linoleum. 
The hanging curtain between bedroom's slide-out and the bath can be used for privacy of those traveling with you (children or guests) and obviously your own. But this is exactly the moment when you lose the much-desired characteristic of the master suite (open space) and turn it into quite "claustrophobic" cubic.
     The TV prep (power and cable) allows you to bring some entertainment and news into the private corner. And actually it's not that bad idea as it sounds given the fact that the roomy master suite can be also used as the "Relaxing Area".
Cons:     It wouldn't be fair to not mention weak spots. So for example the radius shower with sliding door(s) will greatly "enhance" suite's ambiance. And it is not only about the ambiance and elegance but also practicality – the door in the current "angled-shape" cabin opens into the bath taking a lot of space and at the same time blocking the access to the vanity. It does not seem to be a costly change, so let's hope it will be included in the next edition of this otherwise comfortable and well-designed camper.
Kitchen

SD XLT 267RL 5th wheel: Galley
Across the galley in the main slide-out: dinette and pantry (on the right)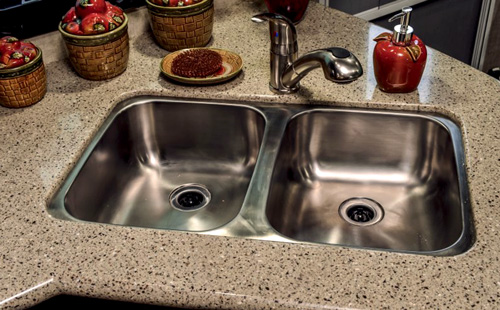 Under-mounted stainless-steel sink
      The kitchen is almost entirely placed along the curbside wall. You will find there 3-burner stove with oven and hood, microwave and 8 cubic feet refrigerator with separate section for freezer. They are all finished in black keeping-up with traditional elegance of upper-end RVs. The two-bowls under-mounted stainless steel sink with single levier faucet and solid-surface countertop nicely fits into the overall stylishness. The sink cabinet, thanks to its semi-L (angled) shape and (optional) sink lids seems to provide enough of working space as well us spacious underneath storage.
It may seem that the galley does not have enough of cabinetry for usual "kitchen/food stuff". And here comes the large, deep, full height pantry located in the opposite to the kitchen main slide-out.  3 large drawers at the bottom and upper shelves behind the glass doors may easily compensate for apparent lack of storage space directly in the galley.
      The pantry shares the flush-floor slide-out with the dinette. Well, the latter (with two benches and storage) is rather a comfortable place for meals but also can be used for playing games or "computer-work". It is also convertible to an additional sleeping space, but as mentioned earlier, the camper is not really designed with large "on-board" crowd in mind. So, those wanting more "residential" charm may chose an optional free-standing table with four chairs. It wouldn't change much in terms of "extra" activities (playing games, computer work etc…), but certainly it will bring more familiar ambiance into this little home-away-from-home.
Living Space and Entertainment

Rear-end sofa with side-tables 
The Entertainment Center: CD/DVD/AM/FM Stereo......
       Understandably, the XLT 267RL 5th wheel does not have large and clearly separated living and entertainment area. It is fully integrated with the kitchen and the dinette/free-standing table. The sofa (if needed - convertible to the bed) is placed along the rear wall of the camper. Two side-stands with solid-surface tops and power outlets make the sofa a comfortable place not only for watching TV or listening to the music but also for "spending time" with your loved one in company of coffee, cup of wine, snack or an interesting book in one hand. The overhead cabinets above the sofa (spread over the entire width of the camper) add the precious storage space.
The LED TV and Stereo Center (CD/DVD/AM/FM/Bluetooth….) are across the living space along the bath wall. The cabinetry housing the entertainment center also offers a shelf, storage space (bottom) and an elegant, "behind- glass-doors" space above.
     The BeauFloor covering matches the living room ambiance (dinette booth is carpeted). Nice surprise, heat registers are mounted at the bases of the cabinets (not always seen even in higher-end campers). In other words you have no dirt and "precious stuff collectors" on the floor! (Do you remember the classic Murthy's law of the "selective gravitation? Well, it states that "things" always fall in places where they can do the most of damage (in this case - vanish from our eyes in the floor-mounted register).
Exterior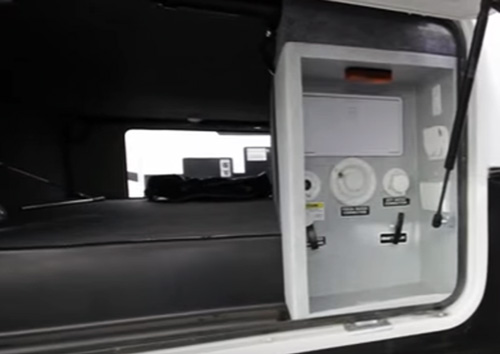 Pass-through storage with Central Docking Station
      The most notable is the 16 feet wide power awning with LED light. It offers abundance of living space and close, personal contact with the Mother Nature (if that is what you choose). The large, pass-through storage with slam-latch magnetic doors offers enough of storage space to pack camping chairs, table, BBQ and anything else you may need for outdoor activities. If needed, it is also possible to install the rear bike-rack.
The "table-level" exterior speakers and decorative LED lighting promises enjoyable day and evening times, meeting place with newly met friends…..
The front storage is dedicated to battery (ies) and power converter (120V/12V). 
The aluminum entry steps with anti-slippery grip present a modern solution (lite, safe, and durable). 
Specifications
---
Exterior length

Exterior width

Exterior height

Interior height




Dry weight

Hitch weight

GVWR

Cargo capacity

Fresh water tank

Grey water tank

Black water tank

LPG

Sleeps

28'3"  (1)

8'0"

11'10"

6'3" (bedroom)

? (living)

7,262 lbs

1,690 lbs

9,900 lbs

1,638 lbs

53 gals

40 gals

40 gals

2 x 30 lbs (14 gals)

4 (6)
(1) – interior surface 227 sq. ft.

---
Construction:
Layout:  Front Bedroom Suite with Bath and Private Toilet/ Central Kitchen/Rear Living
Structure: Aluminum-framed double-welded (2" walls, roof and 3" floor) w/fiberglass high-gloss skin
Front cap:  Aerodynamic, painted fiberglass / Tight-Turn design (up to +/- 88 degrees)
Roof: One piece rubber finish
Insulation: Foam  R-7 (walls), R-10 (floor and roof)
Slide-outs:  2 power (Flush-floor) modules
Underbelly:  Enclosed and sealed (Weather-Guard Thermal Package, comes together w/ Flexfoil insulation of underbelly and bath/bed deck)
Windows: tinted, frameless-bonded
Floor:    BeauFloor (vinyl)/carpet
Axles: 2 Dexter w / E-Z lube hubs and "Correct Track" system 
Suspension: leaf-spring,  MOR/Ryde
Brakes: Electric Drum (rear)
Wheels: Aluminum w/ ST225/75 R15-D tires
Master Suite
Layout: Integrated Master Bedroom, bath and private toilet room
Privacy: Sliding door separating the master suite from the living area
Foot-flushed Toilet in the private room
Bedroom
Walk-around Queen-size bed (60" x 80") w/under-bed storage
Mattress
Large, front-cap wardrobe w/sliding mirror doors
Dresser w/drawers 
Privacy curtain (separating from the bath) 
TV prep (power/cable)
2nd A/C prep
Bathroom
Shower cabin (plastic/glass) w/skylight 
Vanity w/acrylic sink
Medicine cabinet w/mirror and light
Porcelain toilet w/foot-flush (in private room w/vent)
Kitchen sink covered with solid-surface lid increases the working space
Kitchen
3-burner 16" stove w/oven and hood (fan/light) 
Microwave (900W /1 cu.ft)
2-way, 8 cu.ft  Norcold refrigerator/freezer 
2-bowls flush-mounted stainless-steel sink w/cover
Single-levier faucet w/sprayer 
Solid surface countertops
Glazed Walnut cabinetry w/full-extension ball-bearing drawer guides
Pantry (shelves and drawers) w/glass-door
Kitchen cabinet with the 120V outlet (upper) and the heat register at the bottom.
Living Area
Sofa (Vinyl) convertible to bed w/side tables
Dinette and two benches w/storage (convertible to sleeping place) or
Free-standing table w/4 chairs (optional)
Overhead cabinets
Large panoramic windows
Entertainment:
32" HD LED-TV (Optional)
12V AM/FM CD/DVD with Bluetooth
Speakers interior/2 exterior
Cable prep
Antenna prep
Pantry
Interior features
Glazed-Walnut cabinetry throughout
LED lighting
Wallpaper décor/wood
Windows shades / curtains
BeauFloor vinyl (living. kitchen, bath) /carpet flooring (dining/bedroom)
Exterior features:
16 ft power awning w/LED lighting
Triple Aluminum Entry steps w/grip-strips
Universal Docking Center (pass-through)
Roof ladder
30" Friction - hinge entrance door w/Large assist handle
LP Quick connect
2 Power stabilizing jacks (front)
2 Manual stabilizing jacks (back)
Rear-mounted spare tire w/carrier
Slam-latch compartment doors with magnetic catches
Battery/Converter compartment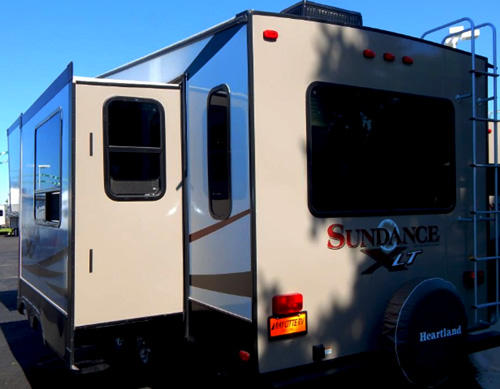 The 267RL - view from the back with roof ladder and spare tire
Water/Plumbing
Climate Control:
30k BTU Furnace
13,5k BTU ducted Air Conditioning (optional 15k BTU)
Electrical 
50 A Shore service
Converter (55A/12V)
Solar prep
2nd A/C prep (bedroom)
Power outlets (120V AC/12V DC)
Safety:
Rear-mounted spare tire w/carrier
Emergency exit
Fire extinguisher
Detectors (CO, propane, smoke)
Options:
32" HD LED-TV
Electric rear jacks
Free-standing diner table w/4 chairs with storage
Dual pane windows
Maxx Fan (living room)
15k BTU main A/C
2nd A/C for bedroom
Winterization
Summarizing: No one can say that XLT 267RL is a lavishly finished luxurious camper, but surely, for many it can make a nice, affordable RV allowing to explore the "world". And it has everything to turn it into the charming place with residential feel – it's just up to you to make it happen.
To see more mid-size 5th-wheel campers see: --> 2017 Top Fifth Wheels
Note:  Check with the manufacturer and / or authorized RV Dealer for the up-to-date list of features, options as well as latest specifications. These written above may not be accurate and certainly are subject to change by the factory. We are not responsible for any inaccuracy, the above text is provided only for the general information.
This review was written based on publicly available information for the benefits of the community of RV-ers. We do not receive any gratification or financial benefits from RV manufacturers, dealers, and any other promoters of RVs. 
We are NOT involved in sale and/or retail of RVs!
---