Black Series HQ15 Specs
Off-road Travel Trailer
        Black Series Campers HQ15 off-road travel trailer: specifications, construction details and features....
         In the previous chapter we provided detailed review of the Black Series' HQ15 off-road travel trailer. If you did not read it yet, we suggest to go back to the first part of this article. In our opinion, it will be beneficial to readers to first get familiar with this unique, truly unmatched by competition RV coming from Australia.
So let's start: --> Review of HQ15 Off-Road Travel Trailer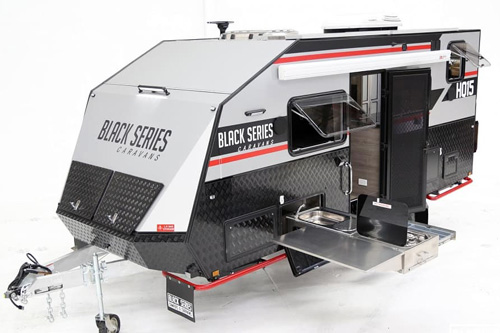 Australian (left-side driving) version of HQ15.
Please note that North-American models have "mirrored floor-plan" to accommodate requirements imposed by right-side driving 
Following is the best to our knowledge presentation of specifications, features and construction details supported by numerous pictures. At the end you will also find a bonus - video tour of HQ15 by RVs of America (truly masterpiece in terms of provided information).
Specifications

---
Overall length (1)

Overall width

Exterior height

Interior cabin length

Interior cabin width

Ground clearance

Dry weight (2)

Cargo

GVWR

Drinking water tank

Fresh water tank

Grey water tank

Black water tank

LPG

Sleeps (3)

22'3"


87.6"

9'67"

15'6"

84.6"

?

4,722 lbs

2,278 lbs

7,000 lbs

16 gals

50 gals

26 gals

26 gals

2 x 20 lbs

2+1
---
1. Approximative numbers converted from decimal system
2. With standard features (empty water tanks)
3. Dinette converts into bed for child (about 4.3 ft length)
Construction:
Chassis: Hot-dipped galvanized steel (RHS 6" x 2" x 0.15")
Shell: Welded aluminum frame, aluminum/composite sandwich roof and walls w/diamond plates
Insulation: Foam (R-16 equivalent roof and walls)
Suspension: Quad-shock, independent (dual shock absorbers and coil springs per dual arm)
Axle: Single
Wheels: 16" black-coated steel rims, each rated at 3,417 lbs (1,550 kg)
Tires: 265 x 75 x R16 Cooper all terrain
Brakes: 12" Electric with Handbrake Park Assist
Windows: X5 Eurovision Polycarbonate (dual-pane, tinted)
Entrance Door: Tri-lock security door w/separate, locked fly screen & protection grid section
Water tanks: Polyurethane with protecting cover (alloy or 0.12" aluminum)
Hitch: Articulated, off-road approved "Polyblock" w/vehicle fixture included
Protection: diamond plate on lower sides of the cabin, guard bars along sides
Floorplan: Rear bath
Off-road quad-shock suspension
Interior features
Windows with fly insect screens and privacy shades
Dual pane tinted Skylight w/shade and screen
4 side windows
Vinyl flooring throughout
Marine-grade leather dinette seats and storage pockets
Cabinetry:
 - Malaysian timber (honeycomb structures) w/durable    gloss timber veneer
- Gas-strut assisted cupboards doors w/travel-safe lock
- Soft-close drawers w/travel-safe locks
Sleeping corner: visible deep hanging cabinets, side night tables w/drawers and extra winter shades (partially deployed on the windows). The later offer better thermal barrier at low temperatures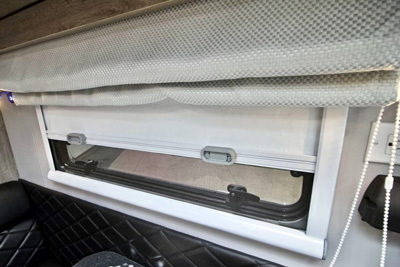 Window details: sliding-down privacy shade and partially rolled-up thermal protection
Sleeping space 
Double-size bed w/innerspring mattress
2 x hanging cabinets
2 x overhead cabinets
2 x drawers
Dimmed reading lights
TV Screen
Skylight 
2 x side windows
Microwave with cooking and grilling functionality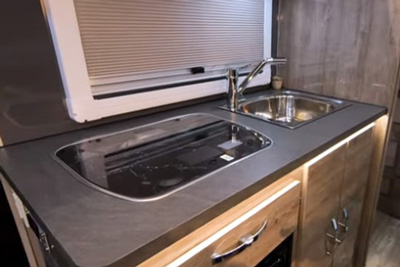 Glass lid increases the work space
Sink with dual faucet for drinking and utility water
Indoor kitchen
Stainless-steel 3-burner stove w/glass lid (Dometic)
Stainless-steel single-bowl sink w/ integrated dual faucet (drinking and freshwater)
2.6 cu. ft fridge w/freezer (Dometic)
Microwave (overhead-mounted)
Slim-Profile Hood w/twin fan and lights
Full height acrylic splash-back
Overhead cabinet 
Cabinets w/drawer
Large window
Leather pockets for magazines, newspapers, books....
Dinette
Genuine marine-grade leather seats w/fine diamond stitching pattern and folding leg-rest side panels
Robust, adjustable/removable for outdoor use table (all can be converted into sleeping space for a child)
Large window along
Genuine leather pockets
Dry Bath
One-piece, enclosed fiberglass shower cabin w/sliding door and ventilation skylight
Vanity w/porcelain sink, mirror and cabinetry
Porcelain toilet
Storage shelves
Stainless-steel towel racks
Large window
Entertainment
24" TV w/DVD function
Clarion CD/FM/iPod/Bluetooth/USB system
2 x Pioneer roof-mounted speakers
2 x marine-grade exterior speakers
Jack Digital HDTV antenna w/built-in SureLock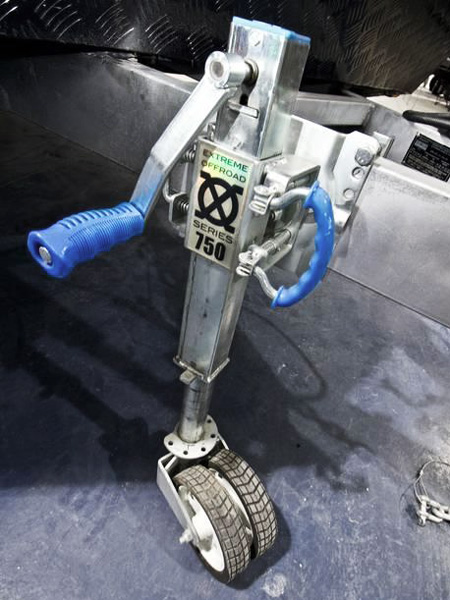 Swing-away 10" Jockey Wheel

Drop-down entrance steps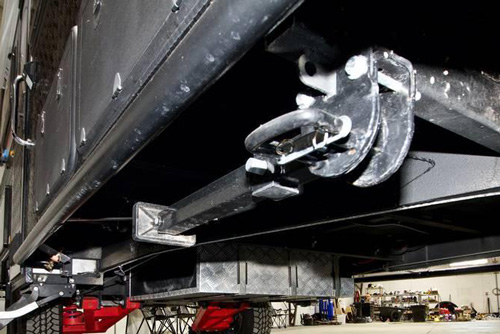 Stabilizing jack (here in travel position)
Exterior features
Manual awning (optional – Dometic's electric one)
Swing-away 10" Jockey Wheel
4 x stabilizer legs
Drop-down steps (optional electric version)
Exterior shower w/hot & cold water
Outdoor kitchenette
Slide-out combo stainless-steel sink and 3-burner stove unit w/extension board
Large work area
2 Drawers (one for utensils)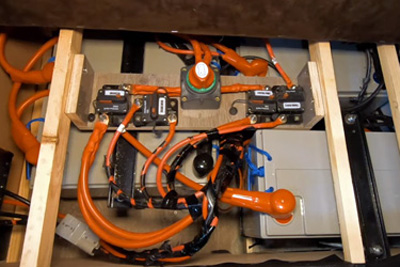 Storage under dinette's benches: above - 4 AGM batteries, below: inverter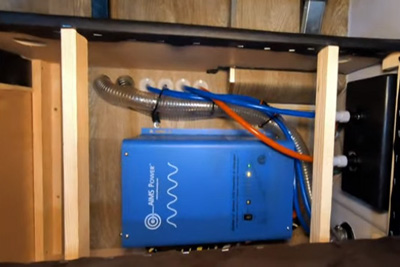 Electrical
12Vdc/110Vac electrical system
4 x AGM Gel batteries (100Ah each)
2 x 150W Roof-mounted solar panels w/controller
2kW pure sinewave inverter (4kW peak power)
Custom (Black Series) control panel (battery and solar monitor, switches, resettable DC breakers w/fuses, water tanks monitors, water heater switches)
30 A shore hook-up w/dedicated AC breakers 
Battery disconnect switch
12Vdc cigarette-type and USB plugs (interior and exterior)
7 x 110Vac interior outlets
1 x 110Vac exterior outlet w/GFCI)
LED light throughout: 
- Interior strip mood lights) 
- Individual reading lights (dinette and bedroom)
- Touch lights (kitchen, bath)
- Exterior wide-angle lights (rear and sides)
- Exterior front and rear bar-lights
- Entrance step light w/sensor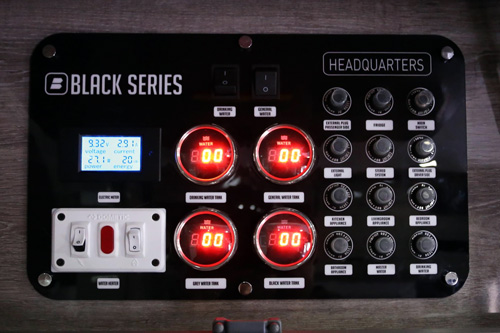 Central control panel
Climate Control
Slim, roof-mounted 13.5 kBTU combo A/C-Thermo-pump unit
LPG 16 kBTU furnace w/thermostat control
LPG Heater is located under the bed
Water/Plumbing
6 gallons Atwood water heater (LPG/Electric)
Drinking water pump w/3-stage filter
Fresh water pump
City, Drinking & Fresh water hookups
Black water tank flash
Fresh water tap
Hookups for drinking and utility water as well as exterior shower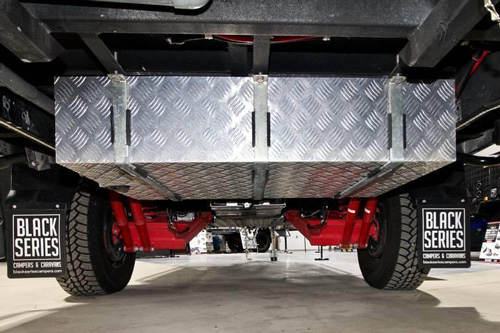 Water tank
Storage areas
2 x ventilated, front compartments with locks (one used for LPG tanks)
Large, exterior pass-through storage (front)
Under Dinette seats storages (one used for batteries, 2nd one for inverter)
Large, rear mounted basket-type storage for wood
2 x 5 gallons Jerry-can holders
Large leather storage pockets (dinette, bedroom and entrance areas)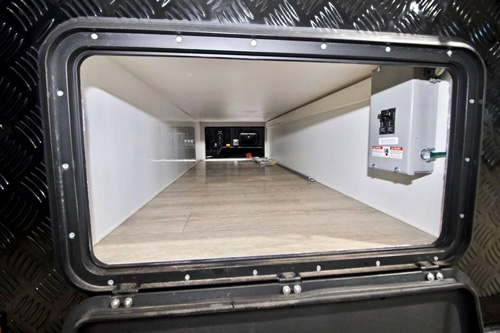 Pass-trough storage houses the AC breaker panel
Rear-mounted cargo storage
Security
Alarms and monitors (smoke, LPG)
Fire extinguisher
ALKO breakaway system w/attachment to the towing vehicle 
2 x full-size spare wheels (rear-mounted)
2 x rear recovery shackles (each rated at 4.75T)
Handbrake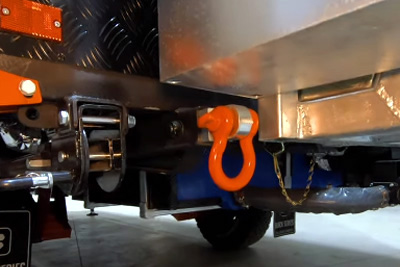 Recovery shackle
Options
Electric awning
Electric drop-down entrance steps
Winter package (heated blankets for tanks, insulated pipes … )
1-leg dinette table (offers more room for legs, but prevents dinette's conversion into the extra bed)
Summarizing: 
           Black Series HQ15 off-road travel trailer sets new standards for this segment of the RV industry. It's an example of robustness, ingenuity, quality and elegance that will be difficult to match by the competition. Designed for families of 2+1, it is a very reasonably priced model that can be towed by larger SUVs or F150 -class of trucks. With more than 30 thousand of HQxx models already on Australian Outback trails, its well matured designs in versions modified for the North American market are now available in the US.
Note that layouts (floorplans) of American versions of Black Series' models are mirrored Australian layouts. This is to accommodate trailers for right-side driving. Unfortunately, most pictures available online represent the original Australian left-side drawing models. 
All pictures are courtesy of Black Series Camper (Australia) or RVsofAmerica (USA)  
Go back to: --> Extreme Off-Road RVs
If it was not enough, I invite you for long but very technical and descriptive presentation of HQ15 by Rvs of America
Note:  Check with the manufacturer and / or authorized RV Dealer for the up-to-date list of features, options as well as latest specifications. These written above may not be accurate and certainly are subject to change by the factory. We are not responsible for any inaccuracy, the above text is provided only for the general information.
This review was written based on publicly available information for the benefits of the community of RV-ers. We do not receive any gratification or financial benefits from RV manufacturers, dealers, and any other promoters of RVs. 
We are NOT involved in sale and/or retail of RVs!