Jurgens Travel Trailers
South African On-Road RVs
Jurgens is one of the oldest and largest South-African manufacturers of traditional leisure travel trailers as well as series of sturdier, exploration-oriented off-road travel trailers...
       Jurgens is the largest South-African manufacturer of RVs.  Operating since 1952 the company offers an impressive product line including On-Road and Off-road travel trailers as well as cargo (they call them "luggage") trailers and utility trailers. 

    Not surprisingly, in 2008 Jurgens expended its operations to Australia. While Australian-made RVs may slightly differ from the South-African models, they certainly carry more than 60-years old original "DNA" hardened in wilderness of African bush. And if you combine it with experience gained in equally demanding areas of Australian Outback, the final result  is obvious: durable and high quality RVs ready for challenges of wilderness. 
Here we will focus on 2017 South-African models.
     As the company states – "RV-ing (caravanning) is all about adventure, including the process of choosing the right RV model".  To make it happen, Jurgens offers four models of "On-Road" travel trailers (caravans) and two models of Off-road travel trailers. The family of on-road models includes correspondingly: Fleetline, Penta, Classic and Exclusive trailers (all in standard and 2017 versions, the latter one also in a Deluxe version). The family of off-road trailers includes Safari Xcape and Safari Xplorer (both in standard and 2017 versions).
Jurgens Penta travel trailer with its characteristic "pop-top" roof.
Jurgens Penta - here with opened exterior pantry and attached side-tables
      First two families of on-road trailers – Fleeetline and Penta belong to the class of Pop-Top campers. They are hard-shell trailers however their roofs can be slightly lifted-up to increase interior's headroom. The remaining models (Classic and Exclusive) are traditional hard-shell travel trailers.
The Fleetline is the smallest trailer, Exclusive is the largest one. While there are some differences between models, they also share common characteristics and features. All models are equipped with overhead cabinets, wardrobes, cupboards and even a liquor cabinet! (all worktops have soft-edge corners).

Kitchens are truly modern – standard features include 2-burner gas stoves w/glass cover and/or 1 plate induction stove (Snappy-Chef) w/ pot & pan, stainless steel sink with cold and hot water tap, microwave oven and 8 cu.ft fridge with freezer. It should be noted, that some models have only an interior kitchen (Fleetline) but all other are also equipped with exterior pull-out kitchen. 
Two smallest models (Fleetline and Penta) do not have baths (they come with free-standing Porta-Pottie). The largest models: Classic and Exclusive come with full interior bath including shower, vanity w/sink and cassette Porta-Pottie).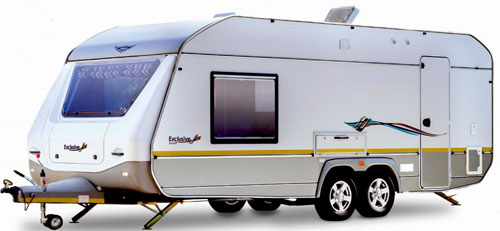 Exclusive Deluxe
Electrical installation includes 220V Power Pack and battery charger, deep-cycles batteries, 220V multi-pin plug for shore connection, multiple interior plugs, USB ports, interior and exterior lights, and Satellite Dish connection socket. All trailers come with an extra full modular tent w/ groundsheet (floor).
The Exclusive Deluxe model has more stylish two-tone wood finish and furniture compared to remaining models. It is designed to sleep only 2 people ("island" bed w/opening assisted by gas-struts). Interior includes small "Café-lounge" creating more comfortable environment for coffee-time. Roof-mounted A/C unit is also the standard feature. 
Specs for standard pop-top models (2017 models are bigger and heavier, but still not fully specified).

---



Ext. Length (1)

Int. length 

Ext. width

Int. width

Ext. Height (2)

Ext. Height (3)

Int. Height (3)

Dry weight (lbs)

GVWR (lbs)

Cargo (lbs)

Water tank

LPG

Axles

Sleeps (5)

Fleetline

19.65'

15.5'

92.5"

86.6"

91"

102.4"

77.8"

2,443

2,866

423

16 gals

Yes

1

4

Penta

21.1'

16.1'

92.5"

86.6"

91"

102.4"

77.8"

2,690

3,086

396

16 gals

Yes

1

4
---
Specs for models 2017 (earlier models are lighter, but also smaller and have less features).

---



Ext. Length (1)

Int. length 

Ext. width

Int. width

Ext. Height (2)

Int. Height (3)

Dry weight (4)

GVWR

Cargo

Axles

Water tank

LPG

Sleeps (5)

Classic

22.6'

16.8'

96"

88.7"

104"

76.9"


3,373

3,968

595

16 gals

Yes

1

2

Exclusive

25.1'

19.5'

96"

88.7"

104"

76.8"

3,902

4,597

695

2

16 gals

Yes

4

Deluxe

24.1




93.5"




107"




3,470

4,079

609

2

16 gals

Yes

2
---
1. Including tongue
2. Travel configuration
3. With roof lifted-up (camping configuration)
4. Weight in pounds (lbs)
5. Models sleeping 4 persons have convertible dinette.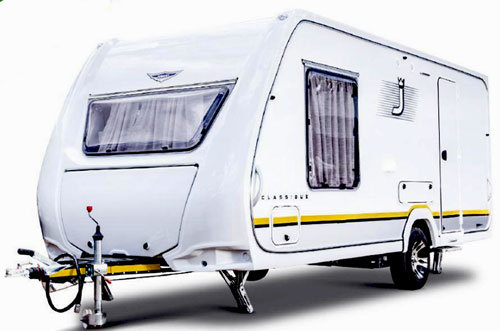 Jungers Exclusive (model 2017)
Standard features:
Island bed w/ gas-struts assisted access to the under-bed storage)
Dinette (in some models it is convertible to an extra bed)
Wardrobe
Overhead cabinets
Liquor cabinet
Fridge w/freezer – all models 1-way 8.05 cu.ft  Dometic, (220V), Deluxe 10 cu.ft 
Multifunction Microwave 1.2 cu. Ft (Deluxe 1.4 cu.ft)
Stainless-steel kitchen sink
Pull-out kitchen (some models)
Full bath w/shower and vanity w/sink (some models only free-standing Porta-Pottie)
Water heater
Floor: Heavy-Duty Vinyl 
Walls and furniture finish: washable "Renolit" (decorative thermoplastic film)
4 stabilizing jacks
Windows: Perspex Double Glaze (Perspex acrylic is a lightweight, strong and clear alternative to glass) with blinds
Wheels: 195R15 w/alloy rims, (Exclusive Deluxe R14)
Exterior step
Full Modular Tent & Ground Sheet
Summarizing: Unfortunately, the company still did not provide full details about 2017 models of Fleetline and Penta. Also there are no details regarding trailers' construction materials, floorplans etc…….
Note: Australian branch of Jurgens offers the following models of travel trailers (all hard-shells): Sungazer (17ft), Skygazer (18ft), Lunagazer (21ft), Tooradin (23ft) and one extended-load model Travado (23ft). In sharp contrast to the South-African "parent" company, Australian branch offers detailed information about all  locally-designed and manufactured models of travel trailers.
Go to: --> Top Ultralight Travel Trailers
Note:  Check with the manufacturer and / or authorized RV Dealer for the up-to-date list of features, options as well as latest specifications. These written above may not be accurate and certainly are subject to change by the factory. We are not responsible for any inaccuracy, the above text is provided only for the general information.
This review was written based on publicly available information for the benefits of the community of RV-ers. We do not receive any gratification or financial benefits from RV manufacturers, dealers, and any other promoters of RVs. 
We are NOT involved in sale and/or retail of RVs!