Kentucky
Campgrounds
List of campgrounds and RV Parks in Kentucky offers gateways for exploration of nature in this Bluegrass State with the most famous one - Mammoth Cave National Park
Kentucky is known as the "Bluegrass State" with the motto Unbridled Spirit that can be seen on license plates.
Bluegrass comes from the fact that this type of grass can be found in many areas in this state thanks to the very fertile soil.
Kentucky has a lot of attractions, such as the world's longest cave system, Mammoth Cave National Park, which is simply mesmerizing.
The name of the state most likely comes from the Iroquoian word for "meadow" or "prairie", but not everybody agrees on this. Kentucky is also known for the large heard of elks that can be admired on wildlife viewing trips.

Chimney Rock RV Park
220 Chimney Rock Rd.
Harrodsburg, KY 40330
Phone: (859) 748-5252

The Chimney Rock RV Park is located in the Bluegrass Region of Kentucky. It is close to Herrington Lake where you can swim and fish. There is a swimming pool in the park, a basketball court, horseshoe pit for kids and there are concerts every month. The park has a dump station, electrical hookups, on-site laundry facilities, restrooms, sewer hookup, clean showers and more. The park is located in Harrodsburg, Kentucky. You have to make reservations before you arrive.


Duck Creek RV Park
2540 John L. Puryear Dr.
Paducah, KY 42003
Phone: (270) 415-0404

Duck Creek RV Park is a place where you can camp with your RV, but it is also great for tents. They offer RV rental units for those who want to explore the area. Most sites have full hook-ups and they have TV cable and Internet access with WIFI. There is also a dump station, LP gas, on-site laundry facilities, outdoor pool, very nice restrooms and showers and more. Pets are accepted as well. There are art, music and food festivals throughout the year, and the park is located close to the Historic Downtown Paducah and The National Quilt Museum. Other attractions in the area include Harrah's Casino, the Land Between the Lake, Lake Barkley, the Kentucky Lake and the Carson Performing Arts Center.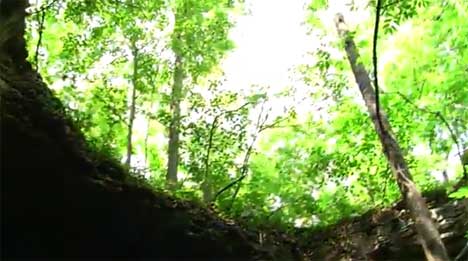 Unspoiled and so relaxing nature of eastern Kentucky....
Here, view from under the Natural Bridge

Grandma's RV Camping
159 Dawson Dr.
Shepherdsville, KY 40165
Phone: (502) 543-7023

If you are interested in visiting the Bernheim Forest, Jim Beam, Churchill Downs, Kentucky Derby Museum, The Louisville Zoo, Kentucky Kingdom, Slugger Field, Papa John's Cardinal Stadium and Freedom Hall, you should stay at this RV camp because it is located close to all of these places.  The park offers free wireless internet to all guests, electrical hookups, on-site laundry facilities, restrooms and showers, supply store.  There is also a convenience store nearby.
Good news for pets lovers - are also accepted (kind of traditional Grandma's kindness). Grandma's RV Camping is situated between Elizabethtown and Louisville.


Camp on the Kentucky RV Park and Campground
5486 Cummings Ferry Rd.
Versailles, KY 40383
Phone: (859) 879-6402

Camp on the Kentucky is very close to the beautiful Kentucky River. They have 18 full hook-up RV sites and 15 rustic camping sites for backpackers and for those who prefer tents. Each site has a fire pit and picnic table where you can enjoy a nice barbeque or snack. There is free wireless internet on the campsite, free boat launching ramp and parking, and a general store where you can find the most important things. The park is close to shopping and fine dining area, bourbon distillery and winery tours, horse farms and so on. The Kentucky Horse Park is also nearby. Pets are accepted at the Camp on the Kentucky RV Park and Campground.


Welcome to the Cave Country.....

Cave Country RV Campground
216 Gaunce Dr.
Cave City, KY 42127
Phone: (270) 773-4678

If you want to see the Mammoth Cave National Park and the world's longest cave system, you can stay at this RV campground. They are quite close to this beautiful park and caves on top of being "in the middle" of the region offering lakes and rivers with hunting and fishing opportunities as well as canoeing and hiking places. The campground is also close to historic sites including the Corvette Museum.
This campground offers all you need for a nice vacation: cable TV hookups, central water, dump station, electrical hookups, LP gas, on-site laundry facilities, restrooms, sewer hookups, showers, supply store and more. All the sites are quiet and spacious.


---
Whether you own a mobile home or any other recreational vehicle, you can travel the country.
Take your pop up camper or motor-home trailer and use a directory of campgrounds: tent and RV camping parks Kentucky (KY) to find a campground near some of the attractions around the state.
You may want to visit Big Bone Lick State Park or some of the other area campgrounds.
Looking for a beach camp to park your motor home, look at some of the listings here and see which one might have some of the facilities and activities you require.
If you need have a tent or a recreational vehicle, you can find these campgrounds idea for all types of camping.
Since you want to have the best time you can while camping, find one that offers different size lots for parking your camper on.
A handful of campgrounds to start:

Monroe Kentucky Campground
3730 Nashville Rd
Franklin KY 42134
270-586-7100


Boonesborough State Park
4375 Boonesboro Rd
Winchester KY 40391
859-527-3131


Duck Creek RV Park
2540 John L Puryear Dr
Paducah KY 42003
270-415-0404


Elizabethtown Crossroads Campground
209 Tunnel Hill Rd
Elizabethtown KY 42701
270-737-7600


Exit 31 RV Park
708 Complex
Grand Rivers KY 42045
270-928-3484
 About Us / Privacy Policy / Resources
Go from Directory of Campgrounds: Tent and RV Camping Parks Kentucky (KY) to Pop Up Campers Trailer Home