Kodiak 264RLSL Ultra-lite
Top 2017 Travel Trailers
Dutchmen's Kodiak Express 264RLSL Ultra-Lite travel trailer is a higher-end RV; thanks to large internal living space and lounge it offers comfortable vacations for family of 4….
       Dutchmen Manufacturing started operation in 1988. The company grew over the years and today under an umbrella of Thor Industries they offer widely-recognized brands of Toy Haulers, Fifth Wheels and Travel Trailers. 

For this presentation from the series of Aerolite, Aspen Trail, Coleman, Denali, Kodiak, Razorback and Rubicon travel trailers we selected the model Kodiak Express Ultra-Lite model 264RLSL. 
     Compared to other travel trailers selected for 2017, this one clearly belongs to the class of higher-end coaches. The Kodiak 264RLSL is not luxurious but certainly it's close to residential quality, especially in terms of space, ambiance and features. Thanks to its length of more than 31 feet, the floorplan offers spacious living area with enough of place for sofa and lounge "corner" with leather chairs (on top of traditional dinette and central kitchen).
And as the Ultra-Lite class obliges, its dry weight is below 5,700 pounds meeting towing limits of most SUVs, light trucks and some minivans.
Kodiak Express 264RLSL Ultra-lite travel trailer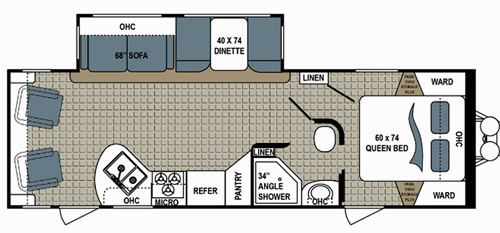 ... and it's floor-plan
As manufacturer rightfully claims – the Ultra-Lite Kodiaks are light in terms of weight, but "heavy" on space and features….
     The layout of Kodiak Express 264RLSL offers front bedroom, aisle-bathroom, central kitchen and rear living/lounge. There is only one slide-out, but spacious enough to house the dinette and the sofa – both along the street-side wall. For increased privacy (but also practical aspects), the coach has two entrance doors – one private leading straight to the bedroom, and the second one at the rear into the living area
Bedroom
Bedroom looks very elegant and should be also very comfortable
      The walk-around queen-size bed with mattress seems to be comfortable although almost always we have our "personal relationship" with the latter (for some too soft, for others too hard…). Two bedside wardrobes offer space for hanging cloths and a "general-use" shelf above for storing whatever you find needed on the daily basis.  For stuff used less frequently, the spacious under-bed storage is relatively easily accessible. 
The overhead shelf along the front wall is a nice, highly decorative accent, but not that much practical for "stuff" (simply you cannot easily access the shelf when already in the bed). Fortunately two nightstands offer possibility to keep book(s), magazines or phone, ipad or laptop. Indeed, two 120V receptacles allow you to plug whatever you want…. .  
      Strangely, both nightstands do not have solid-surface countertops but are covered with carpet. It matches bedroom's floor but as nightstand top is very impractical. And it's not only because of cleaning effort – imagine you would like to sip an early morning coffee or late evening glass of wine (well, who wouldn't like). In the current state of matter (I mean – surface), it is doubtful because of high risk that glass of wine will end up on the floor, not mentioning stains from coffee or any other piece food etc…
Carpet may look nice, certainly warm, but men, it must be practical so I will suggest going back to design boards and making small "adjustments". 
    The private entrance door is welcomed, especially in long coaches as it provides not only privacy but also flexibility. Due to the location of the bathroom (and its "walk-through" design), the this entrance door may lose some "privacy status" (hopefully only during a day), but still – overall it is a nice feature.
When it comes to doors, the bedroom has two more. One is the private sliding door to the bathroom and the second one is the privacy barrier separating the bedroom from the living area.
Bathroom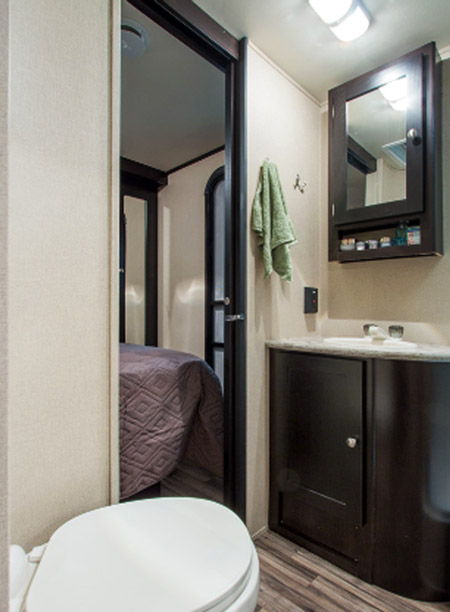 Bathroom with its stylishly vanity and medicine cabinets...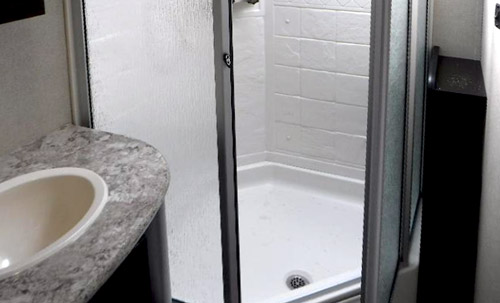 Angled shower and pocket-storage on the right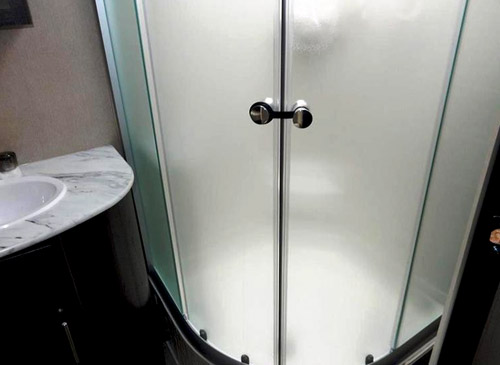 As confusing as it may be - some models are coming with much better solution: radius shower
      It is a "walk-in/walk-through" bathroom and honestly quite spacious. The shower cabin makes its focal point, but frankly provided info is a bit confusing. The floorplan as well as the factory claims that the shower cabin is angled. At first there is nothing wrong with the angled shower, especially with glass doors. However it is not practical, because in order to open the door, you have to make step or two back and obviously "by definition" you are in tight room. However some pictures and videos show the radius shower with sliding door. Now – it is not only more stylish design but also by far more practical. You do not need any extra space to open/close the cabin.
The vanity with sink provides the storage for toiletries. The medicine cabinet above on top of space for drugs, cosmetics etc…. as well as "all-important" mirror offers one nice surprise. It is a small open shelf at the bottom of the medicine cabinet for handy stuff (whatever it will be). You will also find here two towel hooks and 120V GFCI outlet.  
Another little "treasury" found its place between the shower cabin and the wall. You will find there linen pockets for towels. The 2nd door opens into the living area. And here just on the opposite wall to the bath you will find large linen cabinet with shelves - it's basically where needed!
Kitchen
Kitchen - on the left, below TV and Audio/Video system is the pantry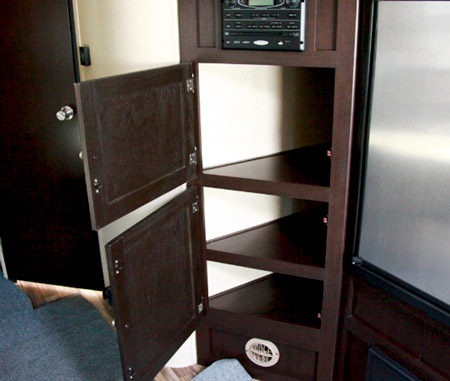 Open Pantry's doors show a lot of storage space
Kitchen seen from the lounge
      The galley is located on the curbside of the camper. It includes wooden-doors cabinetry and stainless-steel appliances (with exception of the sink). The 3-burner stove with oven, hood with 12V exhaust vent and lights, built-in microwave and 6 cubic feet, 2-doors refrigerator and freezer should meet even demanding requirements. The galley has "soft-L" shape with "rounded-triangle" sink cabinet at the end.
The dual-bowls sink with high-rise faucet despite its decent dimension does not take all countertop space. If needed more, the sink's cover may be helpful.
The cabinetry including overhead ones offers shelves, drawers and storage space. However there is also dedicated pantry with room for dry food, small appliances, and all kind of cookware…. 
       On the opposite side of the kitchen (in the slide-out) you will find the dinette. Well, the Kodiak 264RLSL theoretically can sleep 6 persons (on top of bedroom, there is also sofa and converted to bed dinette). However the dinette is definitely not designed for such crowd, basically it's a place for maximum 4 people. Nice accent – the benches are "rounded" so you will never get hurt by corners.
Traditionally, benches serve as the storage. And it will be nice if you can access the storage via the side doors/drawers, but here it is not the case. You will have to remove the cushions as the under-the-benches boxes are accessible from the top.
Living/Entertainment

View from the front of the Living Area
Tri-fold sofa can open into double-size bed
      The Kodiak 264RLSL travel trailer (compared to many smaller ultra-lite models) definitely offers the real living space.  You will find there tri-fold sleeper sofa (sharing the slide-out with the dinette) and the rear corner with two swivel lounge chairs. Two side tables with magazine racks, softness of carpet covering the floor, large panoramic window behind and luxury of leather makes it a favorite place for relaxing, reading books, scrolling iPad screen (if you cannot live without) or simply place for romantic "tete-a-tete"….  Windows (there are two more on both sides) flood the lounge with natural light during the day. But that is not all – they also open the lounge to the nature and offer the view of the night-sky (think about starry Milky-Way when camping somewhere far from the civilization)….
      Across the living room there is an Entertainment Center. Well, let's call it this way as it is probably the only part of the camper that does not easily meet Residential requirements. The space for TV screen is quite limited, so you cannot count on a big screen (manufacturer offers an option 24" or 32". It seems however that the latter may interfere with the freezer door.
Regarding music - Jensen's Audio/Video with long list of inputs (CD/DVD/AM/FM/UBS and Auxiliary input) can make the comfortable lounge even more pleasurable.  
Other features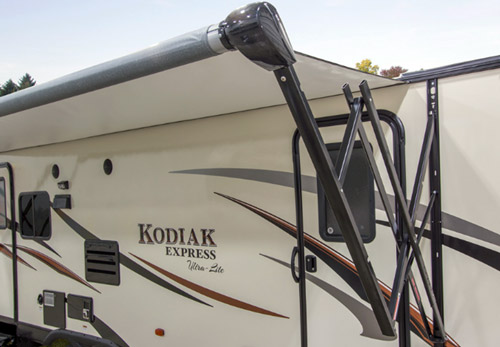 Very large, adjustable awning
       The Kodiak 264RLSL travel trailer is equipped with large power awning extending over both entrance doors. It offers sizable patio and obviously countless opportunities to get closer to the Mother Nature. Two external speakers and TV-mount with hookups will allow you to expand your lounge outdoors. And if needed, a rear bumper-mounted Coleman grill will be able to offer something for the stomachs.
     The coach has traditional Convenience Center from where you can manually control awning, lights, battery level, water level in tanks as well as water pump and heater. However, Kodiak offers (as an option) the new concept of iN-Command center with the touch screen instead of switches. It provides much more flexibility (including pre-programing some actions). But the best is that you can download an application to your cell-phone or iPad and control coach's vital functions remotely…..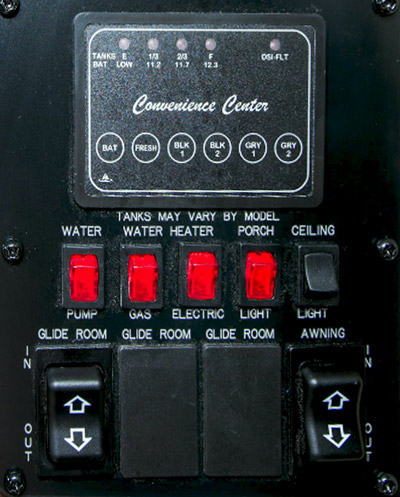 Traditional Convenience Center with mechanical switches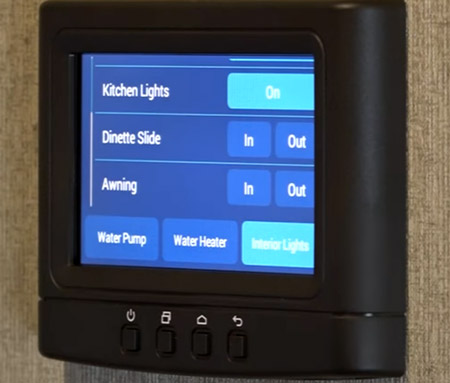 It's programmable Touch-Screen equivalent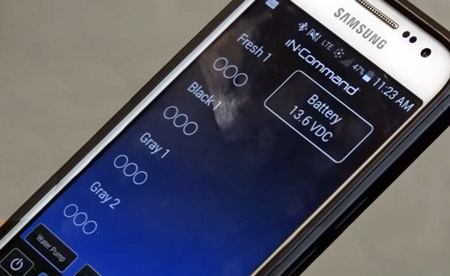 ... and iN-Command smart-phone application
Specifications
---
Overall length

Exterior width

Exterior height

Dry weight

Hitch weight

GVWR

Cargo capacity

Fresh water tank

Grey water tank

Black water tank

LPG

Sleeps

Layout

Doors

31'2"

96"

10'7"

5,681 lbs (1)

681 lbs (1)

6.700 lbs

1,919 lbs

52 gals

39 gals

28 gals

2 x 20 lbs

4 (6)

Rear lounge/front bed

2 (front & rear)
(1) – average with standard features

---
Construction
Chassis:  steel I-beam
Body:  Bear Cage Construction (welded aluminum tubular frame) 
Front cap:  Fiberglass (optionally painted) w/diamond plate rock guard
Walls: Gel-coated fiberglass /laminated interior
Roof:  walkable, aluminum-framed, arched w/ one piece TPO
Insulation: High density structural foam (roof, wall, floor) 
Underbelly:  Enclosed
Fender skirts: High-impact ABS plastic
Axle:  Twin w/EZ-lube
Windows: Frameless, dark-tinted safety glass
Floor: Poly-Ply waterproof barrier with Linoleum/carpet
Bedroom
Walk-around queen-size bed (60"x 80") w/storage
Mattress
TV hook-ups
Two bedside wardrobes with hanging rod and shelf w/mirror doors
Overhead shelf along the front-wall 
Two nightstands
Two 120V receptacles
Private entrance door (outside)
Private door to the bath
Door to the living area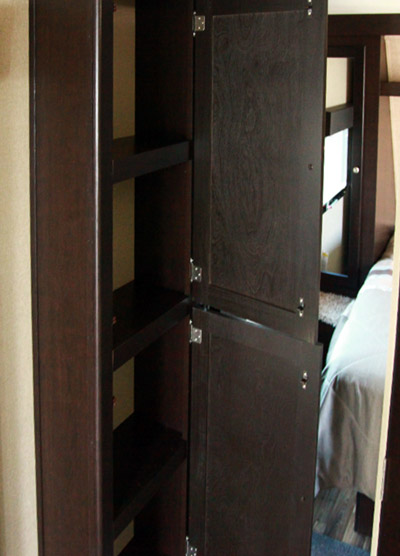 Linen cabinet (across the bath's doors)
Bathroom
Shower (angled cabin or possibly radius w/sliding doors)
Vanity w/sink
Medicine cabinet w/mirror door and shelf
Foot-flushed porcelain toilet
Linen pockets
Towel hooks
Skylight
Ceiling fan (12V)
Two doors (to bedroom and living area)
Linen cabinet (next to the toilet in the living area)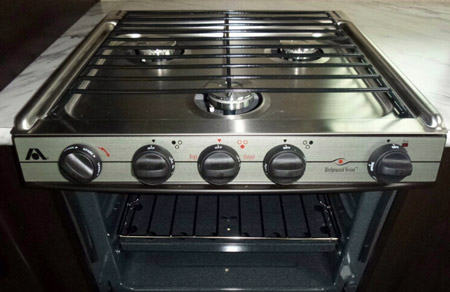 Range with oven
Kitchen sink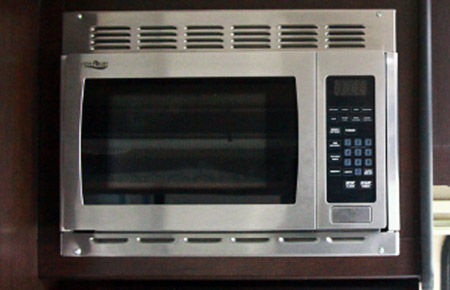 Stainless-steel Microwave
Sink cabinet - well, this plumbing should be done better. 
Kitchen
3-burner range w/oven
Hood w/light and exhaust vent
6 cu. ft. 2-way Refrigerator and Freezer
Microwave
Double-bowls sink
High-rise faucet
Cabinetry (including overhead)
Solid-surface countertop (Formica)
120V GFCI receptacle
Pantry
Skylight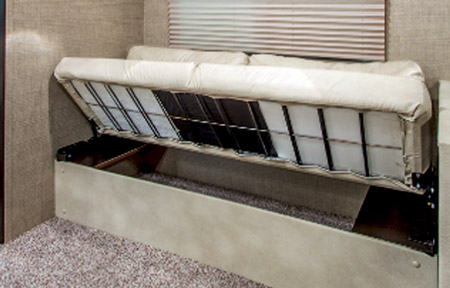 Under-the-sofa storage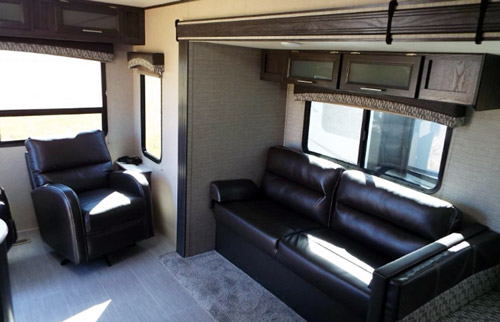 Plenty of opportunities to relax
Living
Dinette (converts to double-size bed)
Tri-fold sofa (68" length) w/memory foam 
Two swivel lounge chairs w/side tables & magazine racks
Overhead cabinets
Vinyl/carpet flooring
Large, opening tinted windows
Jensen A/V System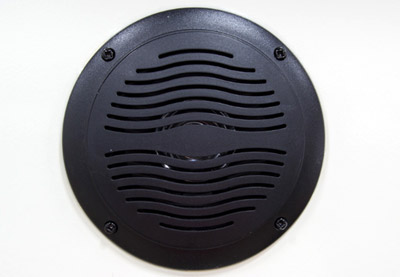 Exterior speaker
Entertainment
24"/32" LED TV (option)
TV Cable hook-up w/booster
DVD/CD/AM/FM/USB/ Audio/Video system w/Aux input (Jensen)
TV antenna
Speakers (including 2 exterior ones)
Interior features:
Stainless-steel appliances
Pull-down night shades throughout
Window valances
Overhead cabinets
LED lights
Linoleum (Beauflor) /carpet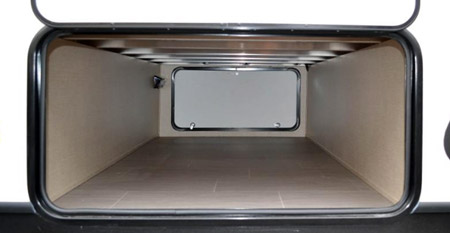 Pass-through storage does not have any obstructing pipes or wires!
Exterior features:
Power awning w/LED lights
Two entrance doors (rear with Grab-Handle)
2-sets of entrance steps (3-rear, 2-front)
Two Speakers
TV antenna
4 stabilizing jacks
TV- mount bracket and hook-ups (power& cable)
2-20 lbs LPG (tongue-mounted) bottles w/ Quick-Disconnect & cover 
Pass-through storage
Slam-Latch baggage doors
Water/Cable/Power hook-ups
Climate
13,5k BTU ducted A/C unit  (15k BTU optional)
High Output Furnace (ducted heating)
Power vents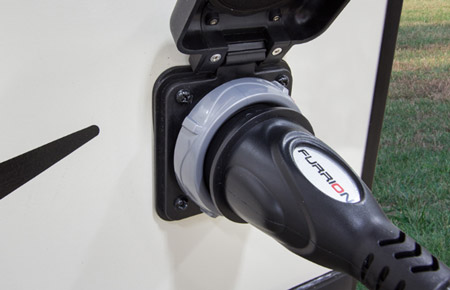 Shore power connection
Electrical
Convenience Center CC (slide-out, awning, int/ext lights, water pump, water heater gas/electric, battery and water tanks levels monitor)
120V receptacles throughout
120V GFCI receptacles (bath, kitchen, exterior)
30A shore service w/ detachable cable
iN-Command w/touch screen (optional replaces CC)
Exterior hook-ups (city water, black-tank flush and TV cable)
Water
6 Gallon Gas/Electric DSI Water Heater
Black tank flush/Sanitation
City/Fresh water hook-ups
Safety
Spare tire, carrier and cover(rear-mounted)
Detectors/Alarm (CO, LP and smoke)
Fire extinguisher
GFCI-protected 120V receptacles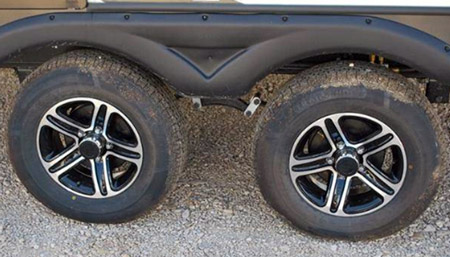 Aluminum rims
Options
Aluminum rims
Power stabilizer jacks
Power tongue jack
Coleman Grill (swing-out bumper-mounted)
15k BTU A/C unit
24"/32" LED TV
Tri-fold sleeper sofa
Modern Luxury Package including:
Modern Luxury Package
Gel-coat high-gloss fiberglass
Painted fiberglass front cap
Aluminum entry steps
iN-Command w/Touch Screen
Automatic leveling system
Let's learn about the new iN-Command device
Summarizing: The Kodiak Express 264RLSL Ultra-Lite travel trailer is a higher-end RV. Thanks to large internal living space it promises comfortable vacations for 4 people. The real lounge with swivel leather chairs is the place where you can relax after long day of outdoor activities.

Note:  Check with the manufacturer and / or authorized RV Dealer for the up-to-date list of features, options as well as latest specifications. These written above may not be accurate and certainly are subject to change by the factory. We are not responsible for any inaccuracy, the above text is provided only for the general information.
This review was written based on publicly available information for the benefits of the community of RV-ers. We do not receive any gratification or financial benefits from RV manufacturers, dealers, and any other promoters of RVs. 
We are NOT involved in sale and/or retail of RVs!