Louisiana
Campgrounds
Welcome to the "Land of King Louis" and explore its natural beauty and uniqueness from one of the RV Parks and campgrounds in Louisiana.
Louisiana is located in the south of the USA.
It is famous for New Orleans, the biggest city in the state with rich and colorful history.
Being home to the delta of the mighty Mississippi River, the state has a lot of very unique swamps and marshy areas.
Louisiana has more Native tribes than any other state in the south of the USA.
It was named after Louis XIV, the King of France, when it used to be part of the French Colonial Empire (La Louisiane means "Land of Louis). Louisiana has a lot of interesting areas, salt domes, coastal marshlands and beaches, many of them protected as national parks.
For some it may be of interest (for many just a nuisance) – Louisiana is known for its large network of casinos……
Ajax Country Livin' RV Park
1115 Hwy. 174
Marthaville, LA 71450
Phone: (318) 796-2543

The Ajax Country Livin' RV Park has full hook-ups, 30/50 amp, showers, laundry room, propane and more, all in beautiful settings. You can enjoy fishing here, visit local attractions such as The Rebel State Park, Adai Indian Nation Cultural Center, Los Adaes Historic Site, Battle of Pleasant Hill Site, Natchitoches Alligator Park and so on. The park is open all year round. Sewer and water hookups are included in the price. There is wireless internet as well. Please note that pets are only allowed on leash.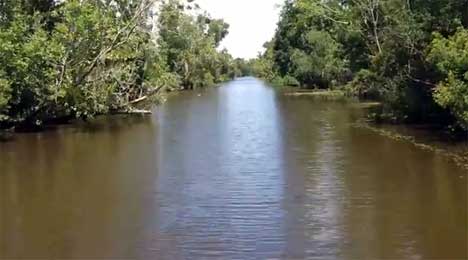 Louisiana is the land of swamps, hidden waterways, marshes.... Here typical landscape of the Jean Lafitte National Park

Bayou Wilderness RV Resort
201 St. Clair Rd.
Carencro, LA 70520
Phone: (337) 896-0598

If you are interested in the Cajun culture and you want to find out more about it while camping, the Bayou Wilderness RV Resort is right for you. This camp is quite big with 120 pull-thru sites. Here are some of the facilities at Bayou Wilderness Rv Resort: bathhouse with hot showers, covered pavilion, dump station, elec. 30/50 amp, water/sewer hookups, hot tub, laundry room, meeting facilities for groups, picnic area around the campsite, outdoor pool. There is free wireless internet as well.


Vesta Mobile Home & RV Park
2228 South Burnside Ave.
Gonzales, LA 70737
Phone: (225) 644-2952

This RV Park has paved lighted roads and concrete parking pads for your RV. No dirt roads and rocky areas, you can easily drive in and park. There is also city water/sewer and trash pick-up, laundry room and restrooms with hot showers. There are plenty of activities nearby, such as tennis possibilities. The park is accessible for handicapped people. Pets are allowed as long as they are small and they are kept on a leash or indoors. The park is family friendly, so if you are traveling with your kids, this park is a great place to stop and rest. The park is open all year round and there are also rooms available for renting.


... but if for some reasons you would like to do your RV-ing in the downtown of New Orleans, then the French Quarter RV Resort is certainly one of the best in the area....

Abbeville RV Park
1501 W. Port St.
Abbeville, LA 70510
Phone: (337) 898-4042

The Abbeville RV Park is a beautifully shaded place with 54-sites. They all have full hook-ups and free WiFi. One of the best things about this park is that it is located close to a lot of attractions that you shouldn't miss if you are in Louisiana. Some of these are historic downtown Abbeville's restaurants, golf courses and shops. If you want to explore the "Cajun Heartland", you can do it from here. For example the park is close to Lafayette and New Iberia attractions. There are also a lot of festivals organized in the area all year long, so if you want to really experience the "taste" of Louisiana – this is the place to be. There is a dump station on the campsite, sewer and water hookups. Campfires are permitted. The park is accessible for handicapped tourists.


Needless to say that Louisiana is also the Land of Jazz and Acadian culture as you can see in this video....

Paragon Casino Resort RV Park
Earl Barbry Blvd.
Marksville, LA 71351
Phone: (318) 253-4892

You can fully enjoy the Paragon Casino & Resort at this RV Park. There is also a lodge with big screen TV and a lounge for all the guests of the park. There is a swimming pool, laundry and shower facilities as well. You can play horseshoes and volleyball here, and for the kids there is a playground. Park offers cable TV and wireless internet as well as 20/30/50 Amps electrical hookups and sewage & water hookups for all campers. You can also rent here cabins and chalets with cozy rooms.


---
Visitor's story....

The directory of campgrounds: tent and RV camping parks Louisiana (LA) for this part of the country is big.
A hand full of campgrounds around area attraction will give you a start in finding the right campground.
Pop up campers, a motorhome trailer and a mobile home of some type are allowed.
If you need a place for rest and relaxation, a beach camp offers swimming and sun during the day.
A recreational vehicle might be a van camper as well as a motor home, either way; you will have plenty to do in Louisiana. Go to the Gator farm or take a trip to Mardis Gras and stay at one of their great campgrounds.
The area is warm and has some very nice sunsets and sunrises to further enjoy while camping. This directory of campgrounds: tent and RV camping parks Louisiana (LA will help you start looking.
Look at some of the campgrounds:

Bass Haven Resort
664 Bass Haven Resort Dr
Anacoco LA 71403
337-286-9239


Bayou Boeuf RV & Camp Grounds
11791 Highway 165 N
Sterlington LA
318-665-2405


Big Oaks RV Park
3919 Houston River Rd
Westlake LA 70669
337-433-9922


Cajun Haven RV Park
434 Trumps Rd
Egan LA 70531
337-783-7330


Catfish Heaven Aqua Farm & RV Park
1554 Cypress Island Hwy
Saint Martinville LA 70582-6012
337-394-9087
 About Us / Privacy Policy / Resources
Go from Directory of Campgrounds: Tent and RV Camping Parks Louisiana (LA) to Pop Up Campers Trailer Home
Directory of Campgrounds: Tent and RV Trailer Camping Parks USA / Tent and RV Camping Parks Missouri (MO) / Tent and RV Camping Parks Montana (MT) / Tent and RV Camping Parks Nebraska (NE) / Tent and RV Camping Parks Nevada (NV) / Tent and RV Camping Parks New Hampshire (NH) / Tent and RV Camping Parks New Jersey (NJ) / Tent and RV Camping Parks Ohio (OH) / Tent and RV Camping Parks Oklahoma (OK) / Tent and RV Camping Parks Oregon (OR) / Tent and RV Camping Parks Pennsylvania (PA) / Tent and RV Camping Parks Rhode Island (RI) / Tent and RV Camping Parks South Carolina (SC) / Tent and RV Camping Parks South Dakota (SD) / Tent and RV Camping Parks Tennessee (TN) / Tent and RV Camping Parks Texas (TX) / Tent and RV Camping Parks Utah (UT) / Tent and RV Camping Parks Vermont (VT) / Tent and RV Camping Parks Virginia (VA) / Tent and RV Camping Parks Washington (WA) / Tent and RV Camping Parks West Virginia (WV) / Tent and RV Camping Parks Wisconsin (WI) / Tent and RV Camping Parks Wyoming (WY)