Opus
Luxurious Pop-up Camper
Australian Purple Line's Opus Drifter XT folding camper thanks to the "out-of-the-box" concept and ingenuity of designers set a new standard in pop-up campers industry: Luxury!.....
       The Opus folding camper was designed to solve most common problems faced by RV-ers:
a) Any "decent "Travel Trailer offering comfortable living and sleeping conditions has to be at least 20 ft long. 
b) Such long trailer is not easy to tow, and even more difficult to maneuver
c) In most cases it is too heavy to be towed by a family car 
d) For the major part of the year (outside of the camping season), big travel trailer has to be kept on the driveway next to the house and usually it is not a "decoration" but rather an inconvenience. 
On the other hand, "typical" tent campers offer quite "rustic" experience, definitely much closer to "backpacking" than to "home-away-from-home" ambiance. 
To keep it short – the Opus folding trailer was designed as an answer to these conflicting requirements. And no wonder, it became an instant success.
The Opus folding camper is a revolutionary design:
It is ultra-lite (so easy to tow even with small car)
It is strong and rugged so it can go for off-road trips
Two reinforced lids and racking system, Opus can carry boats, bikes, kayaks, even two motorcycles( with the option Opus Moto allowing to load them on the top)
It matches the practicality with luxury (unexpected in tent campers)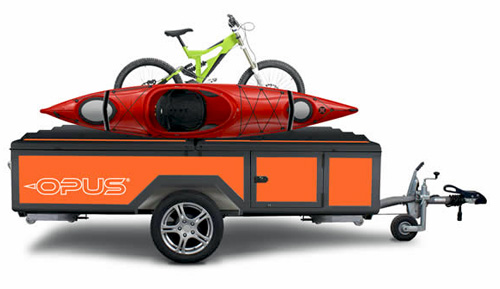 Opus folding trailer in "towing" configuration
Ambiance like in a "higher-end" hard-wall trailers
    Double end-beds (55" x 74") with inner "tents" provide the comfortable sleeping and privacy. Well equipped kitchen with stainless-steel sink w/glass lid, 2-burner gas stove w/piezo ignition and glass lid as well as cabinet-mounted 3-way refrigerator and work surface with drawer offers great conditions for making not only fresh morning coffee but frankly, gourmet meals.
But may be the most stunning Opus' feature is the sitting area with its large, horse-shoe-shaped leatherette sofa and table (if needed it can be converted to an extra bed). Given the large tent windows beautifully opening the interior of the camper into the nature, this central "lounge" area of the trailer, with panoramic views, truly "residential" ambiance and comfort clearly differentiates Opus from all typical pop-up trailers…..   
But this is not an end of surprises – LED floor lighting and skylights over the living area and both end-beds add "romantic" touch to already pure luxury.
1. Fixed Double Bed Areas with Inner Privacy Tents. 
2. Stainless Steel Sink with Glass Lid. 
3. Two Burner Gas Hob with Piezo Ignition and Glass Lid. 
4. Work Surface with Drawer Unit. 
5. Seating Area (with optional single bed). 
6. Table (demountable). 
7. Storage Locker (extra storage also under seating area). 
8. Cabinet Mounted 3-way Refrigerator.
---
Specifications:
Exterior length (road)

Interior length (main body section)

Exterior Length opened

Exterior width

Towing height

Interior height (max)

GVWR

Dry weight

Cargo

13'8"

9'4"

19'0"

6'5"

3'10"

8'0"

3,500 lbs

1,577 lbs

1,900 lbs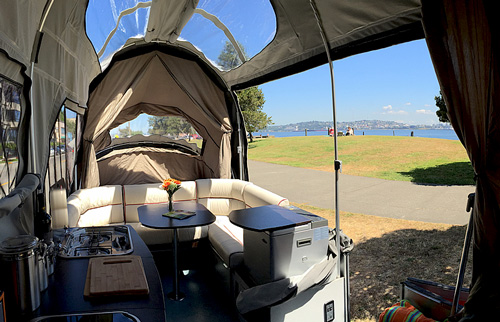 One more view of Opus' interior..... (note side windows and skylights)
Features:
Two double foam mattresses
Kitchenette work top
Stainless steel sink
Two ring gas burner stove
Leatherette club lounge which converts into an additional Bed
3-Way Fridge
LED floor lighting
Living area and bed-end skylights
Two inner privacy tents
Storage Cover
Sun Awning
30amp mains hook up & mains extension lead
12v battery hook up
Steel chassis with independent torsion suspension
R14 Alloy Wheels
Electric brakes
Drop down stabiliser legs
Mains water inlet and 12v water system
Camping configuration
Extra packages:
1. Opus Family Pack
R15 Alloy Wheel upgrade
Portable Shower
Spare wheel & carrier
Two 6 gals water carriers
Opus roof rack bars
Choice of single bike carrier OR kayak carrier
2. Opus Luxury
Full Awning with extension pods that sleep an additional 4 people
Portable cassette toilet
Microwave
Three 'Light-a-Life' LED lights
12v RV Battery
Two 6gl water carriers
Shower Tent and 5 gals solar shower
Cinema system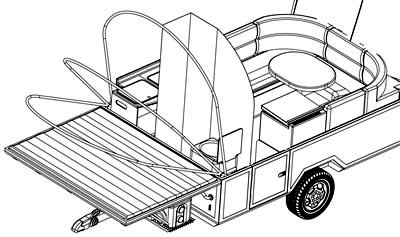 Optional: A comfortable, practical and durable portable cartridge toilet The cubicle is lightweight, easy to store, east to set up and easy to use and includes a hinged privacy screen.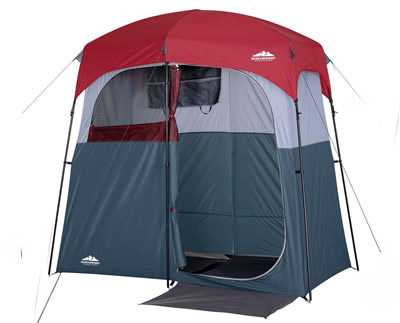 Optional: Shover Tent - This is personal space at its best, with a generous base measuring 7 feet by 4 feet. The Dutch door zips tight for privacy, and two windows offer a good view as you enjoy a hot shower. The smart design works with any tank and pump setup, and it's perfect for outdoor hookups too.
OK, now is time to summarize all this info and what can be  better than the video-trip to explore the camper. (this is an Australian version of the trailer: Opus Drifter XT)
---