Maine
Campgrounds
Directory of Campgrounds: Tent and RV Camping Parks Maine (ME)
Maine is a state in the very northeastern part of the USA, bordering Canada.
It is known for its specific scenery, the rocky coastline, low mountains and lots of beautiful green forests.
Maine is also well known for its seafood cuisine.
For centuries the area was inhabited by Algonquian-speaking peoples, and you can still find traces of their civilization.
This state is often considered the safest in the USA. It is also the least densely populated state east of the Mississippi River. Its mottoes are "Worth a Visit", "Worth a Lifetime" and "The Way Life Should Be"…..
 On license plates you can also see Where America's Day Begins or Vacationland. All these are not "by accident", they really represent the spirit and essence of this beautiful state.


Shamrock RV park
391 west Street
Biddeford - Maine - 04005
Phone: (207) 284-4282

Shamrock RV park is close to the shore. It is in a peaceful area where you can enjoy silence although it is also close enough to beaches, attractions, and shopping as well. You can easily reach Biddeford Pool & Fortunes Rocks, Rotary Park, Hills Beach and Camp Ellis. Bay View Beach, the Kinney Shores and the Ocean Park are also quite close to the Shamrock RV Park. The park has water, electricity, sewer, basic tent sites and RV rentals. You can do hiking, kayaking and biking here, visit old lighthouses, nature "sanctuaries", golf courses and amusement parks.


Salmon Falls River RV Resort looks inviting.....

Salmon Falls River Camping Resort
44 Natural High Rd.,
Lebanon, ME 04027
Phone: (207) 339-8888

Salmon Falls River is a camping resort with RV accommodations. It has pull-through sites with full hookup services, free cable TV, clean restrooms, free hot showers, camp store with basic supplies such as dry groceries and  ice, fitness room, free wi-fi hot spots, dump station and even 2 dog parks so it is ideal if you are traveling with pets.
There is a lot to do here during your vacation. You can take pleasure of immersing in a pool- there is an indoor heated Olympic sized swimming pool and huge outdoor pool. You can enjoy volleyball at the sandy volleyball court and play horseshoes with your kids. Camping resort also offers recreation rooms where you can have group meetings.


One of the swimming pools at the Pinehirst RV Resort in Maine

Pinehirst RV Resort
7 Oregon Ave
Old Orchard Beach, ME 04064
Phone: (207) 934-5526

Pinehirst RV Resort is located in a beautiful wooded area in the town of Old Orchard Beach. It is close to several lovely beaches on the shores of the Atlantic Ocean. Some of them are in walking distance from the RV Park. Great time here is "almost" guaranteed: there are three swimming pools, catch and release pond, beach shuttle, fitness room, dance hall, two playgrounds, tennis court and basketball court. You can also enjoy the surroundings and nearby attractions such as the Downtown Arts District of Portland Maine, museums, restaurants, Deering Oaks Park, Casco Bay Islands, golf resorts and much more.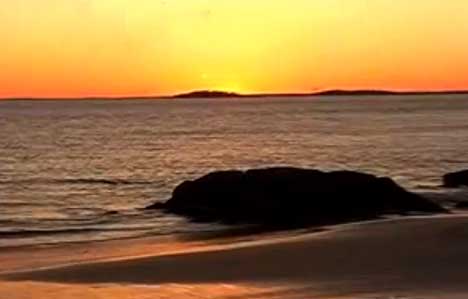 You can count on such views on the Maine's coast

Pleasant Hill RV Park & Campground
Outer Union Street Route 222 - (5 Miles West of I-95 at Bangor)
45 Mansell Road Hermon, Maine 04401
Phone: (207) 848-5127

Pleasant Hill RV Park & Campground offers a peaceful place for a vacation with 105 spacious open and shaded sites. It has paved roads, full hookups with 30 and 50 amp, large pull-through sites, heated restrooms, wi-fi and cable TV, fishing pond, private stocked trout pond for children's fishing, swimming pool, recreation hall and a store as well. The campground store offers such "necessities" like firewood, ice, ice creams and candy, basic groceries and souvenirs. The park is only 15 minutes away from Bangor Mall, Bangor Salmon Pool, Jackson Beach, Cole Transportation Museum and the Eastern Maine Medical Center. 


Sunset Point RV Park
37 Sunset Road, Lubec, ME 04652
Phone: (207) 733-2272

If you come to Sunset Point RV Park, you will have a comfortable place and see the West Quoddy Lighthouse and Sail Rock, the most eastern point in the United States, the International Bridge to Campobello Island, East Quoddy Lighthouse, a great place for whale watching and more.
This park has 30 sites with electric & water hookups, 15 of which have also cable TV. There are laundry rooms with washers & dryers, free Wi-Fi, clean restrooms with nice showers. There is also a dump station. Firewood, ice and snacks can be purchased at the park. Pets are not allowed.


---
Visitor's story......

Visit Maine, see Stephen King's house or the Moxie Museum, and find a place to stay with the directory of campgrounds: tent and RV camping parks Maine (ME).
Stay at one of the campgrounds in the area.
Traveling in a motor home or having a stationary mobile home in Maine always provides for adventure and experiencing new things.
A Beach camp will be nice for swimming and sunbathing as well as entertaining the kids.
Pack up your motorhome trailer or pop up camper and travel around Maine staying in some of the nice campgrounds they have available.
The directory of campgrounds: tent and RV camping parks Maine (ME) give you a handful of places to camp.
If your recreational vehicle is self-contained, you may have more options to stay in campgrounds out of the way of popularity.
Look at some of these campgrounds in Maine:

Acres of Wildlife Camping
RR 113 Box 11
Steep Falls ME 04085
207-675-3211


Bayley's Campground
275 Pine Point Rd
Scarborough ME 04074
207-883-6043


Beach Acres Tent Sites & Trailer Park
RR 1
Wells ME 04090
207-646-5612


Beaver Brook Campground
Wilson Pond Rd
North Monmouth ME 04265
207-933-2108


Camden Hills RV Resort
RR 90
West Rockport ME 04865
207-236-2498
 About Us / Privacy Policy / Resources
Go from Directory of Campgrounds: Tent and RV Camping Parks Maine (ME) to Pop Up Campers Trailer Home
Go to the directory of  US Campgrounds and RV Parks