Manitoba Campground Parks (MB)
Find the best RV Parks and campgrounds to explore Manitoba, the province known for its thousands of lakes and rivers
Manitoba is one of the Canadian Prairie Provinces.
Its name is derived from the native language of either Cree or Ojibwa – both related to Great Manitou. Winnipeg is the largest city and capital of the province.
Manitoba is known for its thousands of lakes and many rivers.
It is also the home of Lake Winnipeg, which is the tenth largest freshwater lake in the world.
The annual Winnipeg Folk Festival brings lots of tourists here. If you are interested in local history, visit Lower Fort Garry National Historic Site in Winnipeg, Manitoba Museum, Assiniboine Park, Forks National Historic Site and the Eskimo Museum.

At The Riding Mountain National Park you can see wolves, moose, elk, black bears, hundreds of bird species and bison herds. The Wapusk National Park is a remote place, far from the civilization, but the bonus of being there is possibility to see polar bears in their natural environment.

The feast for senses and spirit  - footage from Manitoba's Riding Mountain National Park and at the shores of Lake Winnipeg.....
---
Miller's Camping Resort
Hwy1E, Portage la Prairie,
MB,  R1N 3C3 Canada
(204) 857-4255


Miller's Camping Resort is close to the city, but far enough to be silent and green. It has lots of shade thanks to the beautiful trees that grow around the park. They have large pull-through campsites with 30 and 50 amp electric, water and sewer hook-ups. 

You can find here everything you need for a comfortable camping experience. There is a convenience store with basic supplies including soft ice cream (think about kids!), games room, large heated swimming pool and a large playground with modern play structures. You can play basketball, sand volleyball and baseball outdoors on the campsite, and if the weather is bad you can enjoy the games in the game room: arcade machines, billiards, football, air hockey and ping pong tables. 

Miller's Camping Resort is conveniently located near the city of Portage La Prairie. There you can take part in various events, or simply visit amusement parks such as Splash Island or the Island of Lights. Close to the park there are golf courses for example Southport Golf Course or the Portage Golf Club.


---
Meadowlark Campground
100 Meadowlark Trailer Park
Brandon, MB R7A 5Y3
(800) 363-6434

Meadowlark Campground a family owned and operated campground. It has 66 sites with full hook-ups including 50 amps electrical service. At each site there are picnic tables but unfortunately campfires are not permitted :-(
Campground offers free hot showers, clean laundromat and washrooms, small convenience store and some other facilities on-site..
Meadowlark Campground is surrounded by Manitob'sa attractions that are within one hour drive from the park. There are 5 nearby golf courses, restaurants within walking and driving distance, 5 minute drive to shopping malls….
You must visit the Riverbank Discovery Center, Eleanor Kidd Gardens, Assiniboine Riverbank Trail System and a bit further away the Brandon Hills Wildlife Management Area, Commonwealth Air Training Plan Museum and the Carousels and Dolls Museum.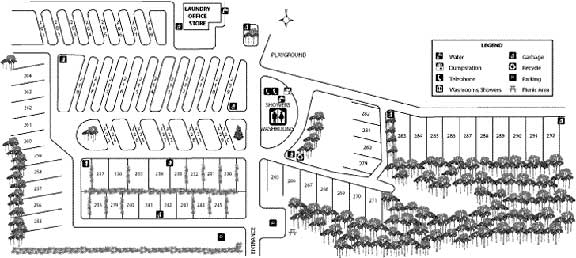 Map of the Meadowlark Campground
Source: www.meadowlarkcampground.ca

---
Grand Marais Community Central & RV Park
36058 Provincial Trunk Highway 12,
 Grand Marais, MB R0E 0T0, Canada
(204) 754-2873

Grand Marais Community Central & RV Park is a seasonal park that opens in May. But it is more than just an RV park: within the park you will find the Lake Winnipeg Aquarium, Grand Marais Area Heritage Room to start with, not even mentioning enchanting surroundings. And to make it even more attractive to guests - on the premises of the park there are many walking paths and picnic benches.

The RV sites are open between May and October; they have water, electricity with 30 or 50 amp, fire pit and a picnic table. The washrooms are free, however showers and laundry room are coin operated.  For RVs – there is the sewer dump station on the site.

Attractions in the area include the Judge Magney State Park, Grand Portage State Forest, Chik-Wauk Museum and Nature Center.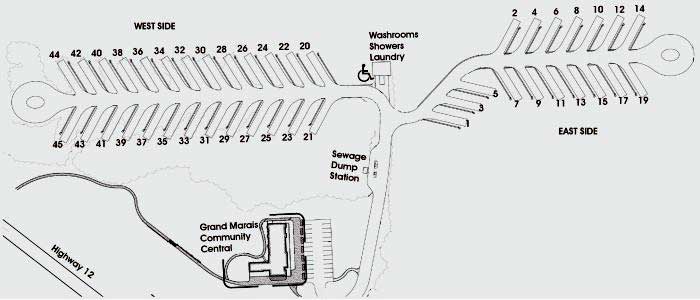 Map of the Grand Marais Community Central & RV Park
Source: www.grandmaraisccandrvpark.ca

---
Shady Oaks RV Resort & Campground
Trans-Canada Hwy, Sidney,
MB R0H 1L0, Canada
(204) 466-2777

This campground is located between Brandon & Winnipeg. It is located in a beautiful area on over 23 acres of oak woodland and prairie meadow grassland. You will find here tent sites and equipped with full hookup RV sites. They are spacious, surrounded by trees and provide 30 or 50 amps electrical service.
On-site there is a newly renovated pavilion which is very spacious, ideal for groups. Inside you will find a wood stove, while outside a fire pit. 
Nearby attractions include Keystone Center, Assiniboine Riverbank Trail and the Riverbank Discovery Center.


---
Lilac Resort Ltd
Manitoba 1, Ste. Anne,
MB R5H 1C1, Canada
(866) 388-6095

The Lilac Resort RV Campground is open between April and October. It has 76 spaces for RVs  most of them equipped with full hookups including at least 30amp of electrical power.  You can choose between pond sites, bay sites and pool sites!

Lilac Resort offers a great vacation for people of all ages.
Throughout the campsites there are fire pits, picnic tables and fire grills (latter upon requests).
Barbecue and firewood can be purchased at the campground.
For guests the Lilac Resort made available several facilities to guarantee a nice time: Tiki Juice Bar, three hot tubs, three beach volleyball courts…..
You can also use a pool with water slides: big water slide, two speed slides and three animal slides. For kids there are playgrounds and Dino Cart rentals, so they will be busy as well. For everybody – campground's staff organizes planned activities and blu-ray movie nights. Finally you will also have here live entertainment every weekend.

Those looking for peace may decide to fish in the stocked trout pond (not sure fish will appreciate that)!

Presentation of the Lilac Resort.....
---
Visitor's story......

Manitoba campground parks (MB) have many wonderful views of hills, ancient rock formations and plenty of wooded land.
The fishing up in this area attracts campers and anglers from all over. If you really want to travel to Canada and stay at a campgrounds, there are rental places close by many camps that you can rent a pop up camper or a RV motor home instead of bring your own alone.
The beach camping parks around Manitoba are beautifully equip with bathing facilities and have some activities other then nature hiking and bike riding. These campgrounds are kept in top condition and they ask that you clean up after yourself and if you see a piece of garbage please pick it up and help them keep the wilderness clean and free of debris.
Sometimes if the weather has been dry, they post restrictions prohibiting fires because of the closeness to the forest. This does not affect your camping at all, just sit around with the party lights on and talk while having a nice relaxing time. I think the country is so beautiful and Canada keeps the parks wonderfully entertaining as well. They protect there forests and this makes for a great camping adventure.
You can look at a directory and find many wonderful campgrounds in this providence. Manitoba campground parks (MB) always have reservation available by phone, mail or online. There trip to this area is well worth the time. No were else will you see such beautiful forest and scenery. Here area few campgrounds to start you off:
1. Spruce Sands Trailer Resort
Box 129 (20118 Spruce Bay Rd.)
Arnes, Manitoba, Canada R0C 0C0
204-642-5671

2. Great Woods Park and Campground
Box 1332
Beausejour, Manitoba, Canada R0E 0C0
204-268-2814
3. Arrowhead Campground & RV Park
Highway 59
Winnipeg, Manitoba Canada
204-878-3203
 About Us / Privacy Policy / Resources
Go from Manitoba Campground Parks (MB) to Pop Up Campers Trailer Home
Alberta Campground Parks / Campground Parks In Canada (CA) / Quebec Campground Park (QC) / Manitoba Campground Parks (MB) / Nova Scotia Campground Parks (NS) / Newfoundland and Labrador Campground Parks (NL) / Prince Edward Island Campground Parks (PE) / Saskatchewan Campgrounds Parks (SK) / New Brunswick Campground Parks (NB) / Ontario Campground Parks