Mississippi
Campgrounds
Directory of Campgrounds: Tent and RV Camping Parks Mississippi (MS)
Mississippi is a southern state in the USA.
The state was named after the river which flows through it, called by the native Ojibwe tribe "misi-ziibi", meaning "Great River".
While there are still many forested areas in the state of Mississippi, you will also find here many almost "legendary" fields harvesting cotton, especially close to the Mississippi Delta region.
The symbol of the state is the Magnolia Grandiflora Tree, while known slogans are "Feels Like Coming Home" and "Find Your True South". It is bordered north by Tennessee, on the east by Alabama and on the south by Louisiana.
Although there are few other major rivers flowing through the state, the Mighty Mississippi River is an undisputable Queen of all the rivers in the continental US…..This is the privilege of this state – a queen river runs through it bringing with the waters not only sediments but also legends and nostalgia of the past…..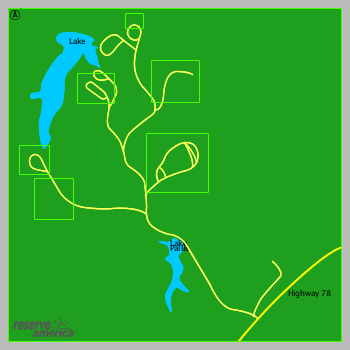 Plan of the campground in the Legion State Park (Mississippi)
Source: www.reserveamerica.com

Legion State Park
635 Legion State Park Road
Louisville, MS 39339-8803
Phone: (662) 773-8323

This large state park offers an RV campground for its visitors. It is an unspoiled region where you can enjoy nature and wilderness at their best. It is the paradise for bird-watchers, wildlife-lovers and everybody who looks for vacations far from the bustling city life. Park organizes annual events for families, such as the Easter Egg Hunt, Annual Christmas Tree Trimming Party and more.
Brief look at the history - for centuries this area was inhabited by the Choctaw Indians. Now forgotten and lost in the dust of the past, we can only learn about these native Indians in the Choctaw Museum of the Southern Indian (Philadelphia).
Local attractions include the Tombigbee National Forest, Noxubee National Wildlife Refuge and Cobb Museum.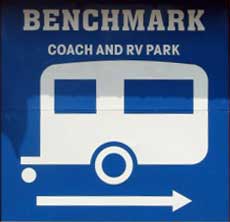 BenchMark RV Park
6420 Dale Drive,  Meridian, MS 39342
Phone: (601) 483-7999

This quite little park has 27 pull-through spaces with 20, 30 & 50 Amp hook-ups, water & sewer, cable TV, wireless internet, clean showers & restrooms, laundry room, propane station and more.
From this point of view you will then find here all you may need for home-like vacations in the surroundings of nature.

The park is easy to find and easy to access, with nice wide roads. You can easily make an appointment by calling them or simply contacting them on their website.


Green Tree RV and Recreational Park
2169 Highway 80
Morton, MS 39117
Phone: (601) 278-4823

The motto of this park is "Where Life is a Breeze". The park is truly peaceful and close to the Mother Nature so if you want to enjoy a nice quiet time during your holidays, this will be the place to stay.
All RV sites are back-ins with full-hookup service including sewer.
The park is family friendly, and children of all ages are welcome. You can also bring your pet although there are some restrictions based on breed (aggressiveness) and size so please check before coming to avoid an unpleasant surprise. During holiday season holiday rates apply..
To keep connected with the outside world, park offers free WiFi Internet for its guests.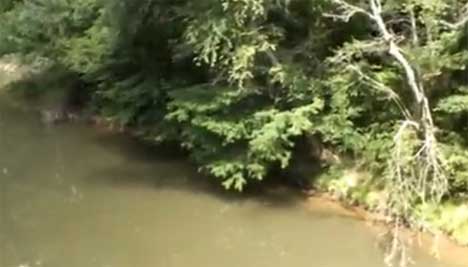 View from the Swinging Bridge in Tishomingo State Park (MS)

Swinging Bridge RV Park
100 Holiday Rambler Lane
Byram, MS 39272 US
Phone: (601) 502-1101

Swinging Bridge RV Park is one of the most popular RV parks in the Central Mississippi. There is a lot you can do here: fishing, swimming, visiting the fitness club and more. For those in need, the park offers RV storage. On the premises you will find 2 bath houses and laundry facilities. There is also a swimming pool, half-court basketball, bicycle trails, horseshoe pits, convenience store, pavilion, pet grooming and supplies store. Kids are welcomed to use the fishing pond next to the park.

There are lot of nearby shopping opportunities and restaurants for those that cannot completely detach themselves from the city-like life.


Nanabe Creek Campground & RV Park
1933 Russell Mount Gilead Rd
Meridian, MS 39301
Phone: (601) 485-4711

This campground has a full size pool, fishing pond and nature trail and all these in a beautiful surroundings of a shady green forest. There is free WiFi so you can keep in touch with the outside world. The bathhouse is not only clean but also heated and air conditioned!
There are 50 sites with full hook-ups including 30 and 50 amp electrical connections and 25 pull-thru sites. There is an ice maker on site to compensate for hot summer days, large covered pavilion with a grill, fire rings for nice campfires and more. There is also a large recreational field where you can play football, baseball, softball and other sports.


---
Visitor's story.....

Traveling to Mississippi in a motorhome trailer or a pop up camper allows people to stay in nice campgrounds and enjoy some of the sights still standing in the state after Hurricane Katrina.
The directory of campgrounds: tent and RV camping parks Mississippi (MS) has some of the campgrounds that have many attractions around them.
Visit the place where Elvis Presley was born or see where Coca-Cola was first bottled.
This directory of campgrounds: tent and RV camping parks Mississippi (MS) offers a few campgrounds to start out at when traveling in a motor home or any other recreational vehicle in Mississippi.
Some people choose to dock a mobile home at a beach camp where they spend a great deal of time swimming and sunning. The best thing is, you can stay anywhere you wan to and still travel to the attraction nearby and far away.
Here are a few of the campground listings:

Country Living Campgrounds
13181 Alcede Lizana Road
Gulfport MS 39503
228-263-0466


A-1 RV Park & Campground
8095 Menge Ave
Pass Christian MS 39571
228-452-0590


Askew's Landing Campground
3412 Askew Ferry Rd
Edwards MS 39066
601-852-2331


Bay Berry RV Park
17814 16th St
Gulfport MS 39503
228-328-4422


Bay St Louis RV Park
814 Highway 90
Bay Saint Louis MS 39520
228-467-2080
 About Us / Privacy Policy / Resources
Go to:   Pop Up Campers Trailer Home