Monaco RV Online
Monaco RV is an American company specialized in producing recreational vehicles that are comfortably equipped and used in long trips.
It is one of the leading companies in the RV industry for many years.
The first Monaco RV was released back in 1968 and from then on, the company has become the synonym for quality.
Monaco RV is known for both diesel and gas Class A motor homes, class C mini motor homes and class B+ motor homes.
The luxury diesel recreational vehicles include the Camelot, Diplomat, Knight, Cayman and La Palma.
The company also produces an incredible line of class A motor homes and class C motor homes which include the La Palma RV, Monarch RV, Covina RV, Riptide RV and the very popular B+RV the Montclair. Also the company works with many industry leaders for some parts, accessories and featured interior products that they use in their motor homes.
They cooperate with Goodyear  (tires), Cummins (engines), Sirius Satellite and Bose Stereo (audio service), Corian (countertops)….
What makes the Monaco RV different from other manufacturers of motor homes is that it constantly tries to produce the motor homes to be durable, safe, and comfortable by the custom-made chassis for each model and each floor plan. Monaco's patented exclusive product is the Roadmaster Chassis.
The most famous Monaco's recreational vehicles are Dynasty, Monarch SE, Diplomat, Knight, Monarch, La Palma and Montclair B+.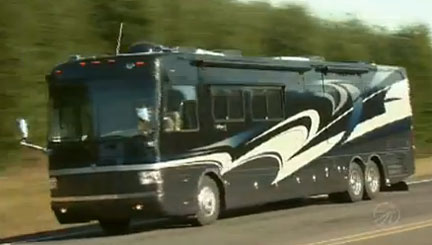 Monaco Dynasty motor-home on the road...

-    Dynasty is class A diesel motor home designed to satisfy those who have very high standards.
This excellent motor home boasts specious interior height, plush furnishing and gleaming countertops. The interior stands out for craftsmanship, solid wood raised panel cabinet doors, crown molding, oil rubbed bronze finish hardware which makes the Dynasty great home on wheels. In the living space there are triple or quadruple slide-outs maximizing the space.  In the living room there is a 40" or 46" LCD TV and Blu Ray home theatre system, while in the bedroom there is 32" LCD TV with an optional DVD player.
It is worth to mention that all appliances included in the Dynasty are stainless steel. Tiles on the floor are ceramic and in the bathroom, there is a spacious glass-enclosed shower with domed skylight and decorative tile accents.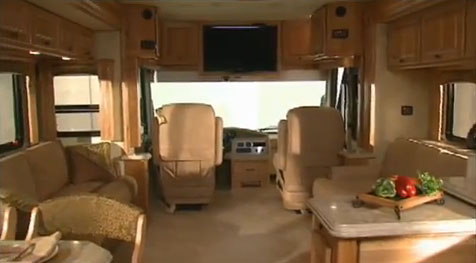 .... and its luxurious interior

-    Monarch SE is class A motor home which is a true beauty with stylish end caps.
Features included in the motor home are a 26" or 32" LCD TV depending on the model and a second 19" widescreen LCD TV in the bedroom. The interior is adorned with plush leatherette pilot and co-pilot seats, single or double slide-outs and complete kitchen and bath amenities, which assure you a comfortable stay and enjoyable travel.
-    Diplomat is class A diesel motor home with plenty luxurious amenities.
It is characterized by Roadmaster Raised Rail Chassis, a 405 horsepower MaxxForce engine which will take you anywhere you want.
What makes your journey pleasurable, are amenities included in the galley and bathroom. And when you're tired of exploring the outsides you can relax watching a 32" or 40" flat screen LCD TV depending on the model. Also there is a 26" LCD color TV with remote in the bedroom where you can rest in a queen size bed. Moreover, Diplomat has plenty of wardrobe space necessary to leave all the stuff you bring along.
One picture replaces thousands words, one video - zillions, so with the true pleasure I'm inviting for the tour of the Monaco Diplomat 43DFT Motor-home

-    Knight is class A diesel motor home with unmistakable style.
For maximum space double triple or quadruple slide-outs are available. It is very spacious motor home with a fully-equipped kitchen, and a relaxing queen bed with overhead cabinet and nightshades. You'll surely enjoy polished Corian countertops with decorative tiles with backsplash in the kitchen and bath. In the front cockpit overhead there is a 42" flat screen LCD TV and in the bedroom there is a 32" LCD TV with remote.
-    La Palma is the most affordable diesel pusher ever with the same quality provided by Monaco RV Company.
This model features plenty of space with beautiful woodwork with satin nickel cabinetry hardware, wooden slide-out fascia with fabric inserts.
It uses Roadmaster RSR Rail Chassis.
The interior is equipped with large double door refrigerator with icemaker, 24" flat screen stereo color TV with remote control placed in the living room, while in the bedroom there is a 20" flat screen color TV also with remote control and a queen-size bed.
-    Montclair B+ is a class B motor home which is a combination of luxury that is Monaco well known for and affordability. When it comes to travel, the owners may notice that this motor home is very spacious with the latest technology included and luxurious amenities. Full kitchen and bathroom are included as well as leather hide-a bed sofa, queen bed and sofa table. Overall, it is a perfect motor home to start a journey and end it anywhere you like.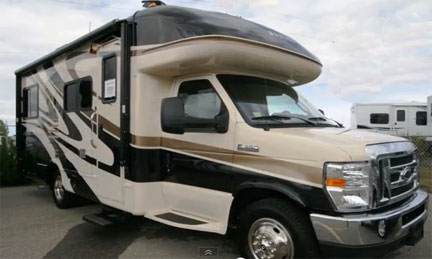 ...and Monaco Montclair Class B Motor-home

---
Visitor's story.....

If you want the ultimate in luxury in your RV check out the Monaco RV online web site.
Monaco manufactures motor homes under these brands: Holiday Rambler, Monaco Coach, Beaver, Safari, McKenzie, and Royal Coach.
Their main claim to fame is that they make top of the line Class A diesel motor homes.
The Monaco Coach Corporation makes travel trailers, fifth wheelers, both gas and diesel Class C mini homes, bus conversions and of course the Class A motor coach.
In the world of diesel motor coach RV's, Monarch is one of the biggest stars. Their interiors rival anything found in the top hotels. The options available include such items as refrigerators with ice-makers, TV in the cockpit, microwave/convention oven, key-less entry, back up cameras, queen size beds, the list goes on and on.
Of course you get what you pay for, and one absolutely wonderful mobile home Monaco online costs more than most homes, the Signature can cost more than $500,000. This Monaco RV online is the stuff my dreams are made of. You know, the when I win the lottery kind of dreams.
  My buddy Mike and his wife Lori surprised all of us when the showed up in their new gas powered Monarch from Monaco. They have just about every option that was available including satellite TV hook-up. They found their Monaco RV Online.
Our camper van looked like a toy parked next to the Monaco recreational vehicle. Another friend came in a borrowed pop-up because his travel trailer was in for renovations and adding accessories, which they purchased from Camping World.
One thing I have learned from my years of Rving and staying in campgrounds is there is almost no class snobbery. You will see folks in pop-up tent campers hosting barbecues for fellow Rvers who are living in camper vans, fifth wheelers or luxury coaches like the Monaco, and it goes the other way also.
Sometimes I play on the computer looking at Monaco RV's on line. Invariably I find myself looking at and dreaming about a used mobile home Monaco online that I have seen.
A neighbor, Barney does the same thing even though he has never been Rving. He has fallen in love with the Monaco RV. Although in truth he is really shopping for a camper van or fold out.
Online Rv-ing suggests that if you are in the market for a Class A or C motor home, you check out the Monaco RVs line.
If the idea of a luxury coach appeals to you and you can get the financing you need, be sure to take a close look at the Monaco RV online.
 About Us / Privacy Policy / Resources
Go from Motor Home Monaco RV Online to Pop Up Campers Trailer Home