Motor Home Coachman RV
A motor home Coachman RV is one of the most recognized names in the industry.
If you are a weekend RV fan or like traveling throughout the year or summer or you are eager of living on the road full time, than motor home Coachmen RV is absolutely ideal option for you.
Since Coachmen Industry has been manufacturing high quality RVs for years, it is proven that their motor homes are very popular units on the market nowadays. Traveling with CV motor homes gives you the freedom to go anywhere you wish with no limits.
There are different shapes and sizes of coachmen motor homes so they are classified as Class C and Class A motor homes. Although there are significant differences between these motor homes, they both offer a high level of comfort and lots of amenities including GPS navigation, air conditioning, kitchen and sleep bunkers. Thanks to its luxury they are perfect for larger groups or for those who plan on doing a lot of driving for a longer period.
Differences between Class C and Class A Coachmen motor homes
Being very similar, Class C and Class A motor homes differ in size, inside space, weight and not to forget price. Class C motor homes are slightly smaller than Class A motor homes, thus making them much easier for maneuvering. Therefore Class C is smaller it has less space inside the vehicle. Weight is also important difference between these two models. Since a motor home is built on a truck frame, you will have to pack light because with Class C you are limited to how much it can hold. At the end the price is also something that makes a significant difference between the models. Class A is considerably more expensive than Class C which makes Class C motor homes more popular and affordable RV.
Here are some of the most popular models of Class A Coachmen motor homes:
Pathfinder is the largest and the most luxurious motor home offering full functionality, comfort and reliability. It is designed as very practical and easy to use.
Motor Home Coachman Pathfinder

Cross Country is exceptionally elegant equipped with air ride suspension, air brakes, huge pass through exterior storage and panoramic views. It includes all the amenities and comfort of a home. Its appeal is impressive and it is very reliable vehicle.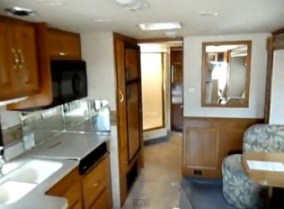 Interior of the Motor Home Coachman Cross-Country

Encounter is a luxurious Class A motor home which brings style and elegance to the road. It is equipped with some standard features such as back up camera with color monitor, fiberglass front and rear caps, dinette, solid surface countertop, LCD TV in living room, specious bedrooms and baths and all other amenities to make your time on the road enjoyable.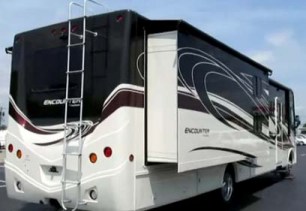 Motor-Home Coachman Encounter

Specifications:
Parameter




Wheelbase 

GVWR

GCWR

Fuel Cap 


Length

 Height     

 Width   

Water

Fresh


     Gray       

     Black      

Awning Size      

Pathfinder




242"

27,910 lbs

33,000 lbs    

100 gal   

39'9"    

12'4"


8'6"




82 gal

51 gal

46 gal

17ft

Cross

Country

242"

27,910 lbs

32,910 lbs    

100 gal   

39'9"    

12'4"


8'6"




82 gal

51 gal

46 gal

17ft

Encounter




242"

22,000 lbs

26,000 lbs    

80 gal   

35'0"    

12'3"


8'6"




70 gal

45 gal

45 gal

18ft
---
The following are Class C Coachmen motor home RV:
Concord is a very popular vehicle, it has the largest outside storage in its class suitable for storing your belongings and supplies. It is fully equipped with all the amenities such as hide-a bed sofa, cab over bed, and rear sleeping, TV, kitchen and everything you need while on the road. It will certainly give you convenient and excellent solution to travelling and RVing.
Freelander is beautifully produced both inside and outside. The exterior of this vehicle is made of laminated aluminum and fiberglass. When you go inside the vehicle you may notice amenities including U-shaped booth dinette, kitchen, residential sized stainless kitchen sink, hi-rise faucet, 3-burner gas range, microwave oven and double door fridge and freezer, and also bedroom with queen size bed, bunk beds and cab over bunk.
Motor-Home Coachman Freelander

Prism is luxurious, extremely dependable touring vehicle. It provides unique styling and plenty amenities. It is equipped with twin bed, cab over bunk, 3 burner oven and microwave, double door fridge. Although it is luxurious Prism is very economic vehicle which is very easy to drive.
Motor-Home Coachman Prism

Specifications:
Parameter

Wheelbase 

GVWR

GCWR

Fuel Cap 


Length

 Height     

 Width   

Water

Fresh


     Gray       

     Black      

Awning Size      

Concord

208"

14,500 lbs

22,000 lbs    

55 gal   

35'10"    

10'3"


7'10"




43 gal

53 gal

28 gal

21'10"

Freelander

158"

12,500 lbs

18,500 lbs    

55 gal   

23'6"    

10'10"


8'0"




50 gal

25 gal

22 gal

15'0"

Prism

170"

11,030 lbs

14,530 lbs    

26 gal   

25'0"    

11'30"


8'0"




30 gal

25 gal

22 gal

15'0"
---
Visitor's story

They manufacture everything from luxury motor coach models to pop up tent trailers.
Coachman Industries manufacture RV's under several names Coachman, Georgie Boy, Viking, Sportscoach RV and the Coachman Shasta RV line.
The Shasta line specializes in Class C mini-coaches, travel trailers and fifth wheelers.
Whether you are buying a pop up or a motor coach, you can be sure that a motor home Coachman RV will be a top quality mobile home that you will enjoy for many years.
You may be wondering what type of recreational vehicle you should get. There are many factors to consider when making this decision. First your budget. How much of a payment can you afford to make every month? Also, how many people will travel of sleep in the motor home? Do you have a vehicle capable of towing your camper? If you choose a drivable like a motor coach, can your RV tow the family car?
Whatever type of RV you choose, you can't go wrong if you choose any motor home Coachman RV or one made by a Coachman subsidiary.
If you should want to purchase brand specific Coachman RV parts on line, be aware that they are only available from authorized dealers.
When my friend Jack needed a motor home Coachman RV part, I suggested he contact a Coachman RV dealer on line. He had his part in just a few days.
If you are looking for a recreational vehicle in the southern U.S. states, check out the Georgia RV dealer, Coachman sales center.
Maybe you want a Coachman recreational vehicle but don't have the funds for a fancy motor home. Why not look at a Coachman RV trailer pop-up. Depending on the model you can sleep six in these motor home Coachman RV's. Coachman offers almost all types of camper RV's to fit a variety of budgets.
A friend I met a few years ago while Rving in the northwest bought a Class C mini motor home from a Coachman Oregon RV sale on line. He has never had any regrets.
Since it is only 300 miles from where he lives, we are going to go check it out before he puts out any money. You should try to purchase your motor home Coachman RV as close as possible to where you live, especially if it is used and from a private owner.
A very popular model is the Coachman Cascade RV which rolled off the line for the last time for the 2005 season.
The interior rivals the amenities of more expensive motor coaches. There are two versions of the Cascade and the Cascade Lite.
These campers range anywhere from just over 23 feet to a little more than 40 feet in length. We found a Cascade DLX as small as eight feet. Whichever model you choose, we at Online Rving wish you many years of happy times in your Coachman.
 About Us / Privacy Policy / Resources
Go from Motor Home Coachman RV to Pop Up Campers Trailer Home

Motor Home RV Manufacturer