New Brunswick Campground Parks (NB)
Scenic drives, stunning coastline, nature wonders of Fundy Bay, secrets of the Magnetic Hill, islands, abundant wildlife – so just find best RV parks and campgrounds to explore these New Brunswick's treasures

New Brunswick is one of Canada's three Maritime Provinces.
Its capital is lovely Fredericton, but the real treasure of this province is the nature, especially along the coastline.
The province has five scenic drives: Fundy Coastal Drive, Acadian Coastal Drive, River Valley Scenic Drive, Miramichi River Route and Appalachian Range Route.
Fundy National Park has a rugged coastline and mesmerizing waterfalls. Here you will meet the highest tides in the world (more than 50 feet) and the breathtaking landscape at the low tide. But be careful – ocean's water is coming back quickly, so be aware of timing!
Kouchibouguac National Park has barrier islands, sand dunes, lagoons, salt marshes and forests.
Obviously so rich and pristine nature has abundant wildlife; you will love to see here rare birds. And be ready for swimming, cycling and hiking.

Wonders of Bay of Fundy - a "must-to-see" and feel.....

Other than that, it may be good idea to see Mount Carleton, New Brunswick Botanical Garden, Cape Enrage or Hartland and the longest covered bridge in the world.
Surprise not to miss – drive your car up the slopes of the Magnetic Hill (near Moncton). Amazing feelings and perception of "free uphill ride" against the force of gravity!  

---
Ponderosa Pines Park
Lower Cape, Hillsborough,
NB E0A 1X0, Cana
(506) 734-3121

Ponderosa Pines Park is a family campground, located next to Hopewell Cape Rocks. The Park offers sites with water, sewer and electric hookups (30 or 50 amps service). Park has also tent sites and several comfortable cabins for rent. On each site you will find a fire pit for barbecue.

Ponderosa Pines Park has various facilities: an outdoor pool and their very own private lake! You can rent a canoe, paddle boat, or kayak with life jackets & paddles from here.
Those looking for peaceful afternoon can relax here while fishing (no fishing license required). For kids there is a playground with swings, slides, & sand boxes and an indoors game room with pool table, ping pong table and more.
Ponderosa Pines Park is 40 km away from both Moncton and Fundy National Park. Moncton promises city life (fine dining, shopping and entertainment) while Fundy National Park offers amazing nature, breathtaking landscape and highest tides in the world…..


---
Hartt Island RV Campground
2476 Woodstock Road, Route 102
Fredericton, NB
E3C 1P6
(866) 462-9400

Hartt Island RV Campground is located along the foothills of Mactaquac Country.
They have fully serviced sites including pull-thrus. Note that the prices may vary according to the type and size of the trailer.
The best thing about Hartt Island RV Campground is that it has its own water-park. As a camping guest you can have free access to certain facilities. Moreover, they offer banana boat rides, boat tours, kayak and canoe rentals and more. If you want to take part in the Saint John River adventures, you can do it while being here.
You can also explore the area by boat or by bike, enjoying the beautiful surroundings. In close proximity you will find restaurants, art galleries and shopping.
Must to see? Certainly the Historical Garrison District.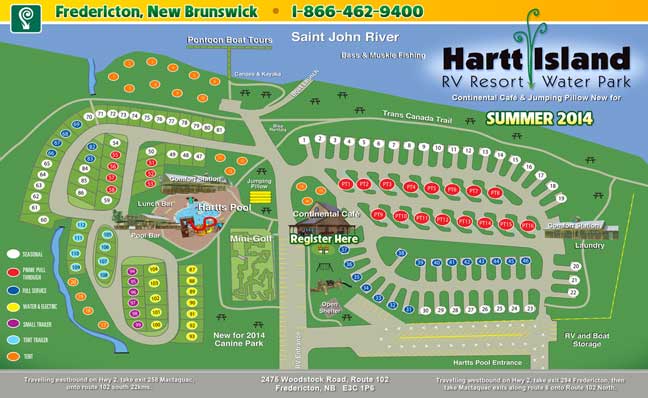 Map of the Hartt Island RV Campground
Source: www.harttisland.ca

---
Rockwood Park Campground
142 Lake Drive South
Saint John,
 New Brunswick, Canada E2K 5S2
(506) 658-2883

Rockwood Park Campground is located at the outskirts of the city facing rural areas.
They have 53 fully serviced sites (water, sewer and electrical with 30 amps) and 106 semi-serviced sites with 20 or 30 amps of electricity.
As a guest you can use the hot showers, restrooms, laundry facilities and the dump stations (all included in the price). Wireless internet is only available at the central laundry and in close proximity to it.
Rockwood Park offers several possibilities for outdoor activity: there is an 18-hole golf course, horseback riding area and a zoo!
 
Please note the perfect location of the Rockwood Park Campground: it is close enough to the city to enjoy shopping, fine dining and entertainment, but in the same time it is also the ideal place for spending time outdoor, surrounded by the nature. There are six lakes in the area and many walking trails. You can do fishing and horseback riding, all within walking distance from where you camp. Good news for sunbathing lovers - there are some beautiful beaches nearby.


---
Herring Cove Provincial Park
Campground & Golf Course
 136 Herring Cove Rd.
Welshpool, New Brunswick
Canada E5E 1B8
(5060 752-7010
(800) 561-0123

Herring Cove Provincial Park is Located on the eastern side of the Campobello Island. This is a very large (425 hectare) park with a nine-hole golf course, clubhouse and restaurant facilities. Within the park there are 76 campsites of which 40 have electrical hook-ups. Most of them are pull-throughs making it easy for larger RVs and motor-homes.
Since this campground is situated on a spectacular mile long sandy beach, you can go swimming, sunbathing or just relax. If you like hiking, there are also six different trails systems that you can explore. You can also go to a whale watching tour or have great food at the restaurant of Herring Cove Provincial Park.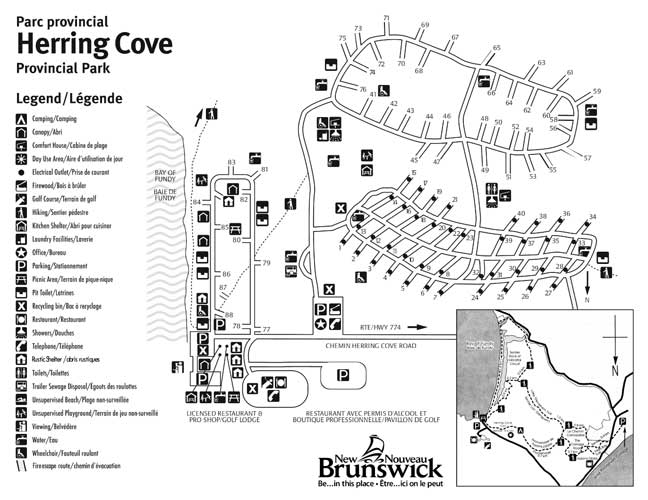 Map of the Herring Cove Provincial Park Campground
Source: www.tourismnewbrunswick.ca/Products/H/Herring-Cove-Provincial-Park-Campground.aspx

---
Coy Lake Campground
1805 Route 102
Upper Gagetown, New Brunswick
Canada, E5M 1N3
(506) 488-2567

Coy Lake Campground is a quiet, family-oriented seasonal park. They offer sites equipped with full hookups including 30 and 50 amps electrical service..

On-site there is a heated pool, playground and recreation building.
On top of that, campground's staff organizes numerous activities and programs for people of all ages.
They have bingo nights, campfire songs evenings, community breakfast, craft events and so on… so most likely no one will be bored here.
The campground is close to the Village of Gagetown, Town of Oromocto and the beautiful city of Fredericton.
The closest one - Gagetown has stores, craft shops, pubs, restaurants, apple orchards, antique stores, gas, NB Liquor outlet (!) and more. There is also a nearby winery…..

---
Visitor's story....

I heard from one family that had a disabled daughter, and when they asked about a site that is equipped for the handicapped, they were put on a site that was just beautiful and accommodating.
I believe the park they chose to stay at was Fundy National Park.
The campgrounds offered a nice quiet area with a bath facility a short distance from the campsite with a lighted path. They recalled having a wonderful time with no worries about their daughter's safety and ability to enjoy the camps many activities. Many campgrounds are considered beach camping parks and have very nice beaches that are kept clean free of debris.
Some of the campgrounds also offer horseback riding with a trail guide and fun activities for the entire family. If you like to explore the countryside, you will find many great areas to hike, ride bikes and just sit down and watch the wildlife come and go around you. Take your camera along whenever you hike or walk around the area, you will never know what you might see.
Looking through a directory, you will find beach camping parks; family campgrounds and the camps are just amazing with their beautiful views and scenery. A New Brunswick campground parks (NB) directory helps when you need to find somewhere to start searching for the best place to stay.
Here is a just a few of the campgrounds found in a directory:

1. Malybel Campgrounds
1121 Church. Bryar Rd.
Beresford, New Brunswick, Canada E8K 1B2
506-545-6888

2. Riverrun Campground
8976 Route 112
Coles Island, New Brunswick, Canada E4C 2V2
506-362-9198

3. Escuminac Beach & Family Park
301 Escuminac Pt Road,
Baie-Ste-Anne, New Brunswick, Canada E9A 1V6
506-228-3843

 About Us / Privacy Policy / Resources
Go from New Brunswick Campground Parks (NB) to Pop Up Campers Trailer Home
Alberta Campground Parks / Campground Parks In Canada (CA) / Quebec Campground Park (QC) / Manitoba Campground Parks (MB) / Nova Scotia Campground Parks (NS) / Manitoba Campground Parks (MB) / Newfoundland and Labrador Campground Parks (NL) / Prince Edward Island Campground Parks (PE) / Saskatchewan Campgrounds Parks (SK) / Ontario Campground Parks
Go to: Directory of US RV Parks and Campgrounds