Nova Scotia Campground Parks (NS)
Find best campgrounds and RV park to discover breathtaking scenery of Nova Scotia's coastline, explore Cabot Trail, visit Cape Breton from best gateways…
Nova Scotia is one of Canada's three Maritime Provinces.
It is also the second-smallest province in Canada, but it is quite densely populated.
The capital of Nova Scotia is Halifax, which itself is a great place to visit.
You will find here several institutions related to art.  So consider for example to visit the Art Gallery of Nova Scotia, Neptune Theatre, Two Planks and a Passion Theatre, Ship's Company Theatre and the Symphony of Nova Scotia.

The remarkable scenery and fascinating coastline is Nova Scotia's major attraction.  Charming bays and tiny islands along the shores make this province one of the favorite tourists' destinations.
Some of the nicest national parks that are worthy to see are the Cape Breton Highlands and the Kejimkujik National Park. The Cabot Trail scenic road passing through the Cape Breton Park features spectacular mountain and ocean views. It is a kind of Pacific 1 but this time on the east coast of the continent; certainly "road often traveled" for all it has to offer.

 Nova Scotia's adventure tour specialists take you on a journey through Cape Breton Island. Once rated as the #2 island destination in the world by National Geographic Explorer. Truly one of the most peaceful and beautiful places on earth and the jewel of the east coast of Canada.
And then one more natural wonder, a "must-to-see" is the Bay of Fundy. This is a place where the tides span the range of up 50 feet! Be careful, it is dangerous because water is coming so fast towards the shore, but at low tides a stunning landscape opens in front of us….

---
Baddeck Cabot Trail Campground
9584 Hwy 105
Baddeck, NS B0E 1B0
(902) 295-2288

Baddeck Cabot Trail Campground offers spectacular camping and recreational opportunities whether you are traveling with your RV or your tent. They provide sites with full hookups including water, sewer and electricity (you can choose between 30 and 50 amps). This is a pet friendly camp!

The campground has the restaurant where you can enjoy delicious homemade seafood, kids' meals, daily specials, and (attention drivers!) great selection of beer and local wine. They also offer take-out menu and group catering. The campground has a heated swimming pool with shallow areas for children and deeper ones for adults and good swimmers.
If you stay at the Baddeck Cabot Trail Campground you can visit the Village of Baddeck, Alexander Graham Bell Museum, Gaelic College and the World Class 18-Hole Golf Course - Bell Bay. But the historical Fortress of Louisburg should be definitely on the top of your "to-visit" list; and just to make it clear - kids will also have a lot of fun there.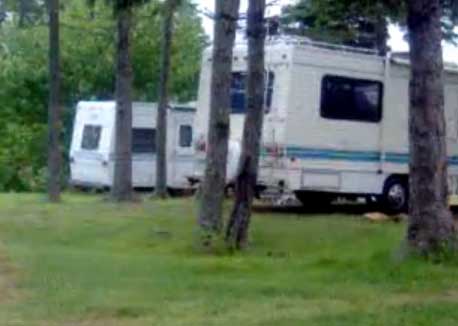 Baddeck Cabot Trail Campground - here you are definitely in the middle of nature....

---
Arm of Gold Campground
24 Church Road, Little Bras d'Or
Cape Breton, Nova Scotia
Canada, B1Y 2Y2
(902) 736-6516

Arm of Gold Campground is a peaceful place overlooking the beautiful Bras d'Or lake, which is the largest lake in Nova Scotia. It is a family owned campground located on farmlands. They have pull-throughs, fully serviced sites, all with 30/50 amps of power.The campground also offers for rent fully serviced cabins and trailers!

One of the nicest things about this park is its long walking trail along the Bras d'Or lake.
The campground is great for groups, it has a center with the large recreational hall and games room, private whirlpools, kitchenette and an exercise room.
Arm of Gold Campground is close to the North Sydney Ferry Terminal and city's downtown, to Cabot Trail, to Sydney, to Alexander Bell Museum and the Miner's Museum.
Important for those planning to explore Newfoundland  - this is the closest campground to the Newfoundland ferry!


---
Wood Haven RV Park
1757 Hammonds Plains Rd.
Hammonds Plains, Nova Scotia
B4B 1P5
(902) 835-2271

Wood Haven RV Park is located on 70 acres of an open, wooded land. They have 200 tent and trailer sites here, 137 of them are equipped with hook-ups including 15, 30 and 50 amps electrical service. Most sites are well shaded by trees.
Showers are free and so is the wireless internet. There is a large pool with lounging area and the Recreation Hall that can be also rented for special occasions. You can find most necessary goods in the camp store on the premises. The store also carries some basic R.V. supplies.
The park is located at the outskirts of Halifax City. You will be close to Halifax Waterfront, shopping and restaurants, museums, golf courses, beaches and more. Peggy's Cove, amusement parks and Citadel Hill are close by.


---
Point of View RV Park
15 Commercial Street,
Louisbourg, Nova Scotia
B1C 2J4

Point of View RV Park is a small campground next to Louisbourg. It has 24 gravel sites with 30 amp electrical power, water, sewer and internet. Some sites also have cable TV.  It is a seasonal campground, open between July and September.
Point of View RV Park has showers, flush toilets and laundry facilities. Tables are provided at each site. There is full breakfast every morning and a dining room on the campground.
Point of View RV Park is only a few minutes away Fortress of Louisbourg Visitor center. You can visit Fort Louisbourg and the Playhouse Theater easily from here. It is fun for everybody – kids, teens and adults (plan a whole day for the visit).


---
Riverdale RV Park
9 Riverdale Street
Louisbourg, NS
B1C 2J2
(888) 324-0226

Riverdale RV Park is a small, nice park with 30 sites, all of them serviced by 30 amp full hookups. It is family owned campground. On the premises you will find a grocery store  and a laundromat. For kids there are swings and a family picnic area. Riverdale RV Park offers free showers and two free movie rentals each night of your stay there!


There are lots of attractions nearby that you shouldn't miss.
The campground is only 5 minutes from the Fortress of Louisbourg – a major attraction for kids and adults.
You can also visit the site of Canada's first Lighthouse, Kennington Cove, which is one of the most beautiful beaches, Simon's Point, Louisbourg Playhouse.
You wouldn't miss here the "morning gym" - in close proximity to the campground you will find many walking trails.
During the summer season you can enjoy open air theater in the area and many beautiful sandy beaches.
---
Visitor's story.....

The beauty of the land and the area is a sight to see for everyone.
I understand why people choose to live in such a beautiful country.
You never run out of things to see as every day something changes and you experience even another wonderful view.
When you look through a directory of campgrounds, you will see many camps that have everything you could need when camping.
Because of the fresh water fishing and sandy beaches, people tend to head to this providence before others. You will see attractions; all natural of course, that will leave you breathless. You might want to go kayaking or just take out a paddle-boat on the lake and enjoy the sunny day of peace and quite with nothing but wildlife sounds ringing out over the waters. If you are looking for an area with beach camping parks, this is the place.
They have cliffs and plenty of areas for hiking and trail riding on a bike. The area seems to change daily; therefore, you will see something different every day. Whether you choose to go mountain biking or sit back with a cold one and enjoy the day and the great sounds around you, you will surely want to return to the area yearly to see all the new scenery and spectacular views.
If given the chance to head back to the Nova Scotia campground parks (NS), I will definitely take the opportunity to travel there with my pop up camper and enjoy another great visit.
Here are a few campgrounds around the area:
1. Whidden's Campground and Cottages
Corner of Main and Hawthorne St.
Antigonish, Nova Scotia, Canada
902-863-3736

2. Bras D'Or Lakes Campground
Highway 105
Baddeck, Nova Scotia, Canada B0E 1B0
902-295-2329

3. Plage St-Pierre Beach and Campground
P.O.Box 1146 Cheticamp
Inverness County, Nova Scotia, Canada B0E-1H0
902-224-2112
 About Us / Privacy Policy / Resources
Go from Nova Scotia Campground Parks to Pop Up Campers Trailer Home
Find: Directory of US RV Park and Campgrounds

Alberta Campground Parks / Campground Parks In Canada (CA) / Quebec Campground Park (QC) / Manitoba Campground Parks (MB) / Manitoba Campground Parks (MB) / Newfoundland and Labrador Campground Parks (NL) / Prince Edward Island Campground Parks (PE) / Saskatchewan Campgrounds Parks (SK) / New Brunswick Campground Parks (NB) / Ontario Campground Parks