Directory of Campgrounds: Tent and RV Camping Parks Oklahoma (OK)
Tent and RV Camping Parks Oklahoma (OK)
Oklahoma is located in the Southern United States.
The name of the state comes from the Choctaw words "Okla" and" Humma", meaning "Red people".
Prairies and mesas make typical state's landscape, only small fraction of its territory is covered by hills and forests.....

If you are in Oklahoma visit the Science Museum (where you can see skeletons of dinosaurs), Oklahoma History Center (to find out more about the rich history this state), Oklahoma City Museum of Art, Oklahoma Railway Museum and Museum of Osteology (devoted to the study of bones and skeletons).
It is also worth to visit Big Splash Water Park, Oklahoma Aquarium, Oklahoma City Zoo and Tiger Safari Exotic Wildlife Sanctuary.
Please note that Oklahoma has sometimes "Unwanted Visitors" – as it is located on the favorite path of twisters! In other words choose wisely the timing of your vacations in Oklahoma.


This may be a good starting point - an introduction to Oklahoma!

High Point RV Park
2700 N. Van Buren 93
Enid, OK 73703
(580) 234-1726

High Point RV Park is located in the north-central Oklahoma. It is very close to the city of Enid. There are full hook-ups at this campsite including water, sewer, and 30/50 amp electric service. It has spacious, shaded, private sites, where you can relax and enjoy silence.
The clean restrooms and showers are accessible for disabled people. On the premises you will find the laundry room while the cable TV and wireless internet is available only in certain areas of the park. Since in Oklahoma there are lots of storms, the RV Park has a Storm Shelter as well.
Located close to the park you will find fast food places, restaurants, Crosslin Park and Enid's Historic Downtown.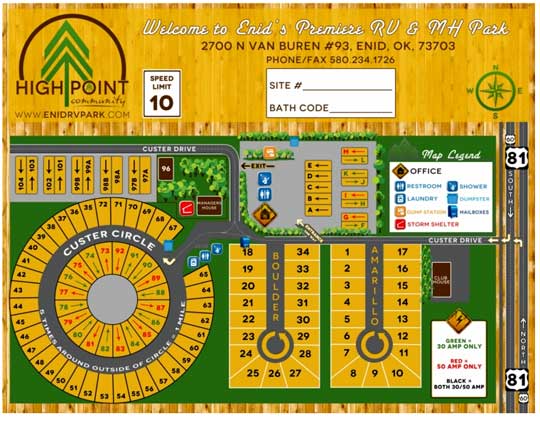 High Point RV Park (Enid, Oklahoma) - site map
Source: www.enidrvpark.com

---
Oak Glen RV Park
347203 E Hwy 66
Chandler, OK 74834
(800) 521-6681

Oak Glen is located on the historic Route 66. It has 28 sites, 28 are full hook-ups, and 14 pull-thru sites. All of them have 20, 30, or 50 amp service. Besides RV camping, tenting is also possible here. You can use hot showers and restrooms; wifi service is also free for guests. In the case of "twister", there is a safe storm shelter that you can use.
A dump station is available in the RV Park. Pets are welcome here! Since there is a pavilion, even larger groups have a space for meetings.
If you want to go shopping, there is a Walmart close by. You can also do some fishing and swimming in the area at Chandler's Bell Cow Lake. Make sure you visit the Museum of Pioneer History in Chandler.  To find out more about secrets of the Route 66, go to the Route 66 Interpretive Center.


Time-Out RV Park
904 South Grand / Coyyor Research Road
Chickasha, OK 73018
(405) 222-0700

Located on a green field 40 miles from Oklahoma City, this RV camp is family owned. There are 30 paved sites with full hook-ups and 20/30/50 amp service. Pull through sites are also available.
You will have wifi internet access everywhere on the camp and there are even fax-services available. The laundry room, restrooms, and showers are all clean and neat. You can use the dump station at the park. Pets are welcome to Time Out RV Park, so if you are traveling with your dog or other pet, you will have a great time. There is also a storm shelter for the safety of the guests. Consider visiting Oklahoma City Memorial, Oklahoma City Zoo and Indian City – they are all relatively close to this RV Park.


Elk Creek RV Park
317 East 20th
Elk City OK, 73644
(580) 225-7865

Elk Creek RV Park can be found in beautiful scenery next to Elk Creek. There are only full hook up sites here, and they are also pull-thrus with 30 or 50 Amp. The price of camping includes 57 channels of free Cable TV and Free Wi-Fi.
Please note that Elk Creek RV Park not only made available brand new showers & restrooms for your convenience, but there is also a sauna for guests. You can do your laundry at the laundry house. This park is perfect for groups, having a 2000 square foot recreational room with full kitchen. For indoor entertainment there is a pool table in the club house, horse shoes and shuffle board. To enjoy the fresh air but stay out of rain or sun there is a covered pavilion with barbeque grill (big enough to accommodate large groups). Elk Creek RV Park has storm shelters. In Elk City you will find plenty of restaurants and shopping opportunities.


Route 66 RV Park
100 S. Pioneer,
Elk City, OK 73644
(580) 339-1415

If you are planning to experience "charm" of the famous route 66, you can stay at Route 66 RV Park, one of the oldest RV Parks near Elk City.
The park is open all year round, and they have events even during winter time. At Route 66 RV Park you will have 30 and 50 amp electric service, and full hookups with water, sewer, trash, and electric, that are all included in the price.
The park has a lake, a miniature golf course and a swimming pool. Grocery stores are at walking distance away. The park is just a few minutes away from the Historic Route 66 Museum and Elk City's Ackley Park.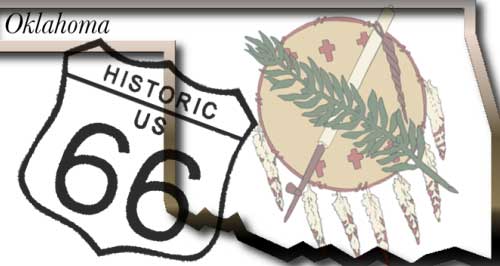 ...indeed, Oklahoma's Route 66 is not only historic but also charming :-)

---
Visitor's story....

Visit the Animal Theme Park, White Water Bay or Frontier City in Oklahoma and stay at some area campgrounds in a pop up camper or a motorhome trailer.
When you have a directory of campgrounds: tent and RV camping parks Oklahoma (OK) you have a start when looking for the perfect campground.
A beach camp or a campground with a theme of some kind can be found in the area of some many wonderful attractions.
Big Splash Water Park in Tulsa (Oklahoma) will definitely keep you cool during hot summer-time days....

A mobile home or any other type of recreational vehicle allows you to travel from area to area and stay at the many campgrounds around Oklahoma. Traveling in a motor home is so much fun even with a pop up camper, but the one thing that adds to the adventure is finding the right place to camp. Beach camps allow for swimming and other water sports that interest most campers.
A handful of campgrounds to start your search:

Council Road RV Park
8108 SW 8th St
Oklahoma City OK 73128
405-789-2103


Bear's Den Resort & RV Park
25301 Highway 59 N
Grove OK 74344
918-786-6196


Big Chief RV Park
3150 W North Ave
Ponca City OK 74601
580-762-7637


Briscoe's RV & Fun Park
6002 S I 35 Service Rd
Oklahoma City OK 73149
405-634-9244


Camelot RV & Mobile Home Park
2101 N Park Lane
Altus OK 73521
580-482-4661
 About Us / Privacy Policy / Resources
Find here 250+ Beach Camping Parks

Go from Directory of Campgrounds: Tent and RV Camping Parks Oklahoma (OK) to Pop Up Campers Trailer Home
Go to: US Campgrounds and RV Parks