Pop Up Truck Camper Trailers
Why are pop up truck camper trailers getting more and more popular?

Description
          Truck campers are similar to camper shells that can be mounted on the back of the truck, but they are much bigger with more space and features. 
Thanks to the system of the pop up roof, these campers are easy to carry and they are low profile while you drive.
In the same time they are lightweight and they are made to fit almost any truck.
They can make your everyday drive into the perfect weekend mobile home.

Truck campers are not towed by the car, but they are mounted to the chassis of a pick-up truck. This gives them more stability and more safety, and makes driving easier. When you don't use them you can simply store them in your garage and use your car for the everyday purpose.
This makes truck campers very convenient and the favorite of many people. Another benefit of these campers is their price: while they often have the same amenities as larger RVs do, they are much more affordable.

Benefits of a truck pop up camper
Having a pop up truck camper has many benefits. It is easy to store and to carry such a camper, because its size is small when it is folded up. When it pops up it will give you extra space, room for a comfortable bed and more. Some of the truck campers have a hard side while others a soft side. In both cases you can have a comfortable place to sleep while you camp, and even have room to prepare your own food.

Manufacturers of pop up truck campers
              There are several companies that make popup truck campers of high quality. These are a few examples of the most popular ones out there that you can buy.
1.    Palomino RV
Palomino Bronco
The Bronco truck camper trailers can be your home while you travel and offer you lots of comfort and an easy drive. This is a soft side camper with a pop up roof which assures more space for you to walk around in the camper.
This camper fits many trucks and it is lightweight to provide an easy travel. It is a low profile camper, which is another relevant benefit. This vehicle might seem small on the outside but it is very spacious inside.
Specifications

Palomino Bronko, model 600

Parameter


Exterior Length

Exterior Width 

Exterior Height 

Fresh Water Tank

Model B600

11' 0"


77"

4' 11"

10 gal

Model B1250SB


12' 10"


86"

5' 5"

16 gal
Features
Demand Water System
Porta-Potti Storage
Toilet with Holding Tank
City Water Hookup
Pleated Fabric Window Shades
Options
CD/DVD Player w/ Theater Sound
Dometic® Refrigerator
Carbon Monoxide/LP Gas Detector
20,000 BTU Furnace
Palomino Real Lite
This is another truck camper with a pop up roof and a low profile. It has an aerodynamic design that makes driving easier and faster. It is one of the most comfortable truck campers out there that you can buy for a fair price. It comes in thirteen floor plans for the convenience of all travelers.
Specifications

Parameter


Shipping Weight

Exterior Length

Exterior Width

Floor Length

Exterior Height

Fresh Water Tank

Model SS-1601

1,056 lbs

11' 0"

77"

7' 4"

4' 11"


10 gal

Model SS-1608

1,608 lbs

13' 4"


86"


8' 6"


5' 5"

22 gal.

Features
Carbon Monoxide/LP Gas Detector
Congoleum Vinyl Floor Covering
Pleated Fabric Window Shades
Two Burner Cook Top
Under Bed Storage
Vented Privacy Drape/Cab Over
Ice Box - 35 LBS.

Options
20,000 BTU Furnace
6 Gal. DSI Gas Water Heater with Outside Shower
Air Conditioner (11,000 BTU-Low Profile)
CD/DVD with Theater Sound
Dometic Refrigerator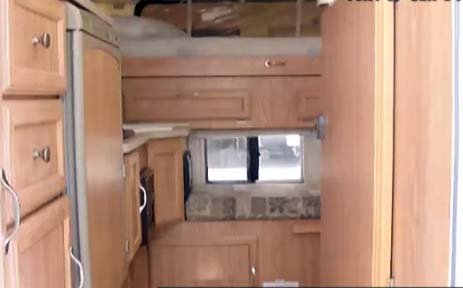 Palomino Bronco - Model 1251: Inside view

2. Northstar pop up truck campers
Northstar makes various campers that fit almost any truck, both foreign and domestic. This company is also a high quality camper manufacturer that is quite well known.
Specifications
Parameter


Base Dry Weight (pounds)

Interior Height - Open

Interior Height - Closed

Exterior Width

Overall Length

Floor Length

Fresh Water Capacity

Model MC600

1,148 lbs


6' 4"

 4' 3"

6' 5"

10' 5"

6' 3"

17 gal
Features
Dometic 2' 3-Way Refrigerator
Single Sink w/ 12v Mini Pump
2 Burner Stove
16,000 BTU Auto Ignition Furnace
Marine Grade Ultra Light Plywood
Innerspring Mattress
Options
Water Heater with Exterior Shower, Bypass, Large Water Pump
Glass Top Stainless Steel Sink
AM-FM Stereo with 2 Speakers & Antenna
Overhead Cabinet over Dinette
Pre-Wire for Stereo with 2 Speakers & Antenna
....and now, let's meet Mitch the "RV Guy" for the tour of the Palomino Bronko 1251.....

For more on pop-up camper trailers please see --> Pop-up Camper Trailer

---
Visitor's story....

A pop up truck campers trailer can come in many different styles. The truck pop-up camper has some very good reasons for owning one.
A truck camper can be put onto your own truck that you drive every day. A camper of this type can be placed on and off a truck bed very easily. It is a matter of backing up and driving forward.
This is one nice thing about a truck pop up camper; you can drive around with it all the time if you decide to. But the tent pop up needs to be unhitched when you stop.
One of the differences I have found other than the looks, is the truck pop up camper has many different styles, they have come a long way since the being of truck pop up campers.
There are truck campers that fold out and campers with hard sides. Determining the right camper for you can be a private choice. I have seen a pop up truck campers trailer that can haul luggage on top, a boat on back. This does have an advantage to a tent pop up camper.
You may find a pop up truck used camper which should be very reasonable. You can check with many different online resources to find the many different truck pop-up campers. There are kinds that the entire top at a push of the button raise up. Then you have some that the fold outs for more sleeping room. Finding a Coleman manufacturer pop up truck camper will be one place to start looking. Now this might sound funny, but camper Colorado truck pop up is just simply a truck camper that was drove to Colorado and set up in a campground.
If you travel to Maine, Maryland or Massachusetts then you may want to call it a Maine truck pop up and so forth. You can see how this type of name gets its start. It's kind of cute when you think about it. A pop up truck campers trailer is a quick and easy way to travel. You really don't need a camp site to retire for the night. You may find yourself in a wayside or some other legal place to park. A truck pop up camper may or may not be right for everyone.
There are many things to consider before purchasing a truck camper, and that would be insurance. You would want to check on the price and see if there are any draw backs to this type of camper verses a tent pop up camper trailer. There many insurance companies that you can check with for information regarding this type of special insurance.
Insurance companies consider a pop up truck campers trailer to be mounted truck camper. There are tips to saving money on your insurance and some may offer discounts for certain things. You will want to find out what insurance coverage you will have on the camper when it off the truck and is it covered in case of damage. A pop up truck campers trailer can be an alternative to a tent pop-up camper if the insurance coverage is right for you.
You always want to compare insurance companies. Some insurance companies do give you a few different competitor prices also.
But you still want to check for yourself to make sure you are getting everything you need. And you need to make sure you get the discount that they may have. So when you decide a pop up truck campers trailer is what you want and you have found the right insurance, you can start enjoying your vacation.
 About Us / Privacy Policy / Resources
Go from Pop Up Truck Campers Trailer to Pop Up Campers Trailer Home
 About Truck Camper Rental / Truck Camper Bed And Bed Covers / Alaskan Truck Campers / Truck Camper Steps / Aluminum Truck Campers / Ford Ranger Truck Campers /  Truck Campers Canada / Adventurer Truck Campers / Amerigo Truck Campers / Kodiak Truck Campers / Bigfoot Truck Campers /  Truck Tent Camper