Quebec Campground Park (QC)
Visiting the Province of Quebec? Find best campgrounds and RV parks to explore the nature of the Belle Province and its charming cosmopolitan cities – Montreal and Quebec City
Québec is located in east-central Canada.
It is the only Canadian province that has French as its sole provincial official language.
Quebec is Canada's largest province by area and the second most populous after Ontario.
Lovers of nature will find several places to visit including the area of Gaspé with its Forillon National Park, beautiful forests, sea coast, salt marshes, sand dunes and mountains. 
Being there consider stopping at Tadoussac to see the picturesque Saguenay fjord and National Marine Park. That is also the gateway for whales watching on the Saint Lawrence River.
The Mauricie National Park and the Mingan Archipelago Reserve are two other examples of the stunningly beautiful nature in Quebec.

Let's start with Quebec's scenery created by nature

Two biggest cities of the province – Montreal and the capital - Quebec City will also charm visitors. Some of the must see sights in the city of Quebec are the Old Québec Dufferin Terrace, Place-Royale Petit-Champlain District, Parliament Hill, Île d'Orléans, l'Hotel Frontenac, nearby Plains of Abraham.
Not far from the capital city you may visit Sainte-Anne-de-Beaupré with its Shrine, impressive Montmorency Falls, Mt Sainte Anne….
Montreal on its own has plenty to offer to even most demanding tourists. Old town near Place St Jacques and Old Port, Olympic Park with Biôdome, Botanic Garden, skyscrapers and one of the largest underground cities hidden below the surface. Kids and teenagers will find best time in La Ronde Amusement Park. But Montreal is all about festivities – with International Jazz Festival, Benson and Hedges Festival (fireworks synchronized with music), Festival of World's Theatre and Cinema to name only few.  The bottom line – the old town streets never go to sleep!
Those in need of adrenaline may target Montreal during the Formula 1 car racing (the only one in North America).

---
Camping Alouette
3449, De L'Industrie St-Mathieu-de-Beloeil
QC, Canada J3G 4S5
(450) 464-1661

Camping Alouette is a family owned park located close to Montreal. This large campground has 400 sites including 150 pull-thru sites with full hookups and 30/50 amps electrical service. There is also special place with lots of trees for tent camping. The roads are paved and the campground has been designed to accommodate large RVs.
Another 10-star facility is the swimming pool and wading pool as well as an 3000 sf air conditioned recreation hall – large enough to accommodate needs of large groups.
One of the basic facilities is an on-site general store with cold beer, wine, ice, firewood, and RV supplies. You can also buy there bottled and metered propane.
You won't get bored with all the attractions in the area: La Ronde Amusement Park, Botanical Gardens, St-Helen's Island, Notre Dame Island, Dow Planetarium and the Montreal Casino.

---
Camping Transit
600, Chemin St-Roch,
Lévis, QC Canada
G6V 6N4
(418) 838-0948

Camping Transit is located in the French Canadian countryside where you can enjoy silent nature and scenic sunrises. It is also very close to the city of Quebec, so you can get there in a few minutes by car. It is a seasonal park. They have 200 camping sites, 100 of which are pull-thrus with 15, 30 and 50 amps electrical service.

They offer discount prices during certain periods of time even in the summer season, so it is worth to look at their website to see their offers and save some money.

The main building of the campground has a snack bar with a terrace and a dining room with flat screen TV and space for 150 people. If you are traveling in a group, this might just be the ideal place for you. They also have a large gazebo available for gatherings that can accommodate even more people.

Since the park is so close to Quebec City, you will have lots of things to do while camping here. You enjoy Old Quebec Tours, but also visit many other attractions like the Levis Forts National Historic Site of Canada, Maison Alphonse-Desjardins…. or take a cruise on the St-Lawrence River. You will find the Quebec City has a lot of charm characteristic to "old-good-times"….


Camping Transit - map
Source: www.campingtransit.com

---
Camping Juneau Chalets
153 Chemin du Lac
St Augustin de Desmaures PQ
G3A 1W7
(418) 871-9090

Family owned Camping Juneau Chalets is just 15 minutes away from Quebec City. It has 130 shaded or partially shaded exceptional sites with picnic tables and fire pits.  Most sites have full hookups with water, sewer and electricity. There is free wi-fi internet on the premises available for guests.

Camping Juneau Chalets has plenty of services that you can enjoy for a fair price. You will find here the spa, basketball court, you can even have a magician at you campsite to entertain you.
They offer pedal boats, canoes and kayaks rentals; boat decks are at the nearby lake so there is a plenty of opportunities not only for boating but also for water sports. This campground is great for groups, they offer group prices at the on-site restaurant.
Since the campground is right at the shore of Lake Saint Augustine, you can have an enjoyable beach time here with your family. The campground offers bus rides to Quebec, where there are lots of opportunities for fine dining, shopping and sightseeing.


Although the presentation is in French, each picture is worth more than thousand words, so see it yourself :-)

---
Camping Du Quai
70, de l'Ancrage Street
Rivière-du-Loup
Québec G5R 6B1
(418) 860-3111

Camping Du Quai is a seasonal campground with 150 sites in total. There are 80 pull-through sites with water, sewer and electricity.
Unusual on campgrounds - you will find here an on-site hot tub; they also have special bathrooms for babies. Another positive surprise - the campground offers rental of bicycles for free!

The campsites have a shelter to eat; there is a convenience store on the campground where you can find important items and some groceries. Animals can come but only on a leash.

The campground is next to St-Lawrence River – a Beauty Queen on herself The river as well as surroundings like for example waterfalls and lakes promise that you will have a good time here.
In proximity to the campground you can find two golf courses and two tennis as well as relaxing summer theaters, cinemas, discotheques and bars. You can do some fishing at the Marina or try one of the cruises on the St-Lawrence River, visiting some islands.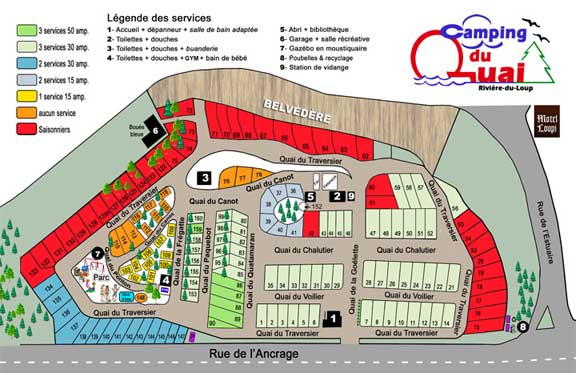 Map of the Camping du Quai
Source: www.campingduquai.com

---
Camping Gaspé
1029 Haldimand Road
Gaspé, Québec
G4X 2J6
(418) 368-4800

Camping Gaspé is right next to Douglastown Bay and only a few kilometers from the town of Gaspé.
It is a medium sized campground with 53 sites, each with 30 amps electricity, water, and sewer. They have restrooms that include showers, toilets and sinks but there are also exterior sinks to wash dishes.

Canoes, kayaks, rowboats and bicycles rental is possible at the campground.
That tells you that the area provides opportunities for water sports and biking/hiking.
You can enjoy water sports on the Douglastown Bay or located bit farther Haldimand Beach (the latter offers beautiful scenery).
The Forillon National Park and Rocher Perce are both popular tourist destinations and both are close to the campground.
There is an 18-hole golf course in Prével, about 15 minutes away from Camping Gaspé. And the bonus - free summer concerts every day at the Gaspé Museum Agora.
---
Visitor's story.......

If you need to find a Quebec campground park (QC), you will find a directory of the area campgrounds helpful with this search.
Campgrounds advertise there available facilities and hookups as well as if they are recognized as beach camping parks or if they have other means of swimming. Camps offer many different types of lot sizes and have different areas of the park for a more secluded area.
The beautiful countryside attracts many campers during the summer month and is considered a must see area when camping. The attraction of Canada is the land and the hiking trails. When one visits Quebec, you will see the area is full with trees and undisturbed wildlife. The campgrounds are kept clean and up to date with all the necessary needs of the campers.
Whether you stay at the beach camping parks or the secluded wilderness areas, you will enjoy the adventures awaiting you up in Canada. Since you will be in Canada and want your camping experience to be enjoyable, you might want to mark your campsite with a flag or another type of marker, just so you and the kids do not forget where you live. This actually should be done at all new campgrounds you are not familiar with when camping.
Quebec Campground Park (QC) systems offer cleanliness and some have private parks for a price. On one hand, the country is beautiful, but they do have quiet a bit of wildlife activity, not to worry, the campgrounds are safe.
Here are just a few campgrounds in the providence of Quebec:
1. Camping Domaine Champêtre
888 Montée de la Station Sud
Saint-Vallier, Québec, Canada G0R 4J0
418-884-2270

2. Camping Parc Bromont
24, rue Lafontaine
Bromont, Quebec, Canada J2L 2S9
450-534-2712

3. Camping Oasis
974, 1er Rang Ouest
Ste-Cécile-de-Milton, Québec, Canada J0E 2C0
450-378-2181
 About Us / Privacy Policy / Resources
Find Here Worldwide Beach Camping Parks Directory

Go from Quebec Campground Park (QC) to Pop Up Campers Trailer Home
Alberta Campground Parks / Campground Parks In Canada (CA) / Manitoba Campground Parks (MB) / Nova Scotia Campground Parks (NS) / Manitoba Campground Parks (MB) / Newfoundland and Labrador Campground Parks (NL) / Prince Edward Island Campground Parks (PE) / Saskatchewan Campgrounds Parks (SK) / New Brunswick Campground Parks (NB) / Ontario Campground Parks