Saskatchewan Campgrounds Parks (SK)
Geographically, Saskatchewan is largely a flat open area, so it's wise to choose the right RV Park or campground next to picturesque nature or big city like Regina or Saskatoon....

Saskatchewan is one of the three so-called Prairie Provinces of Canada.
In Pre-Columbian times this area was populated by many North American tribes of indigenous peoples. They left rich history behind that you can witness these days in numerous museums and art galleries.
such as the Norman MacKenzie Art Gallery, Mendel Art Gallery, RCMP Heritage Center and the Saskatchewan Western Development Museum.
This state is also known for its great range of casinos and spas. But the real treasure of Saskatchewan is its nature - you can enjoy here such activities as canoeing, kayaking, hiking, biking, boating, camping, horseback riding, wildlife watching and more.
For recreation and amusement visit the Corn Maze in Saskatchewan, Border City Petting Zoo, Hunter's Eastview Bowl, Andy Jamault Nature Trail and Pasquia Paleontological Site.

What to expect in Saskatchewan....

---
King Acres Campground
Service Road (East Gate Drive)
Box 32123 Regina SK S4N7L2
(306) 522 1619

King Acres Campground is located only few minutes away from the downtown of Regina. Its a peaceful place in the countryside, open all year round. They offer big spacious sites with city water supply and15, 30 or 50 amps electrical services.
On the premises you will find both - indoor and outdoor recreation facilities. They offer good WiFi signal that reaches every corner of the park...
From King Acres Campground it will be easy to visit Casino Regina (there is a complimentary Casino Shuttle from the campground), RCMP Museum, Heritage House, Taylor Field, Imax Theatre, Royal Saskatchewan Museum and the Saskatchewan Science Center as well as other attractions that the city of Regina has to offer. Shopping and fine dining places are also close by.


---
Eagle Valley Park Campground
Box 2108
Maple Creek, Saskatchewan S0N 1N0
(306) 662-2788

Eagle Valley Park Campground is located in the beautiful natural area of Eagle Valley.
They have 101 sites with 30 & 15 amp electrical service, but also not serviced and tenting sites. All of the RV sites are large private pull-thru sites with lots of shade.
The park has a restaurant where you can enjoy Caribbean Cuisine such as Cajun Shrimp & Jerk Chicken!  They also have an indoor pool that is great regardless of the weather.

Eagle Valley Park Campground is mostly known for the birds and wildlife – as the whole area is a paradise for birds and wildlife watchers. You can also do fishing or boating nearby at Dixon Dam, which is walking distance away from the campground.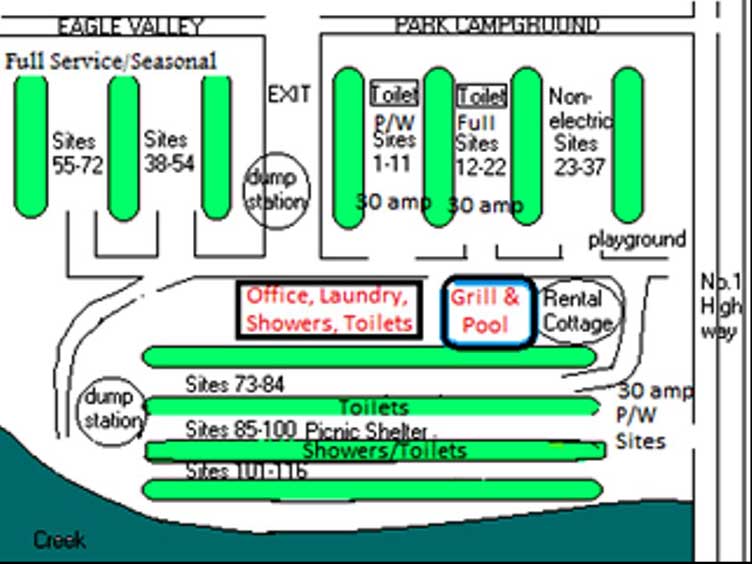 Map of the Eagle Valley Park Campground
Source: http://eagle.sasktelwebhosting.com

---
River Valley R.V. Park
Box 273
Langham, SK S0K 2L0
(306) 283-4672

River Valley RV Park is a family owned and operated campground, open between April and October. On the area of 5 acres the park offers 48 large sites with green lawn and flowers! All sites come with 30 and 50 amps service. The wireless Internet is complementary.
Each site has a picnic table, cement patios and a place where you can have a barbecue, either an in-ground fire pit with adjustable cooking grill or a portable fire pit. There is also a fire pit for larger groups - perfect for events and bigger gatherings.
The camp has peaceful environment, so you can sit at the bench next to the flowers and enjoy the silence of the place.
Langham offers playgrounds, BMX track, skateboard park and shopping opportunities.
Some of the nearby attractions are the North Saskatchewan River and Park, Parenteau's Berry Farm, Borden Farmer's Market, Forestry Farm and Zoo, Western Development Museum and the Saskatoon Prairieland Exhibition Park. All these are about 15 minutes away from River Valley RV Park.


Map of the River Valley R.V. Park
Source: www.rivervalleyrvpark.com

---
Pike Lake Provincial Park
102-112 Research Dr.
Saskatoon SK S7N3R3
(306) 933-6966

Pike Lake Provincial Park is located close to the city of Saskatoon, in an area with trees, green lawns and beaches on Pine Lake. The lake is actually a shallow body of Saskatchewan River that was cut-off from the river's main stream. 

This provincial park, like many other offers seasonal campsites available from mid-May to the end of September. Do not expect here "sophisticated services" typical in RV Parks and campgrounds. Basically here you are on your own, but with the help of on-site store with basic supplies and electricity, you can still have great time here.
At the park you can rent canoes and paddle boats. But that is not all - for guests park offers: four playgrounds, tennis courts, nine-hole sand/green golf course, 18-hole mini golf facility, sandy volleyball courts and horseshoe pits. So neither you nor kids will be bored here.

Close to the park there are picnic areas, beautiful sand dunes and a popular outdoor pool with a water-slide. There is also a 1.5-km nature trail that you can explore watching wildlife and the scenery. Some other attractions near Saskatoon are the Western Development Museum, Boomtown 1910 and Wanuskewin Heritage Park.


---
Willowbend Campground
101 - Highway 21 S
Maple Creek, SK
S0N 1N0
(306) 662-3006

Willowbend Campground has full service RV sites with power (30/15 amps service), water and sewer, as well as sheltered tent sites. All the sites are spacious and covered with grass, pull-through sites can accommodate even large motor-homes.

During the winter the campground is still open, but offers only partial services – mainly fully equipped deluxe four-season cottages.
The park has wireless internet.

On-site there are washrooms and a shower-house with free showers.
For outdoor activities park made available grass volleyball court, playground and mini golf course.
There are also camp kitchens that can be used for groups and reunions.
Downtown Maple Creek is at walking distance from this campground and so are fine dining, shopping, museums and farmers markets.

---
Visitor's story.....

Saskatchewan campground parks (SK) are plentiful in this area and one park stands out in my mind.
Moose Mountain Provincial Park offers so many things around the camps for people just like you and me to do while visiting. The golf courses nearby gives golfers and spectators a beautiful view of the Kenosee Lake. If you prefer a smaller course, try your hand at the miniature golf course, which provides for hours of fun. If you are thinking beach camping parks, this is the park to stay at, with beautiful beaches and clear water.
Every now and then, a moose will appear and glaze at you while you take all the pictures to show friends and family. The campgrounds in this area provide all the hookups and space need by the big RV motor homes. Do not become alarmed when you hear a coyote or two barking in the distance in the quiet and peaceful night.
With so many different things to do and see around this area, on will surely have fun as well as the entire family. The pony rides, hiking trails and the bird watching fulfills your day. Camps in the area also offer many fun and exciting things to do and you can buy a fire permit when you check in to have a few nighttime fires. Saskatchewan campground parks (SK) do have many different attractions for the visiting campers.
The experience you have in this area will be one to remember for years to come. There is nowhere else around where you can sit and watch the wildlife roaming around close by.
Here are a few of the other campgrounds found in a directory:

1. Northern Cross Resorts
Box 69
Goodsoil, Saskatchewan, Canada S0M 1A0
306-238-4608


2. Valley Regional Park
Box 998
Rosthern, Saskatchewan, Canada S0K 3R0
306-232-5000

 About Us / Privacy Policy / Resources
Go from Saskatchewan Campgrounds Parks (SK) to Pop Up Campers Trailer Home
Alberta Campground Parks / Campground Parks In Canada (CA) / Quebec Campground Park (QC) / Manitoba Campground Parks (MB) / Nova Scotia Campground Parks (NS) / Manitoba Campground Parks (MB) / Newfoundland and Labrador Campground Parks (NL) / Prince Edward Island Campground Parks (PE) / New Brunswick Campground Parks (NB) / Ontario Campground Parks