Small Travel Trailers:
Prolite Plus "S"
Prolite's Plus S travel trailer is a small but comfortable camper designed for memorable vacations for two persons; it is light and can be towed by small SUV ….
Prolite is a young but successful manufacturer of lightweight travel trailers. 
      Located in St Jerome (Quebec - Canada) they started operation in 2000.
As in many cases the beginning of the business was very modest and started in a garage where Mr. Martin James built his first travel trailer.
The rest is history – today Prolite operates in large ultra-modern facility and manufactures several models of ultralight hard-wall travel trailers ranging in length from 11'10" (Suite) to 24'4' (Xtreme). 
From the line of models: Suit 11, Eco 12, Cool 13, Mini 13, Plus S, Plus, Profile 14, Escapade 15, Evasion 16, Max 21, Xtreme 24 and Supreme we selected the model Plus S for presentation. 
        The camper Plus S is designed to be towed by small SUVs (smaller Prolite models can be towed even by family or compact cars). Despite its small size and light weight it provides a comfortable living and camping environment for family of two.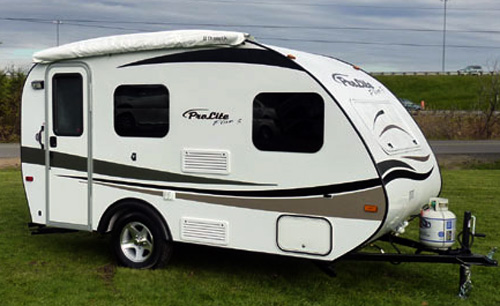 Prolite Plus-S travel trailer
      The kitchen with 3-burner stove, 3.7 cubic feet refrigerator, sink, and cabinets offers a comfortable cooking environment. Large front dinette presents a comfy area not only for simple breakfast or a cup of coffee, but certainly also for more complex meals. For the night the dinette converts into the 74" x 52" bed . The sofa across the kitchen is an ideal for relaxing during a day. Interior toilet, shower as well as fresh and black water tanks and water heater ensure autonomy for basic needs answer basic needs when on the road.
Multiple storage areas (most in forms of elegant cabinets) provide more room than may be needed for two.  It is not a luxurious model, but certainly it provides more than needed for a comfortable and pleasurable vacation trip.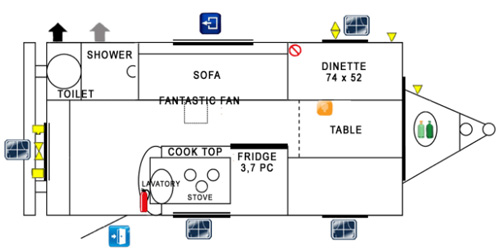 Plus-S travel trailer - floorplan
Specifications:
Length

Width

Exterior height

Interior height

Dry weight

Suspension

Fresh water tank

Grey water tank

Black water tank

Sleeps

Front bed

14'10"

6'5"

7'4'

6'0"

1,290 lbs

2.500 lbs

10 gals

N/A

5 gals

2

74" x 52"
Plus-S: Interior - view on the sofa, dinette and kitchen counter-top (partially seen on the right)
Exterior features
Fiberglass body
Electrical brakes
Outside storage
Awning
4 stabilizer jacks
Spare tire
Roof vent
Propane tank
Screen door
Tinted windows
Interior features
3-burner stove
Kitchen sink
3.7 cu ft fridge
6 gals DSI water heater
Maple cabinets' doors
Toilet w/shower
16,000 BTU furnace
Converter
120V outlet (exterior)
Options
A/C unit
Microwave
Exterior shower
Radio AM/FM/CD/MP3
---