Used Palomino Pop Up Camper Trailer
Used Palomino pop-up camper trailer is the perfect option for campers
Since pop-up camper trailer may be quite expensive, there is a huge interest for used pop-up campers.
Furthermore, if the used camper is in very good condition inside and outside, than you have done a great deal.
When it comes to buying a use pop-up camper trailer, one highly important decision has to be made-what brand of pop-up campers to choose.
As there are numerous brands on the market today one may find it extremely hard to decide which one is the best.
Especially if you are a novice in the world of camping and don't have enough information about pop-up camper brands it can be pretty tiring job deciding on the brand of the camper that will perfectly match your needs and preferences. But one is certain. With Palomino pop-up camper trailers, you can't be wrong.
If you have finally decided to get yourself a used pop-up camper trailer, Palomino may be the best solution. These campers are very affordable and are ideal for the families who seek value and still want quality and comfort. They are so well designed that they will fit all your wishes making your trip more comfortable and enjoyable.
When buying used Palomino pop-up camper trailers there are some things you should consider in order to buy good camper with which you will be highly satisfied. This includes the condition of the camper trailer and your budget according to which you can choose which model of used Palomino pop-up camper trailers is suitable for you.
The most popular brands of used Palomino pop-up camper trailers:
Palomino Y-Series is very affordable lightweight camping trailer ideal for active families. It has options that will make you feel very comfortable and pleasure while camping. It is designed in such a way to give you years of enjoyment. It is equipped with rear queen and front king size beds, 3 burner stove, sink, booth dinette slide out, storage cabinet, refrigerator cabinet. There are different models of Palomino Y-Series campers:
Characteristics:

Model


4100

4101

4102

4103

4120

4123

4124

4125


4127


Length/Width


13'10" / 7'1"


13'10" / 7'1"

15'10" / 7'1"

15'10" / 7'1"

15'10" / 7'1"

17'10" / 7'1"

15'10" / 7'1"

15'10" / 7'1"

17'10" / 7'1"

Cargo


449 lbs

517 lbs


1,046 lbs

1,177 lbs

949 lbs

946 lbs

888 lbs

1,014 lbs

1,148 lbs


Sleeps


8

6

6

6

8

8

6

7

6

       Palomino Banshee is a perfect used pop-up camper for adventurous families. On the inside you'll find that it is fully equipped with all necessary amenities you need on camping trip like stove, oven, fridge and freezer all in one, sink, kitchen storage, toilet, air conditioner, bed. It even comes with a hot water outside shower and heated mattress for cold nights. Famous models of Palomino Banshee pop-up campers are:
Model

B1

B2

B3

B5

B-SV-1

B-SV-2


Length/Width

18'8"   /   7'1"

20'9"   /   7'1"

20'8"   /   7'1"

24'9"   /   7'1"

17'0"   /   7'1"

18'5"   /   7'1"

Cargo

1,183 lbs

985 lbs

758 lbs

3,750 lbs

1,210 lbs

841 lbs

Sleeps

5

6

6

6

6

6

Inside view of the Palomino Banshee pop-up camper trailer

Palomino Mustang is designed to give the best in family camping providing roomy and fully furnished interiors. It is very quality constructed and easy and fast set up. It is built with powder coated steel frame, quality laminated fiberglass sidewalls and durable vinyl tent with one- piece fiberglass roof. Mustang is created to enhance comfort and convenience while away from home because it features front and rear king beds, slide gaucho, storage cabinet, 3 burner exterior stove, shower and cassette toilet, front storage trunk, furnace cabinet, slide out booth dinette, kitchen sink. Here are Palomino Mustang models:
Model

6128

6142

6147

6149


Length/Width

17'10" /   7'1"

19'10" /   7'1"

19'10" /   7'1"

19'10" /   7'1"

Cargo

1,280 lbs

1,146 lbs

1,172 lbs

    914 lbs

Sleeps

6

8

6

6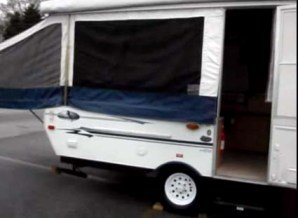 Palomino Mustang pop-up camper trailer

Palomino Elite is ideal for exploring rugged country or park style camping. It has increased storage, higher walls, thus providing you plenty space. It is loaded with features and amenities that will give you the ultimate in camping comfort. It is equipped with front and rear king bed, shower/toilet, slide out booth dinette, L-shaped seating slide gaucho, fridge cabinet, 3 burner stove, double kitchen sink, microwave cabinet. Palomino Elite models are:
Model

9149

9160


Length/Width

19'10"  /    7'1"

19'10"  /    7'1"

Cargo

480 lbs

480 lbs

Sleeps

6

8

Palomino P-Series is very popular pop-up camper trailer, which is very affordable and lightweight camper trailer.
It is loaded with popular amenities, which will make you feel like at home.
Equipment that can be found inside the camper is rear double and front queen bed, U-shaped lounge, table, storage cabinet, toilet, 3 burner stove inside and outside, kitchen sink, booth dinette.
Some popular models of Palomino Yearling pop-up camper trailers are:
Model

2100LTD

280 LTD


Length/Width

13'10"  /   7'1"

11'10"  /   7'1"

Cargo

696 lbs 

830 lbs

Sleeps

6

5

---
Visitor's story

Have you seen the new Palomino campers lately? Well I have and I still like the used Palomino pop up camper trailer units I have seen better.
They are made to last and everything seems to be made of quality materials.
The industry changes and so do designs. I for one prefer the later models for comfort and ease.
When Palomino made a camper, they took pride in the design and craftsmanship.
Now that people are enjoying camping more today there are many different types of campers all over the campgrounds.
There are even people who sleep in their van as a way of camping, but without the tent pop up camper.
A used Palomino pop up camper trailer being as affordable as they are, this makes owning a camper easier today then it was before. If you are into your truck, you may want to check out the truck pop up campers as well.
In Maine and I believe Maryland, you can find some pretty nice used Palomino pop up camper trailer units that are just waiting for someone to come along and add a few decorating touches to enhance the already beautiful interior.
If your interested in a 4 wheeler, I saw one of these advertised with a camper as well. The guy must have been giving in to new type of traveling because he had the 2 wheeler bike rack with two bikes as well.
Once you find the right used Palomino pop up camper trailer you can be assured your experiences will be never ending. The memories you will share will be funny and some will be amazing keeping friends and family amused for a long time to come.
Camping is relaxing and exciting so don't waste to much time finding the right one, you will want to get out there in the fresh air and see what all the hype is about with camping.
 About Us / Privacy Policy / Resources
Go from Used Palomino Pop up Camper Trailer to Pop Up Campers Trailer Home
Used Pop up Camper Trailer Sale /  Used Pop up Tent Trailer / Used Coleman Pop up Camper Trailer / Used Pop up Camper Prices / Used Jayco Pop up Campers Trailer / Used Fleetwood Pop up Camper Trailer /  Pop up Camper Canvas Replacement /  Used Pop Up Campers Trailer