Winnebago View RV
Winnebago View RV is one of the classiest recreational vehicles on the market.

Winnebago Industries has been present for more than 50 years in the camping world.
It is considered as the leading manufacturers of motor homes in America.
It is also known for innovative and the most fuel-efficient models of motor homes designed with style and equipped with lots of amenities.
Winnebago View RV is one of many luxurious motor homes where interior space is maximized and storage capacity is increased.
In the lounge of Winnebago View RV, there is a comfortable sofa sleeper, which provide perfect place for relaxing, watching TV or listening to the coach stereo system. Galley of this outstanding motor home is equipped with microwave or conventional oven where you can bake just like in your kitchen at home. There are also plenty of space, where you can prepare meals on the flip up counter. A water filtration system is also available.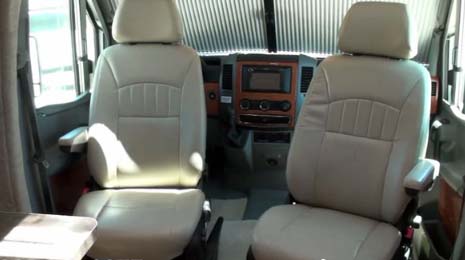 2013 Winnebago View Profile 24G Motor Home Class C - Diesel by Lichtsinn.com  - inside view

In the area for sleeping, two twin beds can be converted into a queen bed.
Bathroom is equipped with shower, porcelain toilet, and skylight.
Driver's cabin is very modern and while you are driving, you can enjoy listening to the CDs or MP3s through the touch screen RV radio with easy to use controls.
Although Winnebago View RV is sometimes referred to as mini motor home, it provides all the comfort and the conveniences as larger motor homes. It is considered as top selling motor home because it offers more practicality and luxury at the same time than any other motor home. Winnebago View RV is not only perfect for the weekend traveling but also for extended trips providing you an unforgettable experience.
The conclusion would be-if you want a motor home that is very fun to drive and own, and that is full of amenities which you need while traveling, the best option for you will be Winnebago View RV. It will provide you unforgettable driving experience together with user-friendly features and luxury that is reserved for outstanding motor homes such as Winnebago View.
And now, let's see the presentation of the Winnebago View 24G Motor Home by Lichtsinn.com

---
Visitor's story....

The Class C motor home is truly a home away from home with just about every amenity you could want. The cab area of this unique mobile home boasts 2 luxurious fabric covered seats with lumbar support, easy pass through to the living quarters, beverage holders and a rear view camera and cruise control.
Perfect for families, there is plenty of sleeping space. The area over the cab can be a bed or extra storage sofa beds, bunk beds, a dinette that converts to a bed, or a master bedroom are all possibilities.
The Winnebago View RV has a 5 cylinder Mercedes-Benz turbo diesel engine, 4 wheel drive, ABS and averages 17 to 19 mpg with a 5 speed automatic transmission.
The interior of this RV rivals the luxury of the larger Class A motor coach, or 5th wheeler. In fact it is often referred to as a "mini-coach". The storage capacity is incredible, the dinette bench seats lift up to reveal storage. There are plenty of cupboards and closets in addition to the over cab storage.
Couches and dinette benches also have seat belts, which can allow a safe ride for up to 8 people including the driver and front passenger. My wife said if she had seen the 2006 Winnebago View before we bought our new camper van she may have held out for the View.
The kitchen area boasts a good size refrigerator, range, sink and lots of storage space. There is a wall mounted control panel that allows you to monitor and manage all gauges and switches for heating, cooling and water pressure.
The 2007 View has a starting price of just under $82,000.
There are 3 floor plans to choose from and your choice of amenities and furnishings will influence the cost of your Winnebago View RV.
 About Us / Privacy Policy / Resources
Go from Winnebago View RV to Pop Up Campers Trailer Home

Motor Home RV Manufacturer