5 Popular Fleetwood Pop-up Campers
Some most popular models of Fleetwood folding campers from the series Destiny, Americana, Highlander, Scorpion and Evolution…..

Fleetwood is one of the most popular RV manufacturers in US.
Over the years the company "swallowed" such iconic names in RV industry as Coleman.
Recession of 2008 and problems with roofs in pre-2007 models brought the end to the company, but fortunately not to the name.
Acquired by Somerset Campers – the designs of Fleetwood pop-up campers are still present on the market.
Series such as Destiny, Americana, Highlander, Scorpion and Evolution still attract customers.
Here is the list of some most popular Fleetwood tent campers.

2014 Fleetwood Sea Pine
The 2014 Sea Pine is an easy to tow lightweight pop up camper trailer with an aluminium body and stainless steel frame
Its Sunbrella 302 breathable tent folds out on both ends to accommodate a full sized bed and a queen sized one. 
A portable dinette slides out from under the sofa for easy dining and additional seating wraps around the opposite bed end
Ample storage cabinets, built in refrigerator, two burner stove top and deep bowled sink  add functionality to the kitchen galley
The flat topped roof allows for set up of air conditioner A/C, Stabilizer Jacks, Awning, Spare Tire

2014 Fleetwood Sea Pine - Inside View

---
2010 Fleetwood Coleman Cheyenne
The Coleman Cheyenne is a pop up camper that is part of the Fleetwood Americana series that is designed to deliver large floor space and features like you get at home
An aluminium body and breathable tenting from Sunbrella 302 make this camper lightweight despite its size. 
With its 6 gallon water heater, refrigerator, 3 burner stove, and deep sink, the Coleman Cheyenne kitchen is almost as functional as a residential one
It has sleeping capacity for up to 5 people with a slide out bed from the bench seat as well as double and queen sized beds on both fold-out ends.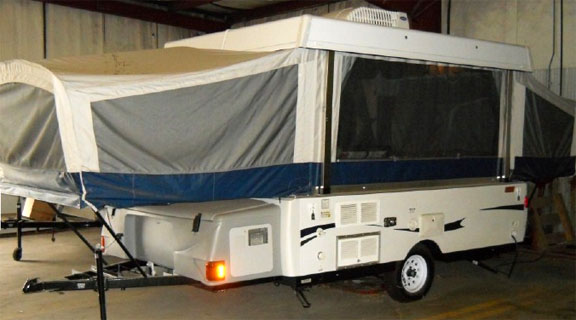 ---
2009 Fleetwood Highlander Niagara 4333
The Fleetwood Highlander is a fully loaded folding trailer that is both easily towable and highly comfortable
It is designed for comfort with plenty of head room form its over seven feet interior and its steel exterior with insulated body panels
Its kitchen has a residential style galley that features both lower and upper cabinets, a double basin sink, microwave, 3 burner stove and large 4.2 cubic feet refrigerator / freezer.
Beyond the standard outdoor shower, a wall enclosed shower, ceramic toilet, 6 gallon hot water tank and gas furnace add even more home comfort 
The Highlander has 2 king sized beds as well as a dinette which converts into a double bed giving the camper a total sleeping capacity of 6
An L-shaped seating area also adds additional seating so camping is more comfortable when with the family or friends

Fleetwood Niagara - Model 2009: view on the bed

---
2008 Fleetwood Americana Williamsburg

2008 Fleetwood Americana Williamsburg is a popular mainstay of its ability to bring the comforts of home to the great outdoors

It comes equipped with A/C  hook-up and a heater so you can go out camping whether it's summer or the during the colder months

With its 2 king sized beds, stove top for cooking, refrigerator and sink, this camper delivers on home amenities yet still provides the open tent feeling similar to that you get from regular tents

A portable dinette sits four and an outdoor grill gives you another way to cook your food 

Bathing facilities include an indoor shower and toilet combination as well as a convenient outdoor shower.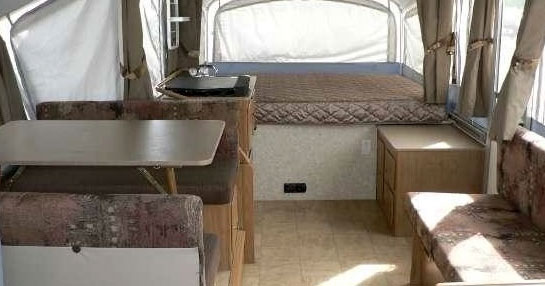 Model Williamsburg 2008: View inside

---
2007 Fleetwood Fleetwood Avalon
The Fleetwood Avalon is a wide pop up camper that provides larger floor space which allows more residential style amenities to be included 
With its two full sized beds and convertible sofa seating space, the Avalon camper is able to comfortably sleep up to 6 people
The bed ends are equipped with privacy curtains which create an additional room in the camper
A cassette toilet, fully equipped private shower and hot water heater deliver great bathing comfort even when you are camping with the whole family
Kitchen features include a stove top, double sink, refrigerator and a dinette

Fleedwood Avalon - Model 2007: Inside view

---
 About Us / Privacy Policy / Resources
Go to:  Pop-up Travel Trailers and RVs