Pop Up Campers Trailers and RVs
Welcome to the world of Pop-Up camper trailers...

Hi, my name is Matt.
My wife and I are avid pop up campers, and we travel to many different campgrounds all over the United States and Canada.
My son has also become interested in camping.
He is grownup now and travels with his wife and dog in a pop up truck camper, carrying on the camping tradition of the family.
My brother Bill is an avid camper too. He has an RV motor home in which he travels with his wife to different locations in the country. He adores his RV motor home as according to him, it helps him to travel in style.
Bill and I started camping from a very young age. In fact, we grew up camping with our parents as a very young boys. Now we have families of our own and we continue what our parents started when we were kids.
We have always enjoyed the opportunity to meet people from all over the world during our camping trips in our pop up campers. Meeting people from different cultures and backgrounds has been a very educational and enlightening experience for us. Spending time together with them in a relaxed and leisurely atmosphere has always helped us to appreciate each other in a totally new light.
Coleman pop-up camper trailer

We simply love pop up campers as they make our travels more enjoyable. We have never had to worry about reserving accommodation at hotels or booking our air or rail tickets. We enjoy the flexibility of preparing our own itinerary and planning as we go along. We have also gained a lot of experience from our years of traveling.
We did make a few mistakes in the beginning, but we learned a lot over the years. We wanted to share our experiences with others so that they too can enjoy the thrill of camping. That is one of the main purposes of putting up this site. Visitors can learn the art of using pop up campers for their vacations by reading about our experiences. This site is a platform for other people also to share their own experiences and offer advice to newcomers to this lifestyle.
People who wish to pursue this method of traveling do have a lot of questions in their minds. They want to know what kind of campers they should buy. Whether to buy used campers or new ones is also a major dilemma for most people. Some want to know where they can get insurance for campers. Others are looking for the right prices for the pop up campers of their choice. So, different people have different questions that need to be answered. This site is an effort on my part to answer at least a few of those questions. Hopefully, you would find the information that you are looking for, right here on this site.
Pop Up Campers are some of the most affordable recreational vehicles in the market. Even people with a limited budget can buy one of these. You can tow these campers with a full size car as they are relatively light in weight. A pickup truck is also an ideal vehicle for towing these campers.
These campers are most ideal for a small family of four. There are basically two foldouts in a popup camper. These for mostly used as sleeping quarters. The dinette, kitchenette and storage area are housed in the main unit. A small refrigerator is also included in the package. Most low-end models do not have a toilet or indoor shower. Campers prefer to use the facilities in the campground.
They sometimes carry a portable toilet in case of emergencies. High-end models do come with an inbuilt shower and cassette toilet. There is also a larger cooking space which is a great convenience. Some pop up campers have an additional room that slides out. This can be a great feature especially when you are locked indoors due to bad weather.
Imagine sleeping in a comfortable bed in the middle of the forest and waking up to the chirping of birds early in the morning. With RV campers, you can actually experience this anytime you wish. As a family, we have enjoyed several glorious moments in the wilderness, watching the sunrise over the lush green forest or sunset over the rolling hills in the distance.
Our camper has taken us to locations that no bus, plane or train can ever get to. We have gone to places and seen sites that other vacationers can only dream about. This is one of the main reasons we simply love the RV lifestyle. It helps us to get close to nature like nothing else can. It is also one of the most cost effective ways to enjoy a vacation.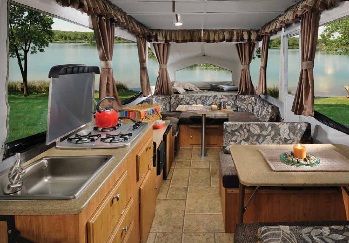 Rockwood's Freedom pop-up camper: Inside view

Thousands of families in the United States and other developed countries are finding the joy of experiencing nature first hand by traveling in pop up campers. People of all ages, right from toddlers to retirees are finding a whole new way to spend a great vacation. Although many of life's creature comforts may not be available in nature, the RV camper can provide a comfortable stay right in the middle of the wilderness.
RVs come either as towable trailers or as fully motorized vehicles with their own source of power. The trailers come with either a tent like structure made of canvas, or with hard-sided walls. The campers are about 18 to 40 feet in length, while some can be even longer. Most of them come with all modern facilities like bedroom, bathroom, kitchen and a living room.
Traveling in a RV can be as luxurious as staying in a star hotel. There are different kinds of RVs built for various different purposes. You need to know the kind of vehicle to purchase based on the type of usage you would put it through. You need to spend sometime researching before you make your decision. Understanding your specific requirement is the first step in the process.
There is a whole lineup of camper brands from various manufacturers. Some of the popular ones include the Jayco Pop Up, the StarCraft Pop Up, the Fleetwood Pop Up, the Viking Pop Up, the Palomino Pop Up, the Rockwood Pop Up, the Coachman Pop Up, the Hardside Pop Up, the Aliner and several others.
There are different kinds of models as well like the Pop Up Shell camper, the Bus Camper, Motorcycle Campers, the Camper Van, the Teardrop camper, the Fifth Wheel camper and several other campers. People also build camper trailers and camper vans on their own, using their own designs.
As the saying goes, you get what you pay for. If you have a lot of money to spend, you can get pretty expensive campers that come with all the sophisticated features. But if you are on a tight budget, you might have to settle for fewer features.
But the most important thing to remember here is that you should ensure that you do not spend money on features that you would never use in your pop up campers. If you buy only what you really need, you can cut down a lot on the price of the RV.
So have a clear picture of what you are looking for. Will you be using the RV extensively, or only on rare occasions? How many people would you be traveling most of the time? How long would each journey last? Would you like a towable trailer camper or a motorized RV? What are the specific features that you cannot do without in your RV?

NADA Recreation Vehicle Appraisal Guide

These and many similar questions could help you get an idea of what you really need in a RV. Once you know what you are looking for, you can then collect some brochures from different dealers and look for RVs with the specifications that you have in mind. Most of the manufacturers also have websites from where you can collect a lot of information.
The Class A RVs come with the most expensive features and amenities possible. These and other motorized RVs can cost up to $200,000. If you are on a tighter budget, you can always consider buying a second hand RV that would cost considerably less. If you still prefer a new RV, you can go for the Class C RVs, which would cost close to $100,000. RV Camping enthusiasts can make use of RV Financing options.
The Kelly Book gives you a fair picture about the cost of different models. It sure is a huge investment, but the amount of fun, excitement and value you would get out of a RV is worth every penny you pay for it. But if you really want to save money, you can even rent a camper. RV Rentals are available in most places. These pop up rental services make RV Camping possible for virtually anyone.
Camping can be great fun, but unless you have the proper accessories from the RV manufacturer, you may not be able to enjoy the outing to the fullest extent. Most pop up campers come with the basic accessories and amenities like RV Furniture, cooking utensils and storage racks. But you might have to add some more RV Accessory material based on your specific needs and requirements.
What is a vacation without good food? A well-stocked kitchen with all the proper cooking utensils would be the first and foremost requirement for most campers. A stove and oven hooked up to the proper power source is therefore very important. Most campers would come with a propane tank for fuel. Or else, they might have gas or electricity as the source for powering the stove and oven. However, some low end pop up campers may not have these features inbuilt, and so you should check that these pop up accessories are available in your camper.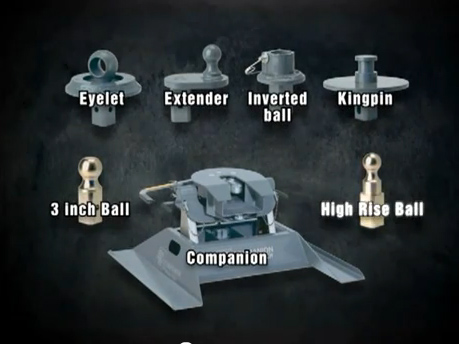 Fifth Wheel accessories

You then need to ensure that you have all the other cooking accessories such as pots, pans, grill, and charcoal or wood if you are planning on having barbeques. You would also need plates, cups and other crockery for serving food. Some people prefer paper plates and cups instead so that they can burn them later in a campfire.
An awning could be a good exterior addition to your camper. Especially when it is sunny and you wish to spend some time in the shade, you can popup your awning and relax on an easy chair. You can also add window screens to your windows, which will help you to keep them, open and let fresh air in while providing privacy at the same time. Window screens would also keep the bugs out when the windows are open.
If you would be going hiking away from the camper into the woods, you might want to take tents, sleeping bags, flashlights, a compass and a map outlining the landmarks in the region. A good shower and toilet would be essential when you go on long trips away from regular camping grounds. Ensure that you have large water tanks to store enough water for bathing and washing the dishes. You would also want to fill your bathroom cabinets with all your favorite toiletries.
Proper plumbing is required to keep the bathroom inlet and outlet in good condition. You can have a few extra freshwater filters and pumps to keep the water supply fresh. You would also need the proper replacements parts and tools to make repairs as and when required. The sewage and water system also needs to be in a good condition for proper disposal of sewage.
Finally, your camper should have all the necessary accessories for repair and maintenance, which would be crucial during a breakdown. Make sure that you have electrical wires, batteries, extension cords, chargers, converters, jacks, spare tires and all the other equipment you might need during an emergency.
There are a number of places where you can find campers for sale. The safest way to invest in pop up campers is to buy them new. Of course, this may not be an option for everyone, but it is the ideal option when sufficient money is available. Most dealers can arrange finance options where you would have to pay monthly installments for the vehicle.
Eagle Fifth Wheel Camper Trailer

A new vehicle always comes with factory warranty, which is a huge advantage. If anything goes wrong, you can always take it back to the dealer to have the vehicle serviced, which is not possible with a used vehicle. This is not to mean that a used RV is not a good option. If you are on a limited budget, or if this is your first RV and you are not very sure about investing a large sum of money, then a used pop up at a much lower cost is probably the best option for you. Once you get to know how to use and maintain a used RV, you can probably purchase a new one later on.
In both cases, buying your pop up campers from a reputed dealer would be a good idea. Most established dealers would want to guard their reputation and therefore, customer satisfaction would be the foremost factor in their minds. Making a purchase from a reputed pop up dealer would make your buying experience more enjoyable and smooth. Well-established dealers would also be able to pass their benefits and concessions onto their customers.
There are a number of private sellers from whom you can purchase a pop up tent motor home too. Some of these can be a really good buy. Many camping enthusiasts maintain their motor homes in a very good condition and dispose them off to purchase a newer model. In such cases, you might get a well-maintained vehicle for a good price. However, you should always take a known mechanic with you if you are not knowledgeable about motor homes. The mechanic would be able to check the condition of the vehicle and make a more informed decision. Knowing the true condition of the vehicle will help you in negotiating the price better.
You can also buy pop up campers in an auction. There are a number of different auctions conducted from time to time. Police auctions and seized vehicle auctions are some of the events where you can get campers for very attractive prices. You can search for these RVs Online. The auctions would usually charge a fee or commission to the price of the vehicle. So you need to factor that in when calculating the actual price that you need to pay. You also need to do the same physical checks with a mechanic as you would when buying a camper from a private seller.
Many novices make the mistake of not planning well for contingencies and breakdowns during their trip. The camper is a pretty complex piece of machinery and there are a lot of parts that can breakdown. If you are in the middle of the wilderness and something breaks down, you entire vacation can be ruined. So you need to take with you, all the camper parts that are likely to need replacement during your trip. It is wiser to carry parts with you that you may never get to use during your journey than to have a breakdown and get stuck in the middle of nowhere.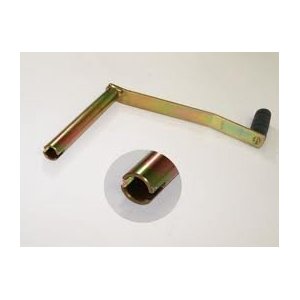 Coleman camper crank handle

It is a good idea to have your camper checked by a qualified mechanic before you begin your trip. You can have your vehicle thoroughly serviced. Then you can look for pop up parts that might need replacement during your trip and carry them with you in case the original needs replacement. You should avoid buying used parts as they may be unreliable and defeat the whole purpose of carrying spares.
There are many places from which you can buy camper supplies. There are regular stores as well as online stores which sell all kinds of camper parts. However, when purchasing your parts online, you need to know the exact details about your camper and the part name and number in order to get the right parts that would fit your camper
You need to have your vehicle covered with adequate camper insurance. Even if your main automobile has insurance coverage, it would not adequately cover your camper. You need a comprehensive camper insurance that is designed specifically for the camper in the event of damage. There are many inexpensive insurance options, which can help you save money upfront. But the real benefit of the insurance will become obvious in the event of an accident or theft. When you have comprehensive coverage on your camper, you can have a more relaxed trip and not worry about the cost of damage to your camper.
There are many sources from which you can get a good camper insurance quote. The Internet is one of the best sources as you can get a number of quotes from different companies and make a comparison. There are also a number of sites that have comparison charts that would help you choose the best deal for your vehicle.
The least quote need not always be the best option. You need to ensure that the insurance package offers complete coverage on your vehicle at the least possible price. So there needs to be a balance between adequate coverage and cost. When you have a number of quotes from different companies, it would be easier for you to make a more informed decision on the best option for your camper.
People who are new to camping might wonder where they could take their pop up campers on their very first outing. There are a number of camper parks in most developed countries where people with motor homes or campers can drive in and spend the vacation. The Camping Parks in USA and Canada Parks are examples of good camping locations. These would be the best spots, especially for first-timers. Most of these camper parks are well-equipped with facilities to make your stay quite comfortable.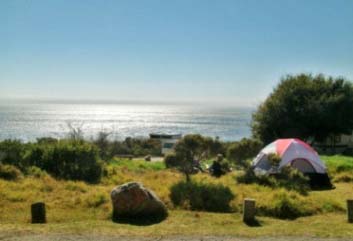 Kirk Creek Campground, California
Camper parks are also the best place to meet other fellow-campers and share your experiences. You can learn a lot by interacting with other campers. We have made wonderful friendships with a number of campers. Some have become very close friends and we make it a point to meet them at least once a year during our annual vacations.
At the end of the day, it is all about having a nice time with the people you care about and love the most in your life. Pop up campers are one of the best vehicles that help us achieve that. We have had some of our most memorable experiences in our lives while vacationing in our campers. We have acquired some of our closest friends as well through our camping adventures. This lifestyle has totally revolutionized and enriched our lives over the years. Until you start camping on your own, you will never realize how much fun you have been missing all these years.
We put up this site not only to provide information, but also to gather information from experienced campers who would like to share their experiences and knowledge with others. So you are most welcome to add value to this site by sharing your Opinion Camping Stories, your thoughts, suggestions, comments, Camper Reviews and your experiences with all of us.
---
If you found here something interesting, please share your experience with friends
:-)