Beach Camping Parks - Campgrounds Missouri (MO)
If ever you have a chance to travel to Missouri consider beach camping parks as they are some of the best around the countryside.
Cape Fair Park
Hwy 76-82/Lake Rd (E)
Cape Fair, MO 65624
417-538-2220

    Get in the middle of nature with camping in this park. You will have electric hookups for your RV, drinking water, hot showers and a dump station in the campground. Most camping sites are along the waterfront or have incredible views towards the lake. There is also a large group picnic shelter you can reserve upfront if you plan a reunion of any type. It is the perfect spot if you dream about a fishing trip.
There are plenty of great places to fish on the river, but you don't have to leave the campground to try your luck because you can fish right there on the lake shore. The marina situated on the campground will help you out with equipment rental, fuel or any other needs. Water skiing, wake-boarding, and tubing are among the most favorite water activities. On the left side of the campground, a sandy beach awaits you on a sunny day. Nature trails and biking are also great in the area, because the scenery is beautiful regardless of the season.

---
Cedargrove Campground Ozark
National Scenic Riverways HCR 1
Jadwin, MO 65501
573-858-3372

    The campground is open all year round, so you can enjoy camping here anytime you want. Although, not all amenities are available during the winter season. According to your preferences, the camping sites may have electric hookups, picnic tables, fire grills and lantern posts. Restrooms and warm showers are also on the amenities' list. If you want a free stay here, you can choose the primitive camping sites, but you will have very few or none of these facilities to enjoy.
There are plenty of activities you can do here, like renting a canoe for a river trip. Fishing and hunting are other types of activities, but you might need a permit for these two. Biking, hiking, horseback riding and bird watching are other fun things that can be done in the park. Special events or demonstrations of traditional crafts and skills are often organized on the campground. So enjoy watching them.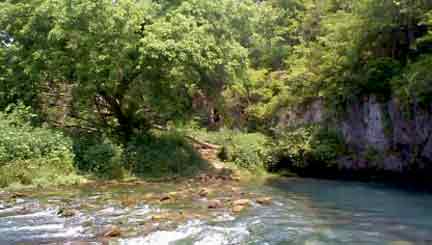 ---
Visitor's story....

If ever you have a chance to travel to Missouri and do some camping the beach camp parks- campgrounds Missouri (MO) are some of the best around the countryside.
Located by a lake or a river, the campgrounds offer other activities for the entire family. When you think about camping, the first thing that comes to mind is what you will do with the day. Well the area has many great attractions and if you do not mind camping, you to can camp, do dome sightseeing and relax.
The entire family will enjoy the St Louis Zoo, with all the animals and displays that are on display at the zoo. If you need some water fun, Ride the Ducks. A little history about making brew might take you to the Anheuser-Busch Brewery. You might want to stop by Silver Dollar City and see what you have been missing. Overall, you will have a great time in Missouri during your visit.
The river and lake parks have hookups for all your camping needs, whether you have a pop up camper or a RV. The beach camp parks- campgrounds Missouri (MO) have some great views and some peaceful times when you need it the most. Set up camp, do some sightseeing and come back for a night around the crackling fire before bedtime.
Beach Campgrounds Missouri:
Cape Fair Park
Hwy 76-82/Lake Rd (E) Cape Fair,
MO 65624 417-538-2220

Cedargrove Campground Ozark
National Scenic Riverways HCR 1 Jadwin,
MO 65501 573-858-3372
 About Us / Privacy Policy / Resources
Find Here Worldwide Beach Camping Parks Directory

Go from Beach Camping Parks - Campgrounds Missouri to Pop Up Campers Trailer Home
Beach Camping Parks - Campgrounds Iowa (IA) / Beach Camp Parks - Campgrounds Massachusetts (MA) / Beach Camping Parks - Campgrounds Michigan (MI) / Beach Camp Parks- Campgrounds Minnesota (MN) / Beach Camping Parks- Campgrounds Mississippi (MS) / Beach Camping Parks - Campgrounds Montana (MT) / Beach Camping Parks - Campgrounds Nebraska (NE) / Beach Camping Parks - Campgrounds Nevada (NV) / Beach Camping Parks - Campgrounds New Hampshire (NH) / Beach Camping Parks - Campgrounds New Jersey (NJ)