World Wide Beach Camping Parks Directory
What does the the life time subscription to the World Wide Beach Camping Parks Directory mean for you?
I can tell you it means considerable savings in both time and money.
Find here in a seconds 250+ beach camping parks all over the world.
100+ beach parks in the U.S.
25 beach parks in the UK
25 beach parks in Canada
25 beach parks in New Zealand and Australia
50 beach parks in other parts of the world.
The guide also tells you how many campsites they have. You can also find out if they allow tent campers. It also provides information on rates and payment methods accepted. There is also contact information for each park including phone numbers and web addresses if available.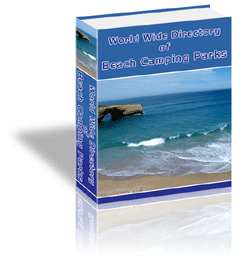 Before the release of this program, if you were looking for a beach camping site you would have to spend hours and sometimes days searching the web for a beach camping park. Or else buy expensive guide books for each area you are interested in camping at.
When you subscribe to the Worldwide Beach Camping Directory, the only one of its kind on the web, you will have access to the site for the rest of your life. Twenty years from now you will still be able to log in and find the newest beach camping parks.
New parks and updated information is constantly being added or deleted. Turn to the beach camping park directory to locate the perfect campground for you.
Checking this directory will soon be the first step on your camping checklist every time you are considering an trip.
In addition to the directory listings you will also have access to bonus articles about camping on the beach such as:
1. Camping Check List 2. Camping FAQ's 3. Camping equipment. This is helpful especially for new campers or for those who have never camped on the beach. You wouldn't go camping without checking your rig and supplies. Don't choose a beach park without the help of the Worldwide Beach Company Parks Directory.
How will you access Beach Camping Park Directory?
For your convenience your subscription is available online through our "Members Only" pages.
Immediately upon payment, you will receive an email with the link to the Beach Park Directory . It's fast, simple and easy!
All prices are in U.S. Dollars.
Lifetime Subscription
Sorry Beach Directory is not available any more
 About Us / Privacy Policy / Resources
 Pop-up Campers Trailers - Home

Camping Tips/FAQ's - Beach Camping / Beach Camping Gear  
Beach Camping Parks Campgrounds Alabama / Beach Camping Parks - Campgrounds Alaska / Beach Camping Parks - Campgrounds Arizona (AZ) / Beach Camping Parks & Campgrounds Arkansas (AR) / Beach Camping Parks - Campgrounds California (CA) / Beach Camping Parks - Campgrounds Colorado (CO) / Beach Camping - Campground Parks Connecticut (CT) / Beach Camping Parks Campground Delaware (DE) / Beach Camping Parks Campgrounds Florida (FL) / Beach Camping Parks Campgrounds Georgia (GA) / Beach Camping Parks- Campgrounds Hawaii (HI) / Beach Camping Parks- Campgrounds Idaho (ID) / Beach Camping Parks - Campgrounds Illinois (IL) / Beach Camping Parks - Campgrounds Indiana (IN) / Beach Camping Parks - Campgrounds Iowa (IA) / Beach Camping Parks - Campgrounds Kansas (KS) / Beach Camping Parks - Campground Kentucky (KY) / Beach Camping Parks - Campgrounds Louisiana (LA) / Beach Camping Parks - Campgrounds Maine (ME) / Beach Camping Parks - Campgrounds Maryland (MD) /Beach Camping Parks - Campgrounds Iowa (IA) / Beach Camp Parks - Campgrounds Massachusetts (MA) / Beach Camping Parks - Campgrounds Michigan (MI) / Beach Camp Parks- Campgrounds Minnesota (MN) / Beach Camping Parks- Campgrounds Mississippi (MS) / Beach Camping Parks - Campgrounds Missouri (MO) / Beach Camping Parks - Campgrounds Montana (MT) / Beach Camping Parks - Campgrounds Nebraska (NE) / Beach Camping Parks - Campgrounds Nevada (NV) / Beach Camping Parks - Campgrounds New Hampshire (NH) / Beach Camping Parks - Campgrounds New Jersey (NJ) / Beach Camping Parks - Campgrounds North Carolina (NC) / Beach Camping Parks - Campgrounds North Dakota (ND) /  Beach Camping Parks - Campgrounds Oklahoma (OK) / Beach Camping Parks - Campgrounds Oregon (OR) / Beach Camp Parks - Campgrounds Pennsylvania (PA) / Beach Camping Parks - Campgrounds Rhode Island (RI) / Beach Camping Parks - Campgrounds South Carolina (SC) / Beach Camping Parks - Campgrounds South Dakota (SD) / Beach Camping Parks - Campgrounds Tennessee (TN) / Beach Camping Parks - Campgrounds Texas / Find Here Beach Camping Parks - Campgrounds Utah / Beach Camping Parks - Campgrounds Vermont (VT) / Beach Camping Parks - Campgrounds Virginia (VA) / Beach Camping Parks - Campgrounds Washington (WA) / Beach Camping Parks - Campgrounds West Virginia (WV) / Beach Camping Parks - Campgrounds Wisconsin (WI) / Beach Camping Parks - Campgrounds Wyoming (WY)